Big risers in updated On300 for the class of 2022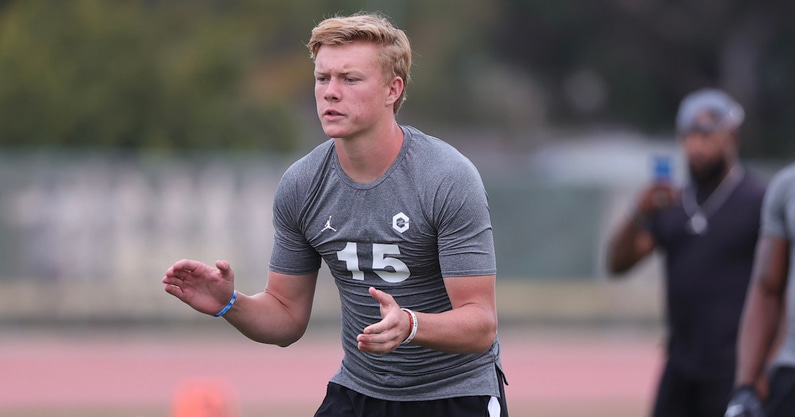 The most recent update of the On300 for the class of 2022 features a number of big risers.
The headliner is the continued ascension of current USC verbal and quarterback Devin Brown. When taking a deeper dive into prospects that have impressed with seniors, Notre Dame's class is on the rise with On3. Three of the 10 biggest risers are future Fighting Irish.
Big risers in On300
Devin Brown, QB, Queen Creek (Ariz.) Corner Canyon
On300 ranking: No. 27
Brown made a big move from No. 63 to 27 in the latest ranking. The USC verbal commitment that has made visits to Ole Miss, Texas and Ohio State put together a tremendous campaign. Brown displayed the ability to make every throw. He passed for 4,881 yards and 57 touchdowns in 14 games and added 430 rushing yards and eight scores. Brown's high school career ended with 386 passing yards and 103 rushing yards in a 49-42 loss to Lone Peak. 
Isaiah Hastings, DL, Burlington (Ontario) Clearwater International 
On300 ranking: No. 42
The Alabama commitment moves up 33 spots to No. 42 overall. The 6-foot-4, 290-pounder posted 11 tackles for loss and 7.5 sacks in eight games this season. The December graduate is athletic in his stance and explosive in the first two steps. He wins with both quickness and power. His ability as an interior pass rusher and run stuffer provides the ability to be a three-down player. He can play on the inter in a four-man front, or a 4i in a three-man front. 
James Pearce, EDGE, Charlotte (N.C.) Vance 
On300 ranking: No. 56
The 6-foot-5 EDGE prospect is one of the more undervalued prospects in the 2022 cycle. Not by On3, however. The explosive edge rusher moves up nearly 70 spots to No. 56 overall. His ability to win with initial quickness and a long stride is elite at the position. He flashes the ability to bend, remain balanced taking on contact and turn the corner. He closes in the blink of an eye on quarterbacks and ball carriers. South Carolina is working to hold charges by Georgia, Tennessee and Florida. 
Kenyatta Jackson Jr., EDGE, Hollywood (Fla.) Chaminade-Madonna
On300 ranking: No. 58
The Ohio State commit jumps 50 spots after terrific senior video and in-person evaluation. The 6-foot-4.5, 238-pounder racked up more than 40 tackles and 12 sacks this season with some dominant performances in South Florida. Jackson features a quick first step and a high-end wingspan. He possesses sudden closing about, and pads crack on contact. Jackson has very quick feet and reactions for his size. He reacts in an instant to a sudden change of movement in his peripheral vision. 
Zeke Berry, S, Concord (Calif.) De La Salle
On300 ranking: No. 59
Berry makes a big jump from No. 157 to 59 with terrific senior tape. The 6-foot, 185-pounder is an all-around safety that is as adept as a downhill striker, as he is with range in coverage. More than a downhill striker, Berry excels in tackling in the open field. His ability to open up and run makes covering from hash mark to boundary simple. When it comes time to make plays on the ball, the four-star flashes ideal timing, and finishing ball skills.  Oregon, Michigan, UCLA, Arizona and others are battling it out for the instant impact safety. 
Devin Moore, S, Naples (Fla.) Naples
On300 ranking: No. 83
The 6-foot-3 Notre Dame verbal jumps 28 spots with big-time versatility showing up on senior tape. The early graduate is long, and rangy at corner on senior tape. He has the ability to stay attached, along with the arm length to create vision issues for receivers. He uses his combination of length and timing to defend 50-50 balls with PBUs. On3 projects at safety, but there is enough quality tape at corner to get a look there in South Bend. Moore has been very active on senior tape. He's shown the ability to dislodge the ball from ball carries. 
Eli Raridon, TE, West Des Moines (Iowa) Valley
On300 ranking: No. 90
The 6-foot-6, 230-pounder is a big mover in the rankings. The Notre Dame verbal is up 145 spots to No. 90 overall will a blend of size, agility, quickness, speed to win down the seam and after the catch physicality. Displays the ability to maximize after the catch with a right or left-handed stiff arm. He accelerates well down the sideline for his size and is a confident player on contact with high-end balance. He has Power 5 football in the bloodlines as his father, Scott Raridon, played offensive line at Notre Dame and his uncle played at Nebraska. 
Blake Miller, OT, Strongsville (Ohio)
On300 ranking: No. 110
The Clemson commit jumps 50 spots in the rankings with a blend of size, foot quickness and physicality through the whistle. The 6-foot-6, 300-pounder is a better football player than tester athletically. Miller shoots the hands violently into the defenders, runs the feet and finishes with authority. Powerful down blocker that looks flatten defensive linemen. Flat-footed in a three-point stance. Quick pass set, and athletic enough to fluidly work to the second level. Solid striker in space. 
Darris Smith, EDGE, Bailey (Ga.) Appling County 
On300 ranking: No. 111
Smith moves up 94 spots in the updated rankings. The two-sport star doubles as a wide receiver, in addition to playing off the edge defensively. Smith has terrific height at near 6-foot-6, very long arms, fluid movement skills and closes in an instant. The combination of length, side and suddenness make Smith a high-end edge rush prospect in the cycle. Exhibits strong hands on both sides of the ball, and plus body control. Hunts contact and wins disengaging with quickness. Best football way out in front of the Georgia commitment. 
Jaden Mickey, CB, Corona (Calif.) Centennial
On300 ranking: No. 134
The Notre Dame commitment jumps 78 spots to No. 134 with a productive senior campaign and a high ceiling. Mickey is both a natural in coverage with stay-attached ability down the field and a threat in the return game. The December graduate has very flexible hips, quick speed turn and good recovery speed.