Top Performers from OT7: Day Three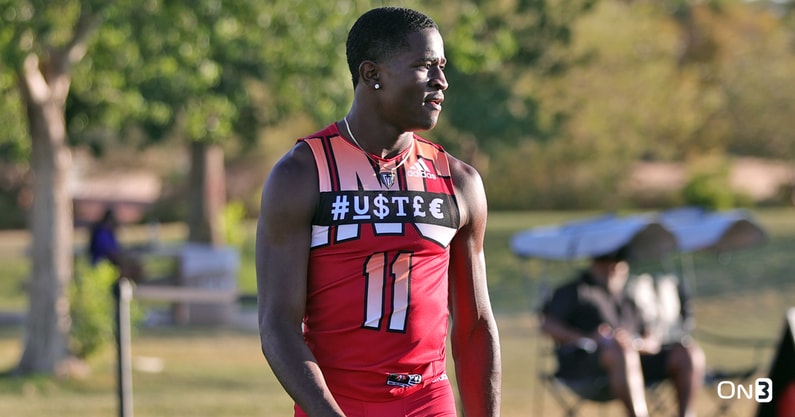 LAS VEGAS, Nev. – Overtime's OT7 7-on-7 league rolled on Saturday evening with the final day of pool play before bracket play and the tournament's conclusion on Sunday afternoon. The event features a star-studded group of prospects, with dozens of blue-chippers and hundreds of Power Five and FBS prospects on hand.
Here's On3's Top Performers from Saturday night, headlined by a top 100 2024 prospect who had dominant moments as a wide receiver.
Day One Top Performers | Day Two Top Performers
On3 MVP: ATH Mike Matthews, 2024
Mike Matthews' opener against Midwest Boom may be the best single game performance of the tournament to date. The 6-foot-1, 180-pounder got things going with a fantastic leaping grab on a vertical route, high-pointing the ball over a waiting safety. He later separated off the line and made an acrobatic adjustment while getting a foot down in the end zone for a score. Matthews' best play of the day came on the next drive. Hustle Inc. quarterback Kamari McClellan was looking for an open receiver and saw Matthews streaking down the seam with two defensive backs in tow. McCellan heaved a deep ball and Matthews beat the double team and tracked the ball for the catch. The result was one of the more impressive plays we've seen from a receiver this weekend.
As noted in Friday's Top Performers story, Matthews is being recruited as a wide receiver and safety by college programs. Based on what we've seen this weekend, the Lilburn (Ga.) Parkview standout has one of the better receiver skill sets nationally. His length and coordination result in a very large catch radius. The basketball background is evident. Matthews also moves well and has the quickness and burst that points to some upside as a route-runner with continued focus at receiver. He ranks as the No. 72 overall prospect in the 2024 On300. Clemson, Georgia and Notre Dame are in the mix for Matthews per his On3 Recruiting Prediction Machine.
2. CB Jahlil Hurley – Alabama
Jahlil Hurley faced off with several top receivers on Saturday and came away with the upper hand in those matchups. The Crimson Tide pledge is one of the taller cornerbacks on hand, looking to be the listed 6-foot-2 while adding some good mass to his frame. Hurley did a nice job on Noah Rogers in his first game of the day, using his length and play speed to stick with one of the top deep threats in attendance. He later faced off with Ja'Kobi Lane in Trillion Boys' second game of the day. Lane has had his way with most opposing corners, but that wasn't the case with Hurley, who stuck with the 6-foot-5 target on the goal line on a slant route. Hurley later used his play strength to body Lane at the catch point and force a pass break up. The Florence (Ala.) High product ranks as the No. 32 overall prospect in the On300 and committed to Alabama on February 22.
3. QB Nico Iamaleava – Tennessee
Nico Iamaleava was On3's pick as the top quarterback for the second straight day. The 6-foot-5.5 190-pounder led his Team Toa team to a 2-0 record on the day and continued to show his high-end arm talent. While Iamaleava was probably not quite as sharp overall on Saturday as he was on Friday, he was still able to separate himself from the other passers on hand. The Tennessee commit effortlessly drives the ball out to the boundary. Iamaleava has impressed with how quickly he goes through his progressions, quickly scanning the field to find open receivers. One of his more impressive plays came when faced with a blitz – Iamaleava moved to his left and fired a pass across his body for a completion. The physical gifts are readily evident, but Iamaleava is showing encouraging signs with his talent translating to live situations. Iamaleava ranks as the No. 5 overall prospect in the 2023 On300. He committed to Tennessee on March 21.
4. WR Bryson Rodgers – Ohio State
Ohio State commit Bryson Rodgers has been a touchdown machine for 24K over the past two days. Rodgers scored twice in the day's first game. He's one of the more technical receivers in the 2023 cycle and showed off his route-running skills and ability after the catch on Saturday. He stacked a corner off the line with an outside release on a fade route for the first score. The second score came on a quick catch and run down the middle. The route-running and coordination are on the high-end among receivers on hand. Rodgers ranks as the No. 196 overall prospect in the 2023 On300 and committed to Ohio State on April 17.
5. S Conrad Hussey – Penn State
Conrad Hussey certainly had one of the more productive days of any defensive back at OT7. The Penn State commit lined up at corner for Defcon and got his hands on a bunch of throws over the course of the day. Hussey came down with multiple interceptions, including a pick of five-star quarterback Malachi Nelson in an upset win over South Florida Express. Hussey then locked horns with top 50 receiver Noah Rogers on his second game of the day, with each having their moments. Rogers did get the better of Hussey on a deep ball, separating for a touchdown. But Hussey rebounded and bodied Rogers down the sideline on the game's final play. In all, it was an impressive showing while working in man coverage as a cornerback. Hussey committed to Penn State on April 25.
6. WR Ja'Kobi Lane
Ja'Kobi Lane continues to look like one of the better receivers in this setting. The tall, lanky wideout is very strong at the catch point. The Mesa (Ariz.) Red Mountain pass catcher again had several highlight moments on Saturday. He had a high-point touchdown, out-leaping defensive backs to come down with the score. He's also impressed with improved change of direction and burst as a route-runner. We also saw some juice after the catch, as Lane opened up and picked up yards with a long stride.
7. QB Dante Moore
Dante Moore accuracy and consistency on a throw-to-throw basis stood out again on Saturday. Moore lead Cam Newton's C1N team to a 2-0 record on the day and continued to spread the ball around to his receivers. Moore showed off a quick trigger on a comeback touchdown. He layered the ball on a nice throw in the back of end zone for another score. Moore may not push the ball vertically as often as his other touted peers, but works in at a quick tempo, firing short and intermediate throws to keep the chains moving. Notre Dame, LSU, Oregon, Michigan and Miami are among those fighting for Moore per his On3 Recruiting Prediction Machine.
8. RB Rueben Owens
We noted how Rueben Owens has looked like the top pass-catching running back in Las Vegas on Friday. That was the case yet again on Saturday. The top 50 prospect made a few high-level grabs on the day. Owens scored on a one-handed back shoulder catch in Premium LA's first game. He later separated on a wheel route and tracked the ball over his outside shoulder for the catch. As we noted yesterday, Owens has wide receiver level ball skills at the running back position, adding to his value as an every down back at the next level. Owens' On3 Recruiting Prediction Machine is split between in-state programs Texas A&M and Texas.
9. CB Branden Strozier – Clemson
Branden Strozier has been a standout for Cam Newton's C1N team. The 6-foot-2 corner sticks out with his stature and used his length and instincts to make several plays in coverage on Saturday. Strozier got things going with a pick-six in C1N's first game. He later had good coverage resulting in a pass break up while covering a route down the seam. Strozier has played both outside corner and nickel over the course of the weekend. The Alpharetta (Ga.) St. Francis cover man committed to Clemson on May 20.
10. WR Johntay Cook II
Johntay Cook II had his best day of the tournament on Saturday. The top 50 receiver had several nice moments while playing for Trillion Boys. In the first game, Cook lined up in the backfield and shook 2024 linebacker Cayden Jones on an option route for a short touchdown. He also made a few more grabs, including a nice catch over the middle of the field. Cook later scored early in Trillion Boys' second game, finding space for an easy touchdown. He showed the ability to find open space against zone coverage and did a nice job after the catch, as well. Texas leads in Cook's On3 Recruiting Prediction Machine.
Additional Notes
+ On300 safety Daemon Fagan had an impressive game-winning interception in the star-studded South Florida Express-Miami Immortals matchup. Fagan elevated to come down with the Jaden Rashada pass intended for Jalen Brown. At 6-foot-3, Fagan is one of the more physically imposing safeties at OT7.
+ Jalen Brown was a relative bright spot for Miami Immortals, as the offense largely sputtered over two games. The 6-foot-1, 160-pounder is known as a deep threat, but showed off his ball skills while elevating for a touchdown on Saturday.
+ Jurrion Dickey was the pick for On3 MVP on Day Two. Dickey didn't have as much production on Saturday, but that wasn't for lack of being open. We saw Dickey work his way open on multiple occasions, but the Miami Immortals quarterbacks didn't spot him in time to make the throw. The Oregon commit's best play of the day came on a corner route, beating On300 corner Damari Brown for a nice gain. The high-end skill set was still apparent despite the lack of targets.
+ KJ Bolden ranks as the No. 1 safety in the 2024 On300 and looks the part at the position. He's lining up deep for Hustle Inc. and has shown good range and feel for the position. Bolden looks to have a good understanding of coverage.
+ Noah Rogers probably has the most full-field touchdowns, showing his deep speed on vertical routes. We haven't seen Rogers do a ton in the short and intermediate game – he's primarily been a home-run hitter. With that said, he's good for a few bombs every day.
+ Top 20 receiver Carnell Tate made a few nice grabs on Saturday down the sideline. Tate showed off his ball skills and catch radius, extending for a very impressive catch that was ultimately ruled out of bounds.

+ Wide receiver Malik Elzy had one of the catches of the day coming down with a one-handed grab in the back of the endzone while working against a talented Hustle Inc. secondary. Elzy had another impressive catch on Friday.
+ Five-Star Plus+ cornerbacks Desmond Ricks (2024) and Cormani McClain (2023) actually faced off on one play. McClain flipped over to wide receiver for a play with Ricks in coverage. McClain ran a vertical route, with Ricks running alongside with good coverage. Both had up and down days overall on Saturday.

+ We saw defenses rebound a bit on Saturday after quarterback and receiver play was the highlight of the first two days. Touted 2023 signal callers USC commit Malachi Nelson, Jaden Rashada and 2024 passer Jadyn Davis had high and low moments on Day Three at OT7. Nelson's day was more of the ho-hum variety. South Florida Express was upset in the first game of the day and Nelson rotated in the second game. Rashada flashed his arm talent on several throws. He can flick the ball 60-plus yards with ease. We also saw him layer some passes over the middle of the field and in the end zone. With that said, there's still some areas to improve from a consistency and accuracy perspective. Davis' arm checks out – he can drive the ball out to the boundary and downfield. He was a little spotty with the accuracy and Carolina Stars struggled to put a bunch of points on the board on Saturday.