Where Pac 12 recruiting classes stand in On3 Consensus Team Ranking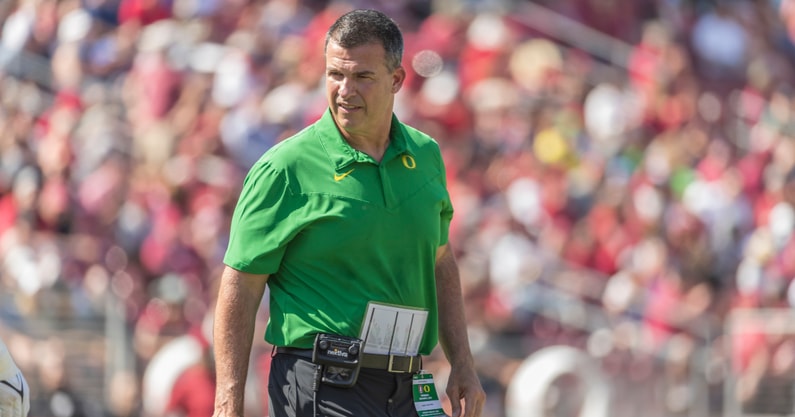 The 2022 class, while not yet finished, features a lot of familiar faces – and one familiar league – at the top of the On3 Consensus Team Ranking. While most schools are wrapping up their classes, there's plenty of movement left with Pac 12 Conference teams with the start of the early signing period less than 30 days away.
According to the On3 Consensus Team Ranking – the most advanced and accurate team ranking in the industry – the Pac 12 has only two classes in the top 20. However, coaching changes at USC, Washington, Washington State and questions about the future at Arizona State are shaking things up dramatically.
Here's a look at the Pac 12 12 recruiting classes for 2022 as of Nov. 23, according to the On3 Consensus Team Ranking.
Pac 12 No. 12 Arizona State
Consensus Score: 81.525
On3 Consensus Team Ranking: 87
Commitments: 5
Top pledge: Tevin White
Arizona State hired Herm Edwards four years ago largely because he promised success on the recruiting trail. Edwards assured that success would then turn into wins against Pac 12 Conference rivals.
Fast forward to November, and the Sun Devils are being investigated by the NCAA for alleged recruiting violations that already resulted in the suspensions of three assistants.
It's destroyed the 2022 recruiting class, which now includes only four commitments, the fewest in the Pac-12. It's also the second-lowest rated Power 5 recruiting class, only ahead of the rebuilding Kansas Jayhawks.
Plus, defensive coordinator and recruiting coordinator Antonio Pierce apparently removed most ASU references from his social media accounts after being told he couldn't travel to recruit during the recent off week.
It's gotten so bad at ASU that its recruiting coordinator can't even recruit off-campus.
No. 11 Washington State
Consensus Score: 84.139
On3 Consensus Team Ranking: 65
Commitments: 10
Top pledge: Taariq Al-Uqdah
The Cougars are going through a search to find their next head coach and the assistants remaining on campus have been scrambling to keep the foundation of the class in place.
The good news is that they've so far done a pretty good job of doing so. But you never know what might develop while other schools try to chip away at the WSU commitment list. The longer the Cougars don't have a head coach the more opportunities there are for commits to have a change of heart.
Whoever gets the job will have to scramble to add more depth in the class and find their players. But at least they have a good quarterback commit on board with Adryan Lara out of Arizona. He was heavily recruited by a number of Pac 12 programs.
Pac 12 No. 10 California
Consensus Score: 84.820
On3 Consensus Team Ranking: 63
Commitments: 10
Top pledge: Nathan Burrell
The Bears don't have a single four-star commitment in the 2022 class, but they have done a masterful job of adding depth along the defensive line.
That was the biggest priority in the class, and Burrell and Curlee Thomas are two EDGE prospects that were heavily recruited. They join DL Damonic Williams, a top 40 player in California, in forming one of the best DL classes in the Pac 12.
The Bears have also worked hard to dip into LA powerhouse programs like St. John Bosco and Santa Ana Mater Dei. Burrell is from Bosco and three-star cornerback Cameron Sidney is from Mater Dei.
No. 9 Colorado
Consensus Score: 85.189
On3 Consensus Team Ranking: 58
Commitments: 17
Top pledge: Aubrey Smith
Colorado coach Karl Dorrell has taken the Buffaloes' 2022 recruiting class in a little bit of a different direction. Instead of focusing on California, the Buffs have made Texas and even Georgia prime recruiting territories.
The tactic has worked with some success and it's why the Buffs have one of the more under-rated classes in the Pac 12.
Smith out of Buford, Ga., was heavily recruited by Florida State and South Carolina before picking CU. Three-star safety Dylan Dixson, three-star quarterback Owen McCown and three-star cornerback Joshua Wiggins out of Texas are quality gets that had multiple major offers.
Pac 12 No. 8 Oregon State
Consensus Score: 85.268
On3 Consensus Team Ranking: 56
Commitments: 13
Top pledge: Mathias Malaki-Donaldson
Oregon State focused its 2022 recruiting class on rebuilding and adding depth along both the offensive and defensive lines.
Malaki-Donaldson is a huge upside recruit out of Oaks Christian, one of the top programs in California. He had a long list of national offers and could be one of the best steals in the Pac 12.
Oregon State coaches are also fired up about the additions of three-star DL Quincy Wright, three-star IOL Dylan Lopez and three-star OT Luka Vincic. Throw in coveted Florida linebacker Melvin Jordan, and there is a lot to like about what Oregon State accomplished this recruiting cycle.
No. 7 Utah
Consensus Score: 86.150
On3 Consensus Team Ranking: 49
Commitments: 9
Top pledge: Lander Barton
Utah falls in the middle of the Pac 12 recruiting rankings. But a good way to look at it is that the best is yet to come for the Utes.
Yes, Utah has a good foundation in place headlined by in-state recruits Barton, a four-star linebacker, and three-star athlete Carson Tabaracci. But Utah is making a hard run at several players committed to other schools and hosted a monster visit weekend against Oregon last week.
If things fall into place, then there's a real opportunity for Utah to shoot up the Pac 12 and national recruiting rankings.
Pac 12 No. 6 Arizona
Consensus Score: 86.219
On3 Consensus Team Ranking: 47
Commitments: 15
Top pledge: Keyan Burnett
The Wildcats are another Pac 12 class with a lot of positives in place.
Four-star athlete Burnett out of Servite and four-star linebacker Sterling Lane of Oaks Christian are the headliners in the class. Both are from powerhouse programs in LA. Both had their pick of schools.
UofA insiders are also giddy about quarterback Noah Fifita of Servite. Fifita has emerged as one of the best quarterbacks in high school football. Fifita is an electric playmaker behind center. He has considerable arm strength which pairs with his mobility and ability to make off-schedule plays.
He's very small, at just 5-foot-9. Still, he is clearly one of the better quarterbacks in high school football with some physical skills that could transcend his lack of height at the next level.
No. 5 Washington
Consensus Score: 87.293
On3 Consensus Team Ranking: 34
Commitments: 9
Top pledge: Ryan Otton
Washington recruiting is stuck in the mud while the Huskies begin their search for their next head coach.
The candidates that have been linked with Washington, like Baylor's Dave Aranda, BYU's Kalani Sitake or Oregon offensive coordinator Joe Moorhead, would be home-run hires from a recruiting standpoint.
In the meantime, the coaches still on staff at UDub are working hard at keeping the pieces of a top-five class in the Pac 12 together. There have been decommitments, including On300 safety T.J. Hall, and others are getting heavily targeted by other programs.
The coaches remaining on staff are also working hard at keeping local blue-chipper and five-star OT Josh Conerly Jr. still interested in the Husky program.
But with the right hire, there's a real chance Washington could do some damage on the trail in December.
No. 4 UCLA
Consensus Score: 88.148
On3 Consensus Team Ranking: 22
Commitments: 12
Top pledge: Jadyn Marshall
Bruin fans have been waiting for a breakout class like this from Chip Kelly ever since he was hired. Yes, Kelly does recruit more for fit than he does stars. But the 2022 class is on track for only his second top-25 class since he was hired in late 2017.
The Bruins have a headliner at quarterback in the class with Justyn Martin, who ranks as the No. 15 passer in the country. He'll have Marshall, a four-star receiver, and four-star tight ends Jack Pedersen and Carsen Ryan to throw to when he arrives on campus.
Linebacker Jalen Woods is another name UCLA insiders are fired up about. The four-star from Bosco is a top-25 player in California.
All in all, it's a very impressive group heading to Westwood, and it'll only get better down the stretch.
No. 3 USC
Consensus Score: 88.277
On3 Consensus Team Ranking: 21
Commitments: 9
Top pledge: Devin Brown
Much like Washington and Washington State, USC is treading water until a coaching hire is made. There have been decommitments. Plus, Brown – the four-star quarterback commitment out of Utah – is looking heavily at Texas, Ole Miss, Ohio State and others.
Others, like four-star corners Jaeden Gould and Fabian Ross, have remained loyal to their commitment. USC has also picked up a commitment or two since the change was announced.
Most insiders believe this is a situation that could explode into a special class if the right hire is made. There's a lot of top talent, especially in SoCal, that is monitoring the situation closely.
If the right move is made and recruits get fired up, then USC could quickly do some significant damage on the recruiting trail. USC could flip committed prospects and shoot up the charts. But the right hire has to be made first.
No. 2 Stanford
Consensus Score: 90.12
On3 Consensus Team Ranking: 17
Commitments: 21
Top pledge: Ernest Cooper IV
Recruiting at Stanford is always different because of the Cardinal's academic standards. Stanford must be picky about who it offers and take commitments from.
However, there's a lot to like about this 2022 class heading to Palo Alto. It definitely ranks as one of the nation's biggest surprises.
As always, Stanford has a national class built on players from Texas, California, Tennessee, Hawaii, Missouri, Minnesota, Washington D.C. and other parts of the country.
Cooper is one of the top EDGE defenders in the Lone Star State. His commitment was a big recruiting victory for Shaw. While he's only a consensus three-star, Stanford insiders are fired up about quarterback Ashton Daniels out of Georgia.
No. 1 Oregon
Consensus Score: 91.304
On3 Consensus Team Ranking: 11
Commitments: 19
Top pledge: Kelvin Banks
The Ducks are the class of the Pac 12 on the recruiting trail. It's a group that features playmakers like On3 Consensus four-stars WR Tetairoa McMillan and ATH Jalil Tucker. Both are among the top game-breakers in California and in the country.
The Ducks are also excited about QB Tanner Bailey. Oregon is fighting hard to keep Banks committed. Schools closer to his home in Houston are pushing hard to get him to flip.
All in all, this is an elite crop of talent heading to Eugene, and with a few more final pieces, it'll rank among the best of the best in the country.