On3 Consensus Team Recruiting Rankings: Top 2022 classes after updated On300 rankings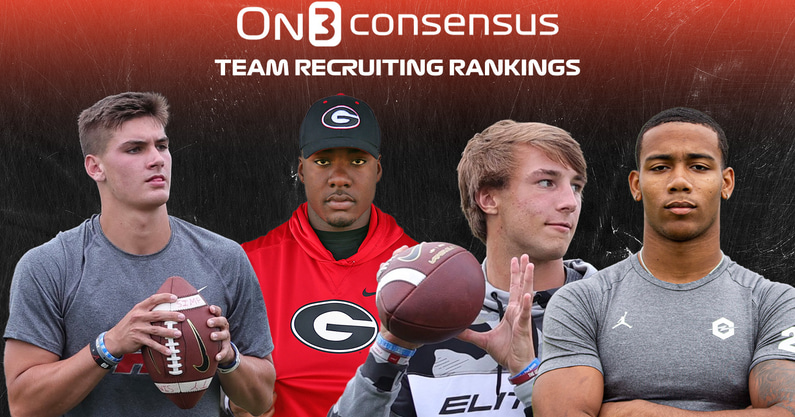 On3 released its newest iteration of the 2022 On300 on Monday, featuring some interesting developments among some of the top recruits in the country. The release coming less than a month before the early signing period, many teams are working to keep their classes in place while also grabbing the final pieces that will put them over the top.
It's the busiest time of year on the recruiting calendar. To give you the context you need to fully understand where the top team's classes stand, here is a breakdown of top 20 ranked teams in the On3 Consensus Team Recruiting Rankings as Nov. 22, 2021.
1. Georgia (94.552)
3 five-stars | 14 four-stars | 6 three-stars | 23 total recruits
Top Commit: Jefferson (Ga.) athlete Malaki Starks, No. 8 in On3 Consensus
Summary: Georgia just rose to the No. 1 slot Sunday when five-star cornerback Jaheim Singletary committed to the school. He is now the Bulldogs No. 2 overall recruit just ahead of five-star defensive lineman Mykel Williams.
2. Alabama (94.335)
4 five-stars | 15 four-stars | 0 three-stars | 19 total recruits
Top Commit: Alabaster (Ala.) Thompson EDGE Jeremiah Alexander, No. 12
Summary: Alabama has four consensus five-star commits — Alexander, quarterback Ty Simpson, offensive tackle Tyler Booker and running back Emmanuel Henderson. No other program has more than two five-stars committed. It is not just that Alabama has more five-stars than any other program. They also don't have any recruits rated below four stars. Every other Power Five team in the country has at least one three-star commit. They may have dropped down to No. 2, but it may not be for long.
3. Texas A&M (93.473)
3 five-stars | 14 four-stars | 1 three-stars | 18 total recruits
Top Commit: Powell (Tenn.) High defensive lineman Walter Nolen, No. 2
Summary: Texas A&M has a day to remember when Nolen and Missouri City (Texas) Fort Bend Marshall wideout Chris Marshall both committed to the school on the same day and saw the Aggies class rise from No. 9 to No. 3 in the country. Since then, they have also picked up a commitment from Baton Rouge (La.) Istrouma Senior running back Le'veon Moss, furthering strengthening this class.
4. Ohio State (93.073)
1 five-stars | 13 four-stars | 2 three-stars | 16 total recruits
Top Commit: Dayton (Ohio) Archbishop Alter linebacker C.J. Hicks, No. 10
Summary: Ohio State may have been at the top of this list if Quinn Ewers didn't reclassify over the summer. But even without Ewers, the class is stocked full of great commits, especially on the defensive side of the ball, where the Buckeyes' top four recruits play.
5. Clemson (92.681)
1 five-stars | 10 four-stars | 1 three-stars | 13 total recruits
Top Commit: Austin (Texas) Westlake quarterback Cade Klubnik, No. 22
Summary: Klubnik is the star of the class but the backbone of Clemson's 2022 recruiting class is IMG Academy. Three of their top five recruits play at IMG: four-star cornerback Daylen Everette, four-star EDGE Jihaad Campbell and four-star athlete Keon Sabb. Sabb and Everette even committed to the Tigers on the same day.
6. Notre Dame (92.552)
1 five-stars | 20 four-stars | 2 three-stars | 23 total recruits
Top Commit: Hilton Head Island (S.C.) Hilton Head linebacker Jaylen Sneed, No. 25
Summary: Notre Dame has built a solid all-around class. Sneed is the only player in the top 99 of the On3 Consensus but the Fighting Irish have 11 commits in ranked in the 100s. They are loaded at linebacker as well with Sneed, Traverse City (Mich.) Central's Joshua Burnham, Mission Hills (Calif.) Bishop Alemany's Niuafe Tuihalamaka and Grand Rapids (Mich.) Catholic Central's Nolan Ziegler.
7. Oklahoma (92.437)
1 five-stars | 14 four-stars | 2 three-stars | 17 total recruits
Top Commit: Lakeland (Fla.) High defensive lineman Gabriel Brownlow-Dindy, No. 6
Summary: The Sooners top seven recruits all come from different states — California, Colorado, Florida, Maryland, Nevada, Oklahoma, Texas. But their next 10 recruits all play in either Texas, Oklahoma or Nebraska.
8. Penn State (92.242)
0 five-stars | 16 four-stars | 6 three-stars | 25 total recruits
Top Commit: Reading (Pa.) Governor Mifflin running back Nick Singleton, No. 39
Summary: The highest-ranked team without an On3 Consensus five-star commit, Penn State's class has both quality and quantity. No team in the country has as many commits as Penn State has with 25. And its 16 four-star pledges include top-50 prospects in Dennis-Sutton, Owings Mills (Md.) McDonogh School EDGE Dani Dennis-Sutton and Medina (Ohio) High quarterback Drew Allar.
9. Texas (91.946)
0 five-stars | 15 four-stars | 7 three-stars | 22 total recruits
Top Commit: Spearman (Texas) High athlete Brenen Thompson, No. 50
Summary: No five-stars — yet — for the Longhorns but the class is filled with future starters for Texas. Unlike in-state recruiting rival Texas A&M, the Longhorns class is much more diverse in regards to location. There are nine commits from outside the state of Texas.
10. North Carolina (91.931)
2 five-stars | 10 four-stars | 4 three-stars | 16 total recruits
Top Commit: Greensboro (N.C.) Grimsley defensive lineman Travis Shaw, No. 14
Summary: North Carolina may be underperforming on the football field this season but the Tar Heels are on the verge of finishing the cycle with a top-10 recruiting class. There's still time to go, but if its accomplished, its two current five-star recruits in Shaw and Lynchburg (Va.) Liberty Christian Academy offensive tackle Zach Rice — plus Richmond (Va.) St. Christopher's School top-100 recruit Andre Greene Jr. — will be a major reason why.
11. Oregon (91.304)
1 five-stars | 15 four-stars | 3 three-stars | 20 total recruits
Top Commit: Humble (Texas) Summer Creek offensive tackle Kelvin Banks, No. 13
Summary: Banks is the standout and makes up a great core with Anaheim (Calif.) Servite wide receiver Tetairoa McMillan and San Diego Lincoln teammates Jalil Tucker and Jahlil Florence. There has been rumors about Banks potentially staying in state to play for Texas or Texas A&M. His loss wouldn't be the be-all, end-all, but it would see the Ducks class drop in the rankings.
12. LSU (91.181)
1 five-stars | 9 four-stars | 4 three-stars | 14 total recruits
Top Commit: Monroe (La.) Neville offensive tackle Will Campbell, No. 24
Summary: Ed Oregron will be gone at the end of the season, and it remains to be seen how that will affect recruiting. Four-star wideout Aaron Anderson decommitted from LSU and committed to Alabama because Oregron left. But other than that, nobody else has decommitted — which has not been the case at other schools that have pulled the plug on its head coaches.
13. Florida State (90.467)
1 five-stars | 8 four-stars | 7 three-stars | 16 total recruits
Top Commit: Suwanee (Ga.) Collins Hill athlete Travis Hunter, No. 1
Summary: The No. 1 player in the On3 Consensus, Hunter is a phenom. Georgia is making a push for him but if Florida State can get him on campus, it would be arguably the biggest win for the program, both on and off the field, since Mike Norvell took over. Hunter isn't the only great player committed to Florida State, although he does give the class a top-heavy balance to it.
14. Missouri (89.988)
1 five-stars | 8 four-stars | 6 three-stars | 15 total recruits
Top Commit: East St. Louis (Ill.) wide receiver Luther Burden, No. 11
Summary: Earning Burden's commitment was huge for Missouri as he immediately become one of the best commits in school history. He was a can't miss recruit for the program, and beating out teams like Georgia for him only adds to the sweetness of the recruiting win. There are other good Missouri commits as well, but Burden is the alpha and omega of the 2022 Tigers class.
15. Kentucky (89.337)
1 five-stars | 9 four-stars | 6 three-stars | 16 total recruits
Top Commit: Charlestown (Ind.) High offensive tackle Kiyaunta Goodwin, No. 15
Summary: Goodwin, the highest-ranked commit during the Mark Stoops era, is the superstar of the recruiting class for Kentucky. Goodwin has spent the last month visiting other schools, such as Alabama and Florida State. The Wildcats need to keep him as Goodwin is the difference between a good and a great class.
16. Michigan (89.337)
1 five-stars | 8 four-stars | 8 three-stars | 18 total recruits
Top Commit: Grosse Pointe (Mich.) Grosse Pointe South cornerback Will Johnson, No. 21
Summary: Michigan, like a few others on this list, has an undisputed best recruit who is ranked well ahead of everyone else in the class. That best recruit is Johnson, and he is ranked almost 120 slots higher than Bolingbrook (Ill.) Plainfield East four-star wideout Tyler Morris. But the Wolverines class is still filling up really good talent, which is no doubt somewhat correlated to its success on the field this season.
17. Stanford (89.060)
0 five-stars | 7 four-stars | 14 three-stars | 21 total recruits
Top Commit: Arlington (Texas) Martin EDGE Ernest Cooper IV, No. 128
Summary: David Shaw has demonstrated his ability to recruit consistently good classes, even considering the school's academic standards and subpar play this season. While he hasn't recruited any five-stars this time around, he has a class that currently has only three-stars and above.
18. Arkansas (88.637)
0 five-stars | 5 four-stars | 14 three-stars | 20 total recruits
Top Commit: Fayetteville (Ark.) wide receiver Isaiah Sategna, No. 171
Summary: Getting Sategna to flip from Oregon to the Razorbacks was a huge for for Sam Pittman and his staff. He is the headliner of the group, both in terms of sheer talent and what he represents. Keeping the No. 1 player in the state — let alone from the town where Arkansas is located — will reverberate for years to come on the trail
19. Miami (88.343)
0 five-stars | 6 four-stars | 2 three-stars | 8 total recruits
Top Commit: Lexington (Miss.) Holmes County cornerback Khamauri Rogers, No. 114
Summary: Miami has the smallest class of any team in the top 20 with only eight recruits. With the future of Manny Diaz in question, it might not grow any larger as recruits wait to see what direction the school.
20. USC (88.277)
0 five-stars | 4 four-stars | 4 three-stars | 9 total recruits
Top Commit: Draper (Utah) Corner Canyon quarterback Devin Brown, No. 41
Summary: USC had two five-star commits before Columbus (Ga.) Hardaway defensive lineman Mykel Williams flipped to Georgia in October and Santa Ana (Calif.) Mater Dei cornerback Domani Jackson decommitted earlier this month. They also lost three-star linebacker Ty Kana on a flip Texas Tech. Brown is also of interest to other teams across the nation, including Ohio State, where he visited this past weekend.