Arch Manning has a massive NIL Valuation from On3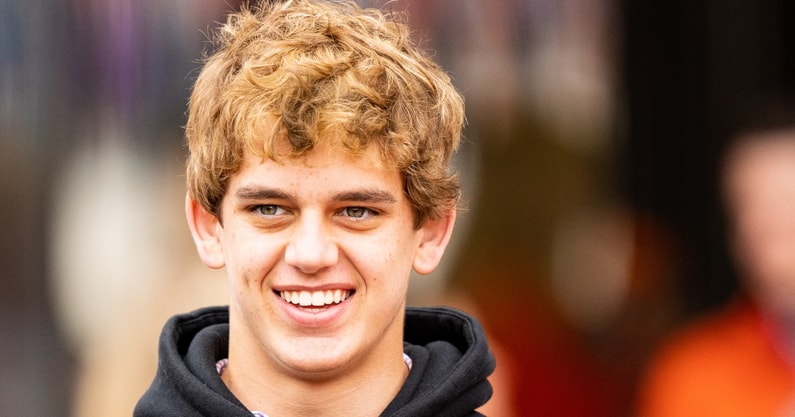 Former New Orleans (La.) Isidore Newman quarterback and current Texas quarterback Arch Manning was one of the biggest high school football recruits ever. He ended his recruitment in June 2022 when he committed to Texas, and he ultimately signed with the Longhorns in December before enrolling in January. With his last name and relation to a pair of famous uncles and a legendary grandfather, his NIL value is among the highest of any athlete in college sports.
His current On3 NIL Valuation stands at $3.7 million. Only three other athletes currently have an NIL Valuation surpassing $3 million: viral basketball sensations Bronny James and Mikey Williams, as well as LSU gymnast Livvy Dunne.
In the On3 NIL 100, which includes high school and college football and men's basketball players, Manning is No. 2. He only sits behind James with Williams, Dunne and USC Heisman Trophy winner Caleb Williams right on his tracks.
CLICK HERE to subscribe to the On3 YouTube channel
Arch Manning's growing social media brand
Manning's massive On3 NIL Valuation comes for a multitude of reasons. The top prospect in the 2023 class once had one of the smallest social media followings because he did not have any accounts. However, he joined Twitter, Instagram and TikTok.
Immediately after his commitment, he gained 50k new followers on Twitter and 85k through Instagram.
And with his commitment, there is now a college fanbase fully invested in his future. While Manning may not have the largest social media following, his name recognition for a high school prospect is unprecedented. He also has the opportunity to partner with his superstar uncles in NIL ventures.
NIL experts expect to see Manning's social media presence and On3 NIL Valuation grow even further in the coming months. That is especially true once he starts the high school football season again. He has already emerged as a presence in the Longhorns' recruiting efforts; Texas gained five commitments in in the weekend after his commitment.
This spring, Manning is on campus at Texas and competing for the Longhorns' starting quarterback job with incumbent Quinn Ewers, who himself boasts an On3 NIL Valuation of $622K.
About the On3 NIL Valuation
The On3 NIL Valuation is the industry's leading index that sets high school and college athletes' projected annual value (PAV).
A proprietary algorithm, the On3 NIL Valuation establishes the overall NIL market and projected 12-month growth rate by measuring two categories, Brand Value Index and Roster Value Index.  
The Brand Value Index measures the national licensing and sponsorship market. The Roster Value Index collects data from all school Collectives into a proprietary Roster Management software. Brand Value and Roster Value are combined to create the overall NIL market.
The NIL valuation is not a tracker of the value of NIL deals an athlete has completed to date. Instead, it signifies an athlete's value at a certain moment in time.