Five names to watch with fast-rising On3 NIL Valuations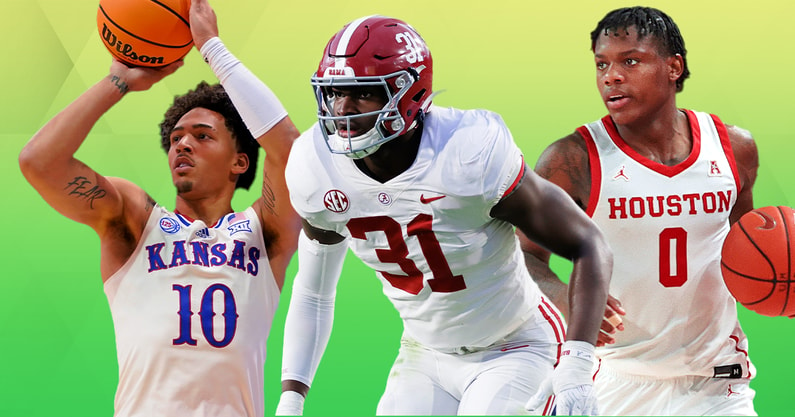 As we've seen already this college football and basketball season, excelling on the field and court can quickly lead to increases in a player's NIL value.
For example, quarterbacks Bryce Young, CJ Stroud and Caleb Williams have all done well on the field this season and also struck new NIL deals and seen their On3 NIL Valuations increase. But they aren't the only examples. There are players all over the country that have seen their On3 NIL Valuations soar after strong starts to the season.
Here's a look at five players that shot up the charts in the On3 NIL 100. The On3 NIL 100 is the first of its kind and the defacto NIL ranking of the top 100 high school and college athletes ranked by their market valuation.
Jalen Wilson – Kansas
Position: Forward
On3 NIL Valuation: $630,000
Increase over last week: $328,000
On3 NIL 100 ranking: 57
Per-Post Value: $1,900
Kansas star Jalen Wilson has started the 2022-2023 basketball season red-hot for the Jayhawks. For example, in an 87-55 victory over Texas Southern on Monday night, Wilson buried a career-high five 3-pointers and contributed 22 points and six assists to lead the Jayhawks.
Wilson has quickly established himself as the leader for the defending national champions, including scoring 25 points, grabbing 11 rebounds and dishing out five assists to lead Kansas past Duke at the Champions Classic in Indianapolis.
"Jalen's done a great job of taking the leadership role and helping the guys every day in practice but also trying to get us off to good starts and being aggressive when he can be," Kansas assistant Norm Roberts said recently.
Wilson is also one of the best NIL success stories for the Jayhawks. He has an On3 NIL Valuation of $630,000. He has seen a nearly 20% increase in his Instagram followers over the last week. Plus, he has a number of big deals in place. This includes a recent t-shirt deal with Charlie Hustle, a national clothing chain based in Kansas City.
Will Anderson – Alabama
Position: EDGE
On3 NIL Valuation: $1.7 million
Increase over last week: $285,000
On3 NIL 100 ranking: 8
Per-Post Value: $2,400
Alabama star defender Will Anderson is already a household name in college sports, but he put on a show last week in the Iron Bowl. He picked up a significant increase in social media followers afterwards. In the 49-27 victory over Auburn, Anderson finished with five tackles, including three tackles for a loss. He also contributed two quarterback hurries.
His play down the stretch has earned rave reviews from Crimson Tide coach Nick Saban. It's also going to help him with brands as they could look to do more NIL deals with him before he likely moves on to the NFL draft.
Anderson has a massive On3 NIL Valuation of $1.7 million. He saw a $285,000 increase after the Iron Bowl. With numerous deals already in place and more on the way, don't be shocked if that valuation soars.
Marcus Sasser – Houston
Position: Guard
On3 NIL Valuation: $795,000
Increase over last week: $256,000
On3 NIL 100 ranking: 41
Per-Post Value: $601
Houston guard Marcus Sasser was recently named the American Athletic Player of the Week for the fourth time in his award-winning career. Through six games, Sasser leads the Cougars with 17 points per game. He's also averaging 3.7 rebounds and he has 13 steals this season.
Sasser, who played just 12 games last year due to a left foot injury that ended his season in December, had to watch from the sidelines in the spring as Houston won the AAC title on its way to an Elite Eight appearance.
He's excited to be back and is making an impact for the Cougars. He's using that momentum to also make an impact with an On3 NIL Valuation of $795,000 and a social media following that has increased to more than 24,000 since the start of the season. Plus, he's also struck a number of NIL deals, including with INAKA, Little Woodrow's and others.
Emoni Bates – Eastern Michigan
Position: Forward
On3 NIL Valuation: $1.1 million
Increase over last week: $228,000
On3 NIL 100 ranking: 19
Per-Post Value: $8,200
Eastern Michigan star Emoni Bates is already a well-known name to many national basketball observers. But after a topsy-turvy season at Memphis, the former On3 Consensus five-star recruit put the nation on notice that he's back with a 30-point performance recently against Michigan. It was the type of night that impressed everybody, including Wolverines coach Juwan Howard.
"I've seen him make a lot of tough shots, watching him in high school, watching them in the AAU level," Howard told On3's The Wolverine. "And now, he has a group that breeds confidence in him, that trusts him. And, it's nothing like that. I know it from my own experience. When you have a coaching staff and teammates that believe in you and trust you, your confidence level goes up even higher.
Bates already had a massive On3 NIL Valuation because of his stardom as a prospect. But if he continues to average 19.5 points as he has through the start of the season, there's no question he could end up as one of the biggest NIL brands in basketball.
Zach Edey – Purdue
Position: Center
On3 NIL Valuation: $538,000
Increase over last week: $153,000
On3 NIL 100 ranking: 79
Per-Post Value: $590
Purdue center Zach Edey doesn't have a long list of NIL deals like others in this story. But Edey has quickly become the most dominant presence in college basketball. The Boilermakers' star averaged 22.7 points and 10.3 rebounds in three games this past week, going head-to-head with Drew Timme on Friday and then fouling out Duke's entire frontcourt on Sunday.
"He's a moose," Timme said. "He just camps out down there. He's strong. He knows how to use his body. He knows how to get to his hook and it's kind of just like, you have to put your hands up and hope he misses it."
As he continues to dominate this season, expect his On3 NIL Valuation of $538,000 to move up the charts. And also, don't be surprised if Boilermaker Alliance, the highly successful Purdue-focused collective, helps him ink even more deals moving forward. Edey grabbed headlines in August when he signed a deal with the collective with a focus on helping charitable services in his hometown of Toronto.
About the On3 NIL Valuation
The On3 NIL Valuation is the industry's leading index that sets high school and college athletes' projected annual value (PAV).
A proprietary algorithm, the On3 NIL Valuation calculates an athlete's NIL value using dynamic data points targeting three primary categories:
+ Performance
+ Influence
+ Exposure
While the algorithm includes deal data, it does not act as a tracker of the value of NIL deals athletes have completed to date, nor does it set an athlete's NIL valuation for their entire career. The On3 NIL Valuation calculates the optimized NIL opportunity for athletes relative to the overall NIL market and projects out to as long as 12 months into the future.
The On3 NIL Valuation is publicly available. Performance, Influence, and Exposure ratings will be available only to the athlete in the "Athlete Verified" private dashboard in December 2022.