Jalin Hyatt signs with Everett Sports Marketing for NIL representation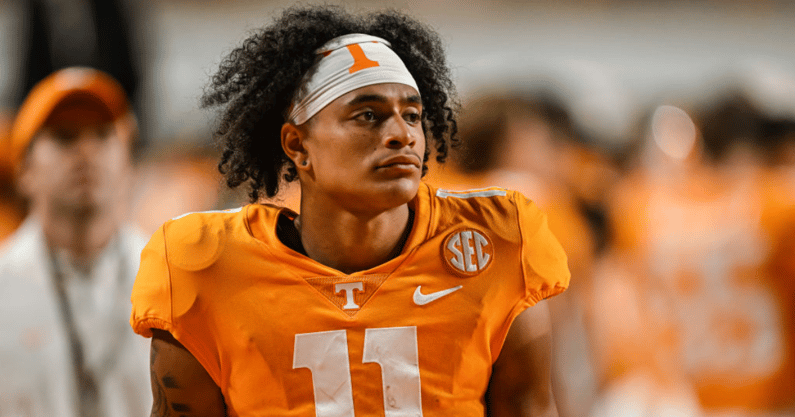 Jalin Hyatt became the first player in Tennessee history to win the Biletnikoff Award on Thursday night.
Now he has signed with Everett Sports Marketing (ESM) for NIL representation. The receiver broke onto the college football scene this season with his five-touchdown performance against Alabama in October. He never looked back, leading the nation with 15 receiving touchdowns.
Signing with ESM comes days after he announced his Hyatt Hotels partnership, a deal the sports marketing company facilitated. As part of the agreement with the hospitality company, Hyatt's teammates' families will receive a hotel credit in advance of the Orange Bowl trip.
The endorsement deal netted 337 million impressions in its first 12 hours following the Tuesday morning announcement. ESM partnered with the Zeno Group, a public relations agency, to estimate the number of media impressions the announcement garnered.
"Deciding to choose ESM for Jalin's NIL representation was an easy one," Hyatt's father, Jamie, said in a statement to On3. "Since day one, they tirelessly went to work for Jalin to find partnerships that not only made good marketing sense, but their data-driven approach to connect athlete to brand is unmatched in the NIL landscape.
"ESM brokered the Hyatt-Hyatt deal to reflect Jalin's vision of how he wanted the deal structured, and that was to make sure his teammates and their families are cared for."
Hyatt has not struggled to find NIL opportunities this season. Signing with ESM gets him in the door with some big-time brands, though. Since the start of the NIL Era, ESM has helped athletes sign a range of agreements from Zaxby's to Champs Sports to Fanatics.
The receiver has yet to make his a decision on his future at Tennessee. Piecing together a Biletnikoff-worthy season will obviously make him an attractive target if he enters the NFL Draft. ESM plans to continue to present him with NIL opportunities until he makes his intentions known.
Hyatt joins ESM's growing NIL roster
Hyatt joins an NIL roster at ESM stacked with talent. The sports marketing agency currently represents Stetson Bennett, Brock Bowers and the Cavinder twins. All four have emerged as some of the most successful athletes in the space, with Bennett and the Cavinders closing in on seven figures of earnings.
And while the agreement with ESM is strictly for NIL purposes at the moment, the company also assists NFL clients such as Jalen Hurts, Mac Jones, and Nick Chubb.
Assisting Hyatt in continuing to grow his brand will also be a chief priority. His social media following puts him in a strong position. He currently has more than 128,000 followers across Twitter and Instagram.
"ESM is known for representing the highest level of skill and character athletes in sport," ESM co-founder Dan Everett said. "As the 2022 Biletnikoff Award winner, Jalin Hyatt is quantifiably one of the best wide receivers in college football. Just as importantly, he has a deep belief in family and a teammate-first mindset, as shown via his latest partnership with World Of Hyatt which includes Jalin gifting all of his teammates with hotel stay credits for the bowl game.
"We seek out clients who grow their brand responsibly and prioritize giving back to the causes and communities they care most about. Jalin is the paradigm of that."
Massive On3 NIL Valuation
Jalin Hyatt currently holds an On3 NIL Valuation of $818,000. His evaluation sits at No. 36 in the NIL 100, which is the first of its kind and defacto NIL ranking of the top 100 high school and college athletes ranked by their On3 NIL Valuation.
The Tennessee star's valuation has only shot up this fall, with a $569K growth over the past 10 weeks. He also ranks in the top 20 of the college football NIL rankings.
The On3 NIL Valuation is a proprietary algorithm that calculates an athlete's projected annual value in the NIL landscape. It factors in an athlete's performance, influence and exposure.
The On3 NIL Valuation accounts for an athlete's roster value and brand value. Roster value is the value an athlete has by being a member of his or her team at his or her school, which factors in the role of NIL collectives. Brand value factors in an athlete's personal brand and the value it could bring to regional and national brands outside of the scope of NIL collectives.