MoneyLion announces first class of NIL athletes with Armando Bacot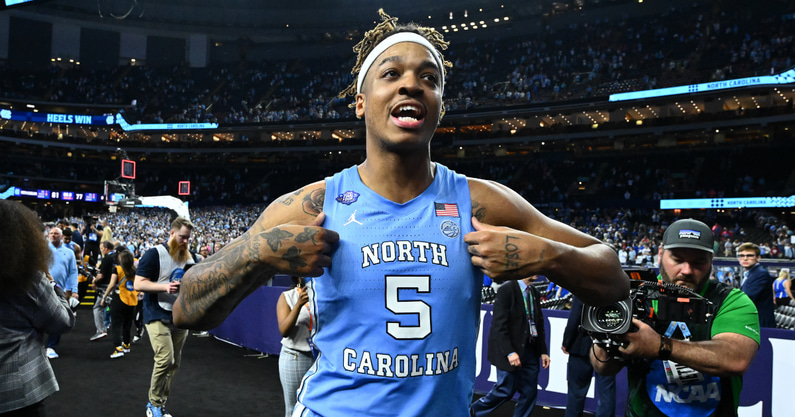 The finance app MoneyLion announced its first class of NIL athletes Thursday. The eight-member class includes high-profile athletes across multiple sports. UConn guard Azzi Fudd, North Carolina forward Armando Bacot and Ohio State running back Miyan Williams are among MoneyLion's inaugural class of athletes.
USC wide receiver Brenden Rice, Temple guard Jalynn Holmes, Penn State soccer defender Kaleb Alva, Wisconsin volleyball outside hitter Liz Gregorski and Nevada cheerleader Ellie Sutter round out the class.
A press release announced each athlete will receive access to webinars led by professional athletes and "unique opportunities such as appearing as a guest on Showtime's top sports podcast, 'All the Smoke.'"
In September, MoneyLion announced a partnership with the content and compliance software platform INFLCR.
The partnership "aims to teach the next generation of student-athletes how 'to money' through engaging and easily digestible educational videos, which will cover topics such as improving credit scores, money-saving hacks and investing," according to a release.
MoneyLion previously announced it signed Rice, the USC wide receiver.
"With the whole NIL era dawned upon us, you can definitely expect to see a large amount of money given to athletes and athletes need to learn how to use that money towards an overall greater financial education," Rice told On3 at the time. "With these large amounts of money, you also have taxes. You have to invest that type of money into long-term growth."
College athletes said they needed more guidance regarding NIL, taxes and financial literacy in the first year of the NCAA's NIL era.
"You can't be too prideful when you get a large sum of money," Rice said. "You have to make sure that you invest it and take critical time to really go about it and plan certain things out because if you go ahead and blow your money, then you're going feel as though you're stuck."
The On3 NIL Valuations of Armando Bacot, Azzi Fudd and more
MoneyLion's eight-member class includes some of the most marketable athletes in their respective sports.
Bacot is a senior forward who helped lead the Tar Heels to the 2022 national championship game. He became the first player in NCAA tournament history to record six consecutive double-doubles.
He has an On3 NIL Valuation of $1 million, which ranks No. 3 among men's basketball players and No. 22 in the On3 NIL 100. The On3 NIL Valuation the industry's leading index that sets high school and college athletes' projected annual value (PAV) in the NIL landscape.
The On3 NIL Valuation calculates an athlete's NIL value using dynamic data points targeting three primary categories, including performance, influence and exposure.
While the algorithm for the On3 NIL Valuation includes NIL deal data, it does not act as a tracker of the value of NIL deals an athlete has completed to date, nor does it set an athlete's NIL valuation for the athlete's entire career.
The On3 NIL 100 is the first of its kind and the defacto NIL ranking of the top 100 high school and college athletes ranked by their On3 NIL Valuation.
Fudd has an On3 NIL Valuation of $184,000, which ranks No. 10 among women's college basketball players. Williams' On3 NIL Valuation of $295,000 ranks No. 123 among college football players.