NIL Deals of the Week: Puma continues to make splash, J.J. McCarthy announces Dunkin' meal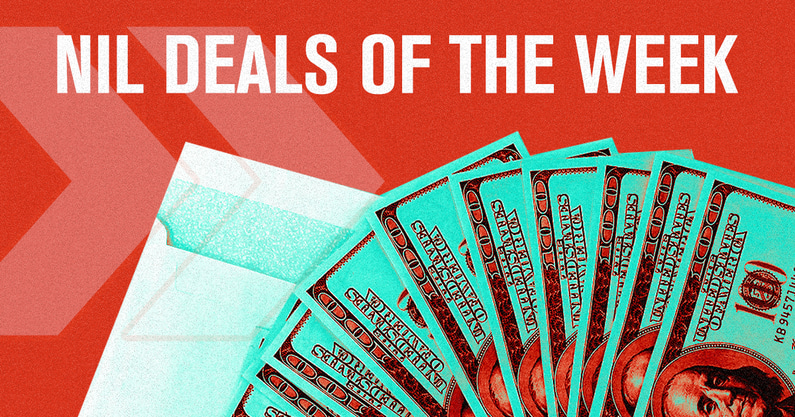 For as much attention college football commands in the opening weeks of September, it was women's basketball that announced the most notable NIL deals this week.
Puma signed three women's basketball players, continuing its effort to be a leader in the NIL basketball space.
With a mission to highlight the top deals of every week, the On3 NIL team will focus on identifying noteworthy deals in the college athletics landscape.
As a reminder, feel free to submit info on your NIL deal to On3. You can send an email to [email protected] or reach out via DM or comment on Twitter to @On3NIL or @deals_nil. Direct messages are open, too, on the @On3NIL Instagram account.
Let's get to the deals that highlighted this week in NIL.
Puma signs LSU basketball freshman Flau'Jae, high schoolers Mia and Mya J. Pauldo
Puma continues to make a name for itself in the NIL space. While Nike and Under Armour have kept quiet, adidas has ramped up its involvement in NIL in recent months. But the German sneaker company has become the NIL leader in basketball.
Over the past week, they have signed three women's basketball players. LSU freshman women's basketball player and hip-hop star Flau'Jae Johnson announced her sneaker deal with Puma late last week. Then Puma inked high schoolers Mia and Mya Pauldo to NIL footwear and apparel deals.
The sophomore twins from Morris Catholic High in Denville, New Jersey, have already received scholarship offers from Rutgers, Baylor, Mississippi State, Ohio State, Miami and Oklahoma, among others.
The sneaker shop has also recently signed LaMelo Ball, Marcus Smart and Deandre Ayton. Now they've signed three women's basketball player who could be the face of the college game in the coming years.
While players like the Cavinder Twins, UConn star Paige Bueckers and South Carolina's Aliyah Boston have cashed in on the NIL Era, Johnson has the potential to be the biggest name in the space. She has an established following already because of her hip-hop brand, with her Instagram north of 700,000 followers. She already has 124,000 subscribers on YouTube, another 30,000 on Twitter and 343.7k on TikTok.
The Pauldo twins have earned a nickname: Twin BackCourt or "TBC." And the class of 2025 prospects have built a following on social media. They share a Twitter and Instagram account that falls just shy of 10,000 followers.
Puma may have scored big on its latest signings.
Michigan quarterback J.J. McCarthy has own meal at Dunkin' Donuts
 J.J. McCarthy locked up the Michigan quarterback job last week against Hawaii, and he'll start this weekend against 0-2 UConn.
But before the former four-star recruit beat Cade McNamara outright, he secured his own Dunkin' order at select Metro Detroit locations of the chain coffee and breakfast shop. The quarterback's go-to order is a medium iced coffee with cream and a strawberry frosted donut.
He has partnered with the business before, taking part in a variety of initiatives. On national iced coffee day in May, he announced on Instagram that $1 from every iced coffee sold would benefit children in local hospitals.
McCarthy's deal with Dunkin' was brokered by Valiant Management, a Michigan-based sports marketing agency run by former player Jared Wangler. The quarterback has found plenty of success in NIL. He's inked deals with the M Den, a popular Michigan merchandise store, Randy Wise Automotive Team and Eberg Capital.
He currently holds an On3 NIL Valuation of $337,000, which ranks 105th in the college football NIL rankings. He's also amassed 156k social media followers with a $1,600 per post value.
Miami's Tyler Van Dyke, Destiny Harden sign with The Dan Le Batard Show
One of Miami's most iconic talk shows has made a move in the NIL space.
Dan Le Batard announced Monday morning his show has struck NIL deals with Miami quarterback Tyler Van Dyke and women's basketball player Destiny Harden. The terms of the deal were not revealed. It's also not entirely clear what NIL responsibilities Van Dyke and Harden will officially have – other than having a lot of fun.
"I know the deals are done, compliance has approved," show executive producer Mike Ryan said during Monday morning's show. "We're all signed and good to go. Huge announcement – the Le Batard Show has signed NIL deals with two star University of Miami athletes. Destiny Harden on the women's hoop side. She destroyed Louisville during the ACC Tournament last year. Ripped out their heart. And Tyler Van Dyke, star quarterback. Tyler Van Dimes. They are our first NIL athletes."
Ryan said as part of their NIL deals, Harden and Van Dyke must show up at the Battle Court Cesta Cyclones game on Sept. 30.
The Cesta Cyclones are one of four professional jai-alai squads in Miami. The Cyclones were purchased in March by Chris Cote, a longtime producer of theDan Le Batard Show. As the winner of the recent Battle Court Championship, the Cyclones had to donate $50,000 to charity.
Van Dyke currently has an On3 NIL Valuation of $642,000, which ranks No. 52 in the NIL 100 and 32nd in the college football NIL rankings. Miami is currently 2-0 entering its top-25 matchup with Texas A&M on Saturday night.
Harden grabbed national attention this spring when she scored the final 15 points and the game-winning buzzer-beater basket against Louisville in the ACC Tournament quarterfinals. She's the top returner on a Miami team that added the Cavinder Twins this offseason.
Honey Stinger signs four NIL college hive captains
More and more sports nutrition companies continue to sign college athletes to serve as ambassadors. Honey Stinger, which uses nature's natural sweeteners to make waffles, bars, chews and hydration packages announced the signing of for College Hive Captains this week.
Honey Stinger announced the formation of College Hive last winter, a program where student-athletes could sign up and earn rewards using the Hive Portal. Since then, more than 600 athletes have joined the program.
The company has signed Auburn quarterback TJ Finley and Notre Dame running back Chris Tyree, Rutgers soccer player Riley Tiernan and Temple basketball player Jalynn Holmes.
As captains of Honey Stinger's NIL hive, the four athletes will lead an effort to drive awareness through social media and encourage other athletes to join the program. Through the Hive Portal, athletes can earn cash payments easily distributed through PayPal and Venmo, in addition to product and apparel rewards.
The four athletes were selected through Malka Sports. And come this spring, Honey Stinger plans to add four new College Hive captains to its roster of athletes. 
TJ Finley currently holds an On3 NIL evaluation of $124,000. Chris Tyree holds an On3 NIL Valuation of $140,000, which ranks in the top 400 of the college football NIL rankings.
Arkansas quarterback KJ Jefferson using NIL to support Jackson
Arkansas quarterback KJ Jefferson is his NIL to support the people of Jackson, Mississippi, who are hurting because of a water crisis that's lasted for more than two weeks.
Jackson remains in national headlines because of a water emergency at the city's O.B. Curtis water facility. People in Jackson haven't had a water supply for more than two weeks and the city has also had a boil-water notice in place for more than a month.
People across the country are rallying to support the people of Mississippi. That includes Jefferson, who is a native of Sardis, Mississippi. He played high school football at North Panola High School.
Jefferson announced a partnership with Arkansas 211 this week. A program provided by the United Way of Arkansas, Arkansas 211 provides support to critical health and human services. Through the deal, Jefferson is asking for donations for his home state.
"The Pearl River has flooded the capital of my home state," Jefferson said in the social media post. "Join me, with the support of Arkansas 211 and give today. Please TEXT QB1Arkansas to 41444. All proceeds go to water crisis relief in Jackson, MS."
The deal was brokered by ONEArkansas NIL, a Razorback-focused NIL collective aimed to "connect, educate, and facilitate their charitable efforts while serving fellow Arkansans and others." Additionally, ONEArkansas NIL is spearheaded by Marvin Caston, a former Razorback football player and Senior Director of Development at the Razorback Foundation.
Honorable Mention: