Oklahoma NIL collective launches ambitious fundraising campaign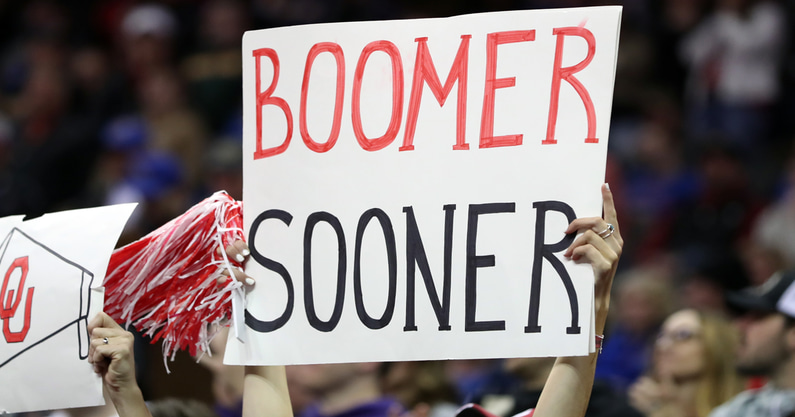 Crimson and Cream, one of two approved NIL collectives at Oklahoma, announced a large-scale fundraising campaign with a goal of raising $3 million in 30 days.
The collective is looking for Sooner fans to support the collective and OU student-athletes by making a monthly donation of $25. Crimson and Cream said each subscription will be matched by a "generous donor, who wishes to remain anonymous, dollar-for-dollar for the next 30 days."
The move to raise money for Crimson and Cream is big for Oklahoma. In a world where collectives have become college sports' key driving force in recruiting, roster maintenance and Transfer Portal, the Sooners have seemingly fallen behind.
Oklahoma message boards are filled with concerns from fans about the success – or lack thereof – on the NIL front for Sooner student-athletes. OU fans have seen how deals have impacted roster management at rivals Texas and Texas A&M and have been pleading for the ability to make more of an impact from a NIL standpoint.
Crimson and Cream leaders have had some NIL positive stories since it launched in late September. But Student Athlete NIL CEO Jason Belzer said Crimson and Cream needs to be able to do more.
"Oklahoma has had success with NIL, but now is the time for us to ramp up our efforts to lead in this space," Belzer told On3. "With the addition of Crimson and Cream and the consistent support of OU fans, the possibilities for success both on and off the field are quickly accelerated and visible to OU's global fanbase.
"Sooner Nation can be the difference-maker for OU. NIL is constantly changing for the betterment of college athletes and together we can help Oklahoma create the most robust NIL program for its student-athletes in the country."
OU leaders pushing for support of Crimson and Cream
Crimson and Cream says in the rapidly changing landscape of college sports, a "strong, supportive NIL collective makes all the difference" in supporting student-athletes to excel in the game and in and in the classroom.
To meet the $3 million match goal, the campaign needs 4,250 Sooner fans to make a monthly commitment of $25 by National Signing Day on Dec. 21. For $25 per month, Crimson and Cream members receive exclusive interview content, access to supporter events and student-athlete meet-and-greet sessions, raffle entry for autographed memorabilia and Crimson and Cream apparel.
"College athletics is changing right before our eyes," OU President Joseph Harroz Jr. said in a statement. "Our approved NIL collectives are primed to deploy resources to ensure that we are SEC-ready and that our student-athletes are on a level playing field and prepared to be great university ambassadors."
OU Vice President and Athletics Director Joe Castiglione said it's essential for Sooner fans to support this initiative.
"We have a championship mindset with everything we do," Castiglione said in a statement. "In order to continue our longstanding tradition of excellence and of producing championship-caliber teams, we must provide student-athletes with robust opportunities in the NIL realm. That includes helping them engage with our amazing fans and the Oklahoma business community. An effective and well-funded NIL program will help launch OU into the new era of collegiate athletics."
Sooner fans can help "set the standard"
Oklahoma football coach Brent Venables said a donation to Crimson and Cream can help Sooner student-athletes be supported for the long run.
"I know a lot of Sooner fans have been asking how they can help when it comes to NIL," Venables. "A monthly financial commitment to an OU collective directly benefits our football student-athletes and helps create a sustainable and long-term plan on how we will be leaders in this ever-changing space.  We hope you will consider helping us set the standard."
Crimson and Cream said 90% of the contributions would go directly to student-athletes, with the other 10% covering the collective's operating costs.
Fundraising is a vital part of a NIL collective's success. The groups must be able to create ways to bankroll NIL deals, and a massive part of that comes from donations.
Sources confirmed to On3's Auburn Live in September that On To Victory, Auburn's primary NIL collective, raised more than $10 million in the first month of its 30 in 3 campaign. That number has reportedly ballooned to around $13 million.
So the push to raise $3 million at Oklahoma in such a short amount of time isn't that farfetched.
Since it started, Crimson and Cream signed the entire men's basketball team to NIL deals. It's also partnered with quarterback General Booty, baseball players John Spikerman and Jackson Nicklaus and also hosted an autograph session with members of the OU softball and women's basketball programs.