Through NIL deal, 5-star QB Nico Iamaleava featured on Leaf Trading Card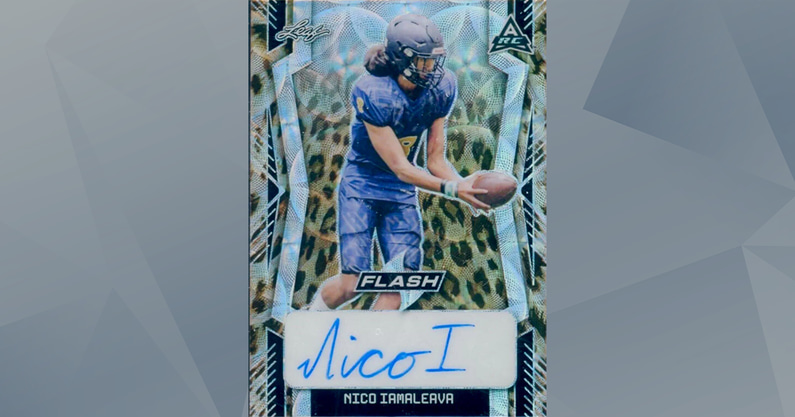 Nico Iamaleava continues to be a NIL trendsetter for high school recruits.
Iamaleava – the On3 Consensus five-star Tennessee quarterback commitment from Downey (California) Warren – is the recruit who signed with with Spyre Sports Group back in March, per The Athletic. The deal could see him make $8 million after four years.
Now, Iamaleava has signed another significant deal.
This time he's executed a NIL partnership with Leaf Trading Cards. Leaf CEO Brian Gray orchestrated the signing. The terms of the NIL deal were not revealed.
"He's been amazing," Gray told On3. "We are super excited to see him become one of the best college quarterbacks next season at Tennessee."
The company said Iamaleava is featured in two different trading card series – Leaf Metal Football and Leaf Flash Football. There will be multiple versions of the card series featuring his autograph. But the cards are also somewhat limited editions with most versions capped at 20.
The front includes a picture of him in a uniform that resembles one from Warren High. However, because of California Interscholastic Federation rules, Iamaleava's deal can't be affiliated with his school or team, so it couldn't include the school's logos.
The back of the card indicates Leaf is treating the Iamaleava series as essentially a pre-rookie card. Three of the signed cards sold for more than $200 in November on eBay and one sold for $510. There are multiple cards selling in the $189-$299 range currently, while some are going for much, much cheaper.
"You have received an autograph card from Leaf Trading Cards," the back of the card says. "On the front of the card is an autograph of Nico Iamaleava. The authenticity of this card is guaranteed by Leaf Trading Cards. We hope you enjoy your piece of history."
Nico Iamaleava not only NIL deal for Leaf
In February, through NIL deals the trading card company released the 2021 Leaf Metal NIL Quarterbacks set featuring Alabama's Bryce Young, Clemson's D.J. Uiagalelei, Texas' Quinn Ewers and South Carolina's Spencer Rattler.
Leaf then released its 2022 Leaf Metal Draft set that was chock-full of NIL deals with college stars including:
It's clear that Leaf has made NIL a big part of its focus for the future. Plus, it sounds like more are on the way.
"We have a ton of interesting NIL deals coming soon," Gray said.
Iamaleava not only high school QB to partner with Leaf
Interestingly, the 2022 Leaf Metal Draft series also includes another star high school signal-caller, On3 Consensus four-star Jaden Rashada out of Pittsburg, California.
Rashada fueled national headlines when NIL played a significant factor in his recruitment. He originally committed to Miami and planned to have a NIL agreement with LifeWallet, which is run by Florida businessman John Ruiz.
Rashada flipped his pledge to Florida 10 days ago. His situation shows that NIL has added a new layer of intrigue to recruiting.
Iamaleava has massive On3 NIL Valuation
Nico Iamaleavacurrently has an On3 NIL Valuation of $1.1 million, which puts him at No. 17 in the On3 NIL 100 and No. 2 in the On3 High School Football NIL Rankings.
The On3 NIL Valuation is the industry's leading index that sets high school and college athletes' projected annual value (PAV).
A proprietary algorithm, the On3 NIL Valuation calculates an athlete's NIL value using dynamic data points targeting three primary categories:
+ Performance
+ Influence
+ Exposure
While the algorithm includes deal data, it does not act as a tracker of the value of NIL deals athletes have completed to date, nor does it set an athlete's NIL valuation for their entire career. The On3 NIL Valuation calculates the optimized NIL opportunity for athletes relative to the overall NIL market and projects out to as long as 12 months into the future.
The On3 NIL Valuation is publicly available. Performance, Influence, and Exposure ratings are available only to the athlete in the "Athlete Verified" private dashboard.