NIL collective Bleeding Blue for Good capitalizes on UConn's title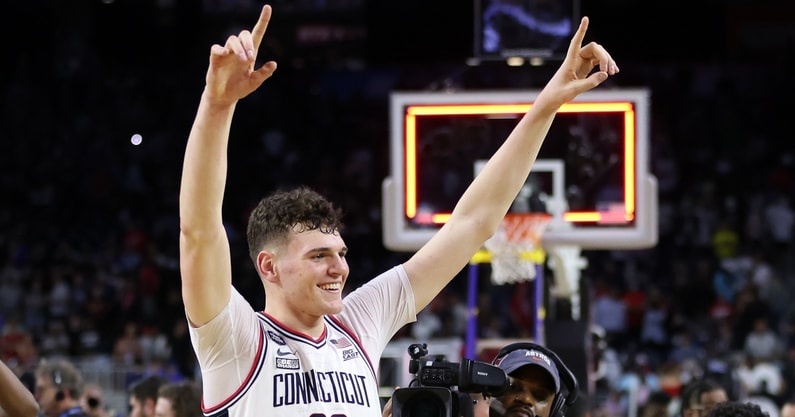 Many of the players from UConn's reigning men's basketball national championship team will attend a youth basketball camp at Waterbury Police Activity League on Sunday, April 30. It's the final name, image and likeness-related event the NIL collective Bleeding Blue for Good is facilitating for members of the 2022-23 Huskies team. The camp will be held in conjunction with the event management and sports marketing company ProCamps.
At the camp, there will be 100 children in attendance who are enrolled in school between the first and eighth grade. UConn players will teach campers the fundamentals of basketball at various stations. The camp sold out in about a week, according to Bleeding Blue for Good President John Malfettone.
The camp is one example of how the collective is trying to capitalize this off-season on the program's latest championship in order to fundraise for future events.
"It's almost surreal," Malfettone said. "The way it happened, how quickly it happened, and the manner the team just dominated, it was just, for all of us, astonishing. We went from there to celebrating to the parade to the (New York) Stock Exchange to trying to organize as many events as we can while the emotion is still high."
International players such as Adama Sanogo won't attend
Some members of the national championship team have declared for the NBA draft or entered the transfer portal, while several key contributors will return to Storrs, Conn., or are considering a potential return.
The international players from UConn's national championship team, most notably Final Four Most Outstanding Player Adama Sanogo, won't be in attendance at the camp. Neither will Jordan Hawkins, nor Naheim Alleyne.
Sanogo is from Mali. International athletes who reside in the U.S. with an F-1 student visa have limited NIL opportunities.
Sanogo and Hawkins declared for the 2023 NBA Draft. Hawkins is currently training in L.A., according to Malfettone. Alleyne entered the transfer portal and committed to St. John's.
Malfettone said the collective's upcoming plans include a benefit in honor of Tony Hanson, who Malfettone called "one of the greats in UConn history" who was from Waterbury and who passed away in 2018. Former UConn men's basketball players Jim Abromaitis and Randy Levine will be in attendance.
Bleeding Blue for Good to launch autographed basketball website
Bleeding Blue for Good is a 501(c)(3) nonprofit organization. The Internal Revenue Service (IRS) sent the collective a determination letter last September when it determined the organization is a public charity.
Bleeding Blue for Good supports an equal number of men's and women's basketball players, which makes the percentage of women with whom it partners one of the highest in the country.
UConn basketball players must partner with a charity in order to earn compensation from Bleeding Blue for Good.
Next week, Bleeding Blue for Good will launch a website where fans can purchase autographed basketballs that feature the signatures of the players who were part of the championship team.
Bleeding Blue for Good will sell 300 basketballs at $500 apiece, "which I think will wind up being a limited supply," Malfettone said. "I think they'll sell out quickly and we might even hold the last 10 or 20 back and auction them off."
Without factoring in potential higher sales prices from an auction, Bleeding Blue for Good is set to earn at least $150,000 in potential revenue if it sells out.
The proceeds will go to the collective, which will use the funds raised to hold more events through which it can compensate UConn players in the future. The program's returning players will eventually and indirectly earn compensation from their autographs.
Adama Sanogo, Jordan Hawkins to sign basketballs
While Sanogo and Hawkins – two players who declared for the NBA draft – won't attend this weekend's camp, they'll take part in signing the autographed basketballs.
"Jordan Hawkins is going to be flying in because he's out working out," Malfettone said. "Sanogo's out working out. We're going to get him to come in so it will be the entire team."
Malfettone said Sanogo won't receive compensation for signing the basketballs. Malfettone said the collective's last deal with him was in the "first quarter of this year," when Sanogo and forward Samson Johnson, who's from Togo, ran a clinic at a youth hostel in the Bahamas.
Sanogo recently promoted the motor fuel company Sunoco through a video in which he appeared on a beach, presumably outside the U.S. Malfettone noted Bleeding Blue for Good wasn't involved in the partnership.
Malfettone said UConn men's basketball coach Dan Hurley won't sign the basketballs based on an interpretation of NCAA rules.
"It'll be everybody else," he said. "The entire team."
Bleeding Blue for Good's offseason plans involve Dan Hurley
Hurley, however, will be involved in future events and fundraising efforts for Bleeding Blue for Good, as he has in the past. Malfettone has credited Hurley for making himself available for fundraisers, particularly small gatherings with UConn fans.
While Hurley is in high demand after UConn won its fifth men's basketball national championship, he's a central figure in Bleeding Blue for Good's plans for the offseason.
"I think the emotion carries through the summer so that's the calendar we're trying to put together," Malfettone said. "As I said, we're competing with a lot of people that want Dan's time, you know, more than anyone. You lose the students after final exams so this is more around Dan and some of the other coaches and running events, whether it's small gatherings or we want to have a big dinner, things like that. We're going to have a corporate event with him so between now and almost September, we're going to be running a series of events, which we're still in the process of laying that calendar out.
"How much we're going to raise? You know, I don't know. It's gonna be, I don't know, I mean a million, two-million bucks. It's going to be hopefully somewhere in that range."