Caktus AI, Livvy Dunne partnership one of 'most disruptive NIL campaigns'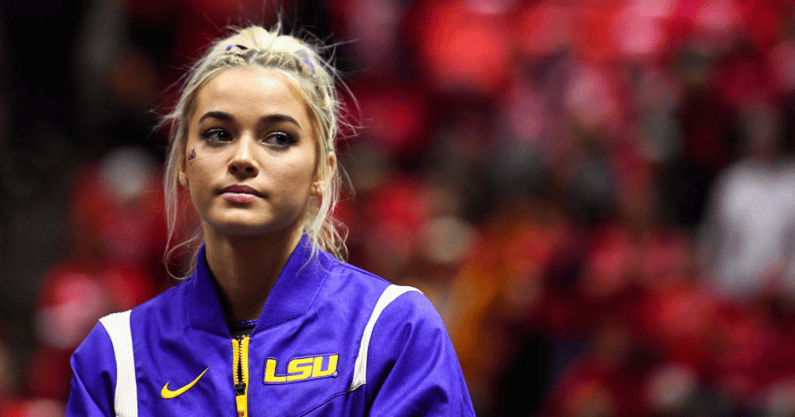 LSU gymnast Livvy Dunne's recent decision to partner with Caktus AI has caused some controversy, with the school itself releasing a statement pointing out that the educational artificial intelligence tool could result in academic misconduct.
For Caktus AI, though, the investment in college sports' most followed athlete has proven worthwhile. Started by former Notre Dame kicker Harrison Leonard and Michigan engineering grad Tao Zhang, the brand has described itself as a way for students to spend less time working on "meaningless writing assignments."
Dunne has been a phenomena in the first 20 months of name, image and likeness. She is just as much a social media influencer as she is a college athlete. She also has notable partnerships with Vuori Clothing, EA Sports, Body Armor and Forever 21.
With 11 million social media followers, she can guarantee brands will get unprecedented exposure on their product. That's exactly what Caktus AI was hoping for.
"[Users on the site] is through the roof; it was very mutually beneficial for both parties," Leonard told On3 this week. "It's impressions – that was probably one of the most disruptive NIL campaigns that has been run, just off the amount of stories that have come out of it. New users and also subscribers of course, that's the goal always – make money back."
" … We're actually really excited about it. I mean, from a marketing perspective, it's the best thing that could ever happen."
Caktus not worried by LSU pushback
While some viewed LSU's statement as a bad look for Dunne and Caktus AI, the company had no problem with the response. Dunne's TikTok promoting the brand shows off the product's capability. The post also included a header stating, "Caktus AI > ChatGPT." An artificial intelligence chatbot produced by OpenAI, ChatGPT is powered by large amounts of data and computing techniques to make predictions and string together words.
Leonard told On3 Dunne's deal with Caktus was cleared through LSU compliance. The institution's athletic department did not respond to a request from On3 for confirmation. WME Sports, which facilitates all of the gymnast's marketing deals, did not respond to a request for comment.
"Schools have been pushing this off for a long time, not actually making statements," Leonard said. "That really goes to show the power of NIL and the power of Livvy Dunne. She made that statement and she made that conversation begin, which is amazing and just goes to show her power. She's dealt with it perfectly.
"I mean, there's been a lot of reading in between the lines on LSU's statement. If you actually go back and you read the full statement, you can tell it's rather it's more of a positive statement rather than a threat."
Caktus investing more into NIL, Livvy Dunne
Caktus AI's platform features a number of tools for students. Options on the website's dashboard include essay writer, paragraph generator, personal statement writer and cover letter writer. There is also a math and science section and a citation creator.
In Dunne's TikTok, she showed off the essay writer feature.
"At LSU, our professors and students are empowered to use technology for learning and pursuing the highest standards of academic integrity," LSU said in its statement said, via The Advocate's James Wilkins. "However, using AI to produce work that a student then represents as one's own could result in a charge of academic misconduct, as outlined in the Code of Student Conduct."
Ethics questions surrounding the use of artificial intelligence in an educational environment have also popped up since the TikTok video.
"It does seem problematic to have people sort of promoting plagiarism," John Basl, a philosophy professor at Northeastern University in Boston who specializes in AI and data ethics, recently told the Associated Press. "It does seem like something colleges should teach students not to do," Basl added.
When asked if Caktus ever considered asking Dunne to take down the NIL promotion, Leonard said that was never a thought, especially since she did not violate any rules. This is only the start of her relationship with the company. Her $3.4 million On3 NIL Valuation ranks third in the On3 NIL 100, sitting behind only Arch Manning ($3.7 million) and Bronny James ($7.2 million).
Leonard alluded to more deals with notable college athletes in the works, and there's no doubt on the return on investment with Dunne. Caktus' name has been in plenty of headlines following LSU's statement. The impressions on Dunne's TikTok have jumped since last Friday, when the institution released its comments.
The post has been viewed more than 1.3 million times and received 50,000 likes. Comments have been turned off.
"I think it's really good. I mean, I think in terms of what we want, as we want the conversation to start in AI," Leonard said. "The sooner that the message is being portrayed, we're gonna see more and more of it. And we're gonna start seeing it for like a good cause. Schools are gonna start accepting it the same way they accept the calculator. We're not promoting the fact of someone just writing an essay and turning it in. We want people to use Caktus to help them get started and think of new ideas and use it for research."