Alabama football countdown to kickoff: 79 days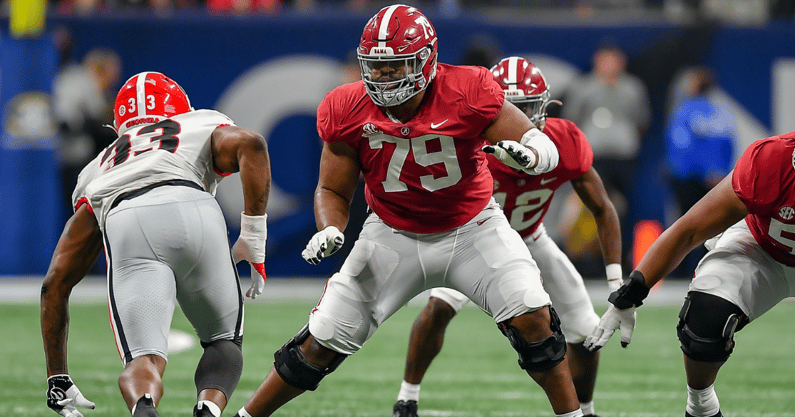 If you can believe it, we are officially under the 80-day mark until Alabama is back on a live-game football field. After coming up short in the national championship game against Georgia back in January, the Crimson Tide will once again be searching for its seventh title under Nick Saban.
This year's season opener will be against the Utah State Aggies on Sept. 3 at Bryant-Denny Stadium. With today being June 16, that means we are only 79 days away from the return of Alabama football. The team here at BamaOn3 is ready to celebrate every day of the countdown standing between now and then.
With opening week 79 days away, let's focus on a player — both past and present — who has represented that number.
*Note: BamaOn3 is also doing a Countdown to Fall Camp, which is only 50 days away.
Who currently wears the No. 79?
At this time, there isn't anyone wearing the No. 79 for Alabama.
For the last six seasons, the number was worn by now former offensive lineman Chris Owens, who played in 53 games during his collegiate career while also starting in 20 of those. In 2021 alone, the Arlington (Tex.) native played in all 15 games with 12 starts coming at right tackle and another at center.
After going unselected back in April, Owens signed an undrafted free agent contract with the Pittsburgh Steelers. He's hoping to find his way onto the 53-man roster or at least secure a spot on the team's practice squad.
Who's a noteworthy former player to wear it?
Owens isn't the only starting offensive lineman to wear the No. 79 during the Nick Saban era. The other two are Drew Davis (2007-09) and Austin Shepherd (2010-14). Of Saban's 15 seasons as head coach, 11 of them included either Owens or Shepherd wearing the number. If you think about it, that's pretty wild.
Plus, all three of those players started games at right tackle.
Shepherd ended up being a multi-year starter at right tackle who followed up his college career with a few seasons in the NFL. He was selected by the Minnesota Vikings in the seventh round (No. 228 overall) of the 2015 draft. From there, he spent time on mutiple practice squads, including the Vikings, San Diego Chargers and Pittsburgh Steelers.
Shepherd last played in 2017.
Coming out of Suwanee (Ga.) North Gwinnett in 2010, the 6-foot-5, 320-pound offensive lineman was rated as a three-star prospect. He was also the nation's No. 554 overall player, No. 35 offensive tackle and No. 54 player from the state of Georgia, per the On3 Consensus rankings.
2022 Alabama Football Schedule
Sept. 3 vs. Utah State Aggies (Tuscaloosa, Ala.)
Sept. 10 at Texas Longhorns (Austin, Tex.)
Sept. 17 vs. UL-Monroe Warhawks (Tuscaloosa, Ala.)
Sept. 24 vs. Vanderbilt Commodores (Tuscaloosa, Ala.)
Oct. 1 at Arkansas Razorbacks (Fayetteville, Ark.)
Oct. 8 vs. Texas A&M Aggies (Tuscaloosa, Ala.)
Oct. 15 at Tennessee Volunteers (Knoxville, Tenn.)
Oct. 22 vs. Mississippi State Bulldogs (Tuscaloosa, Ala.)
Oct. 29 – OPEN WEEK
Nov. 5 at LSU Tigers (Baton Rouge, La.)
Nov. 12 at Ole Miss Rebels (Oxford, Miss.)
Nov. 19 vs. Austin Peay Governors (Tuscaloosa, Ala.)
Nov. 26 vs. Auburn Tigers (Tuscaloosa, Ala.)
Dec. 3 – SEC CHAMPIONSHIP GAME (Atlanta, Ga.)