Full court press from Alabama commitments on five-star edge Keon Keeley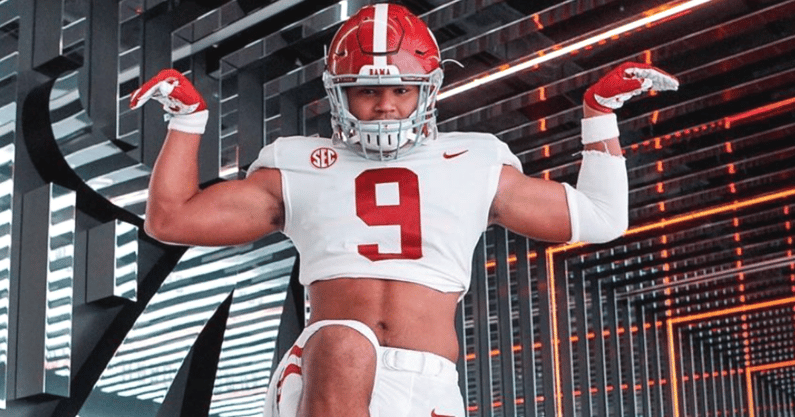 Alabama welcomed Keon Keeley, On3 Consensus five-star edge rusher from Berkeley Prep in Tampa, Florida, back in Tuscaloosa this past weekend. Keeley, who committed to Notre Dame last summer, has visited the Crimson Tide twice this year and chatter continues to grow about the possibility of him joining the top ranked recruiting class according to the On3 Sports Consensus Team Rankings.
"Keon feels really good on campus," Janicke Keeley told BamaInsider recruiting reporter Joseph Hastings after the weekend visit to Alabama. "He really likes everyone. But we have a couple of more visits. Alabama is a dream school of Keon's. So, we will continue to monitor this closely."
Keeley is recruited by the Crimson Tide as an outside linebacker/edge rusher with plans to use him similar to Will Anderson and Dallas Turner. The No. 1 ranked player in Florida and No. 3 overall in the On3 Sports rankings expects to take in games this fall including return visits to Tuscaloosa and South Bend. He is also considering a trip back to Florida.
Keeley spent a lot of time with players and commitments this past weekend including Justice Haynes, Caleb Downs, Jaylen Mbakwe along with several more. Haynes, who committed to Alabama last month, has quickly turned into an active recruiter for the Crimson Tide.
"We want Keon (Keeley)," Haynes told BamaInsider. "He is a very talented player and can help us tremendously. He's a great player, but an even better person. You know at the end of the day he has to let God guide him and make the best decision for himself. Don't get me wrong- we want him! Alabama commits, the coaching staff and myself will do everything we can to get him and sell that Alabama is the place to be."
Richard Young, On3 Consensus five-star running back, drew a lot of attention earlier this week in a tweet that has since been deleted. Young wrote, "Mark my words I am gonna flip Keon Keeley from Notre Dame." Young announced his commitment to Alabama last Friday.
Several Alabama commitments expressed their desire this week in hoping Keeley will follow in their footsteps and join the Tide's class.
"I think we will get him to flip," Mbakwe told BamaInsider regarding Keeley on Wednesday evening. "It seems like he really enjoyed himself on the visit. Now we just wait-and-see."
"I don't know anything yet, but I do know that I want him (Keeley) here in Tuscaloosa," Hunter Osborne told BamaInsider on his pursuit of the five-star target.
On3 Sports compares Keeley to Washington Commanders pass rusher Chase Young
"Keon Keeley has similar size, length and the disruptive pass rush ability we saw from Chase Young as a recruit. Keon Keeley has measured 6-foot-5.5, 245 pounds while Young was around 6-foot-5, 250 pounds as a senior in high school. Both have arm lengths around 34 inches. Like Chase Young, Keeley is a big, explosive pass rusher with the ability to win off the edge with speed, bend or power."