KSO's Big 12 Power Rankings: Kansas State remains pat at No. 2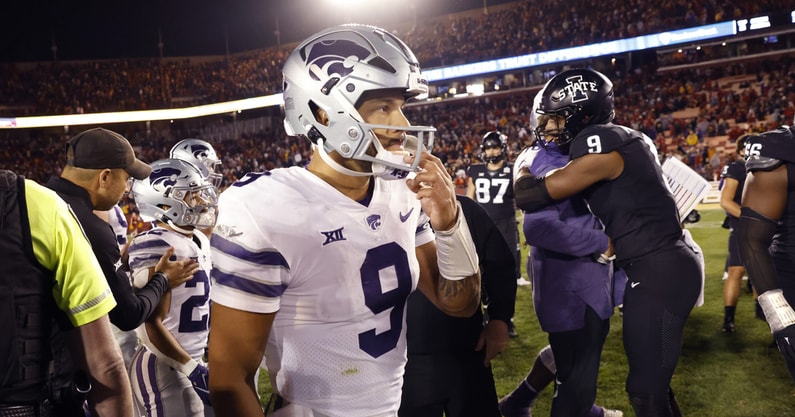 1. Oklahoma State (2-0, 5-0)
After falling to Kansas State, Texas Tech put up a hell of a fight against the team to beat in the Big 12. The one interception that the Red Raiders' third string quarterback threw could be looked at as the difference of the game. It was all tied at 31 late in the third quarter when Oklahoma State forced that turnover.
The Cowboys scored 10 more points while holding Texas Tech scoreless the rest of the way.
Although Mike Gundy's defense made the big play, they looked vulnerable in allowing over 500 yards of total offense. They're still the clear favorite in the conference at this point, but it would not be shocking to see No. 13 TCU pull off the upset this weekend before hosting K-State the following week. (Last: 1)
2. Kansas State (3-0, 5-1) 
It was an odd contest in Ames. K-State nearly handed the game to Iowa State a few different times, but the Wildcats' defense out-did the Cyclones' defense by keeping them out of the end zone all evening.
Adrian Martinez is steadily progressing for Kansas State. Even with an offensive line that is trending the other direction, the K-State quarterback had his best game through the air against one of the best defensive units in the country.
They will use the bye week to rest up before a tricky game in Fort Worth next weekend. Deuce Vaughn, Felix Anudike-Uzomah, Khalid Duke and others all need the time to heal and re-set. (Last: 2)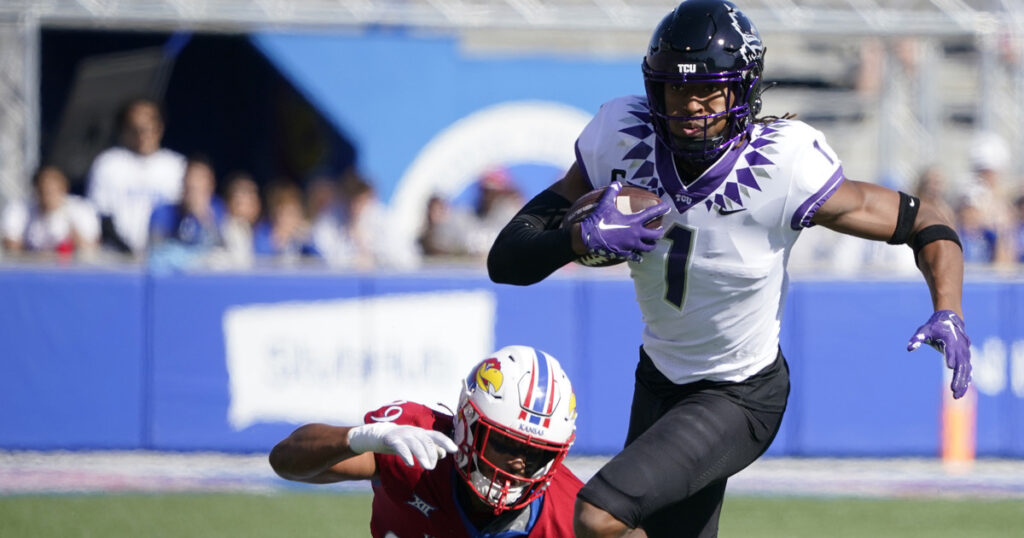 3. TCU (2-0, 5-0) 
Many saw TCU as a darkhorse contender in the Big 12 this season, so their undefeated start shouldn't come as too much of a surprise. Still, beating what was a red hot Kansas team on the road is a feather in their cap that shouldn't be ignored.
There are some question marks with their defense, but the offense has been consistent throughout. Max Duggan has taken them by the horns and showed that he can be the capable starter Horned Frogs fans thought he could be a few years ago. (Last: 4)
4. Texas (2-1, 4-2) 
Quinn Ewers has returned from injury and Texas crushed Oklahoma 49-0. Although the Longhorns' defense hasn't always been consistent this season, they dominated on Saturday. Granted, the Sooners offense is lifeless without Dillon Gabriel under center.
And their defense was shredded by TCU and Kansas State, too.
Steve Sarkisian has the athletes to be really good this year. Had they not dropped their first conference game to Texas Tech, they might be atop the rankings. Bijan Robinson and Ewers are arguably the most dangerous duo in the backfield for any offense in the Big 12.
No. 22 Texas has a chance to prove that this weekend against a top flight Iowa State defense. (Last: 7)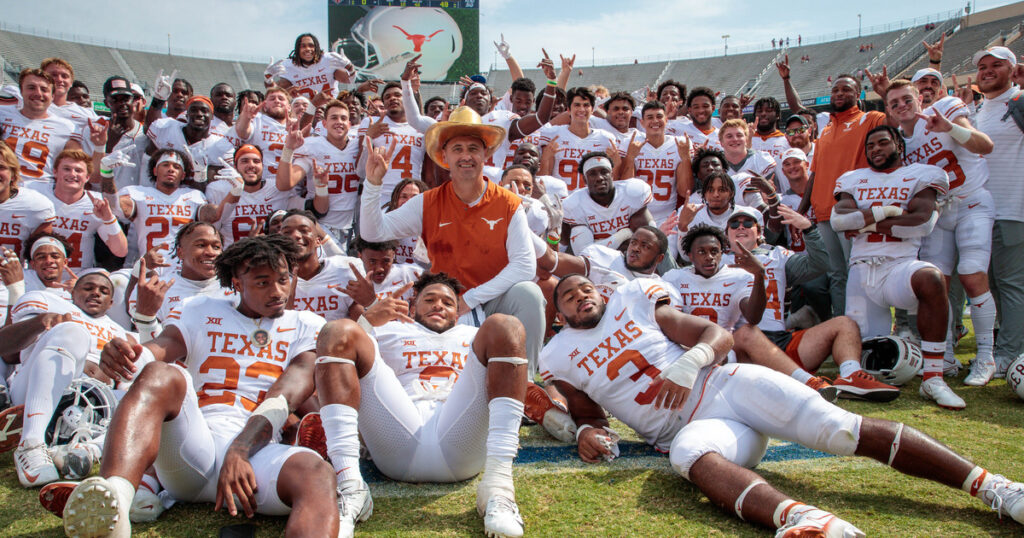 5. Kansas (2-1, 5-1)
The Jalon Daniels injury is a tough blow. No. 19 Kansas will be without their starter for the foreseeable future. Jason Bean is a solid back-up that can do a lot of the same things as Daniels, just not without some mistakes. The defense is still a concern moving forward.
There's a chance that Oklahoma will have Gabriel back at quarterback this weekend, as the Jayhawks head to Norman. It could be an imperfect storm for Lance Leipold and company as they attempt to jump back into the win column. (Last: 3)
6. Baylor (1-1, 3-2) 
Nothing changed for Baylor during their bye week. The Bears are in a must-win situation when they travel to Morgantown on Thursday evening to face West Virginia. (Last: 5)
7. Texas Tech (1-2, 3-3)
Now that we have a good feel for who is the real deal in the league and who isn't, the beginning of Texas Tech's conference slate has been a gauntlet. They surprised and upset Texas but lost two straight to K-State and Oklahoma State. That is not an easy road.
They join Kansas State in having the week off, something that the Red Raiders desperately needed after benching back-up quarterback Donovan Smith for third-stringer Behren Morton in Stillwater.
Additional tough games are ahead for Texas Tech, but they've already zipped through the meatiest part of the schedule. The hope is that starter Tyler Shough is healthy enough for the trip to West Virginia the following week. (Last: 6)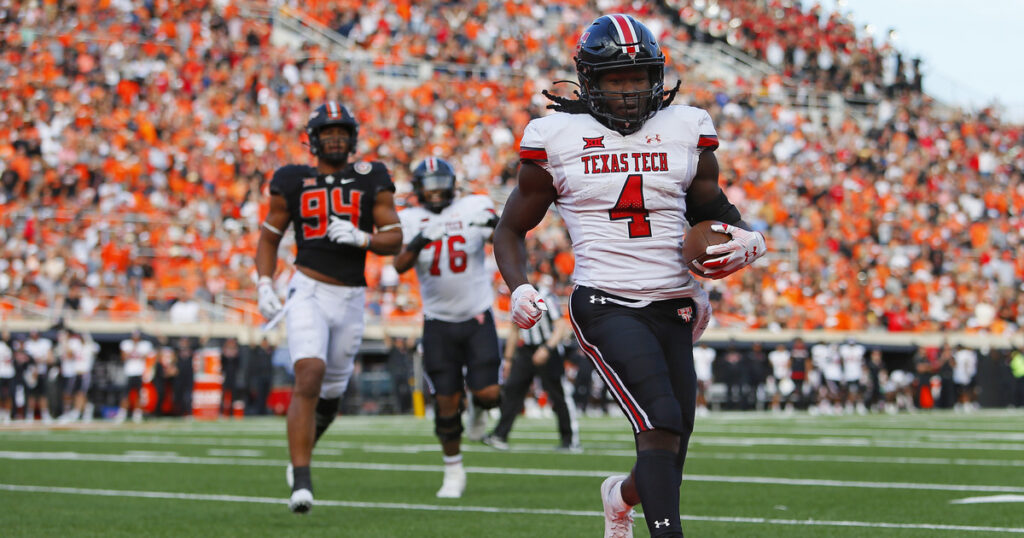 8. Iowa State (0-3, 3-3)  
It has been clear since the beginning of the season that Iowa State has some serious problems on offense. They haven't scored a touchdown in the last two weeks, and that includes against a Kansas defense that others have exploited.
That 11-point performance versus the Jayhawks was followed by just nine against K-State last Saturday night at Jack Trice Stadium.
However, their defense is one of the better units in the country. That means very little until Hunter Dekkers and company can find a pulse on that side of the ball. (Last: 9)
9. Oklahoma (0-3, 3-3)
Can a healthy Dillon Gabriel be a saving grace for Oklahoma or are their problems on defense going to be too much to overcome? Regardless, with three losses already, they have a slim to none chance of turning thing around. A loss to Kansas this weekend at home would be the ultimate slap in the face. (Last: 8)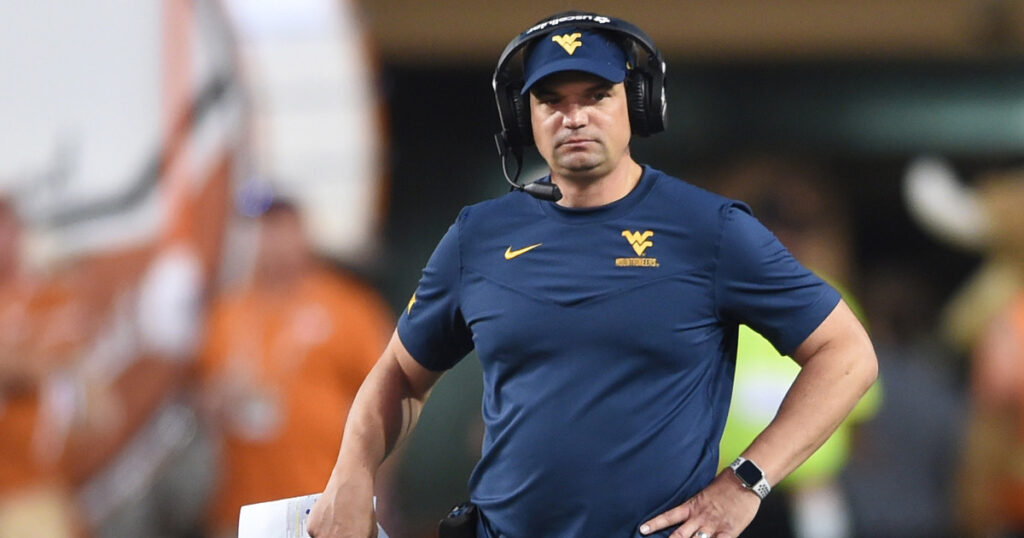 10. West Virginia (0-2, 2-3)
West Virginia hopes to have fixed their coaching woes and inconsistent play during the bye week. Unfortunately for them, I doubt they find the solution to their issues. I bet an angry and also rested Baylor puts it on the Mountaineers at home. (Last: 10)