Kentucky Football ranked No. 20 in country by PFF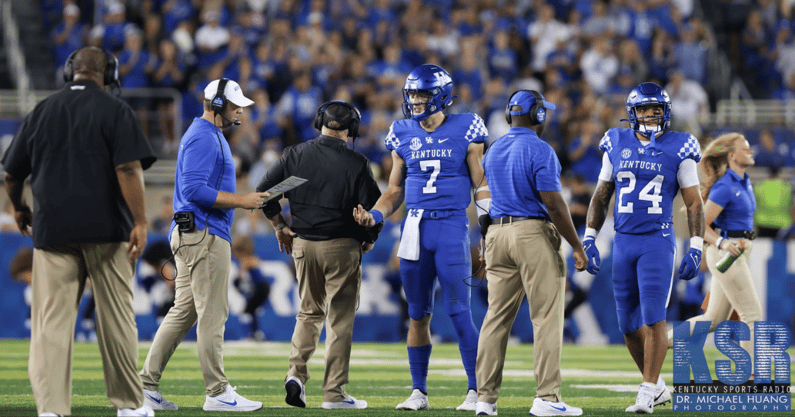 The Kentucky Wildcats (2-0) might be the most polarizing college football team in the country right now. UK's national rankings are all over the place.
If you ask the people who make up the AP Poll and the Coaches Poll, they'd tell you that Kentucky is firmly a top-40 team in the country, but not worthy of a top-30 spot. ESPN's Football Power Index has UK at No. 30 in the country, but the site's own power rankings tab the 'Cats as the 23rd best team in the nation right now. ESPN studio anchor Peter Burns took to Twitter to pump up Kentucky, calling it "an absolute joke" that UK is not ranked in the Top 25. Our friends over at On3 ranked Kentucky 46th (just one spot ahead of Missouri), which we're still trying to forgive them for.
Then you have other well-respected publications, such as Pro Football Focus, that are much higher on Kentucky than most would appear to be. Following UK's 35-28 victory over Missouri on Saturday, PFF updated its Top 25 rankings heading into Week 3. And where does UK sit? Right at No. 20 in the country, five spots ahead of where the team was this time last week.
Here's what PFF's Anthony Treash had to say about Kentucky heading into this weekend's matchup against UT-Chattanooga.
20. KENTUCKY WILDCATS (NR)

Week 2 Result: W vs Missouri (35-28)

While quarterback Will Levis made a couple of big-time throws in Kentucky's touchdown victory over Mizzou, the Wildcats can thank their run game for the brunt of their offensive success. The offensive line did its part by giving the backfield 3.6 yards before contact per attempt. And the ball-carriers took advantage of the lanes by busting off 10 runs of 10-plus yards and producing a successful run on 54% of their attempts — the third-best rate by a team against a Power Five defense in Week 2. This new pro-style offense is humming a lot sooner than expected in Lexington.

Pro Football Focus
Given the Kentucky program's track record of inconsistency and below-average success throughout its history, it's taking some of the national folks a little bit longer to come around to this season's squad (despite UK being not even three years removed from a Citrus Bowl win). The offense has been multi-dimensional — an absolute must for the future of the program — but the defense could use some improvement. There are still some minor question marks even if the first two weeks have provided nothing but optimism.
Kentucky's own quarterback, Will Levis, went on record yesterday to say that the rankings don't matter much after just two games.
"I don't think it matters right now," Levis said of the rankings. "Obviously at the end of the day it really only matters what your rank is at the end of the season. I think we've got to keep playing ball, keep playing well. I think that if we would have capitalized on some or not made mistakes that we did in the game, we had a few turnovers that were very avoidable. Just some things we need to clean up on, all three sides of the ball, offense, defense, special teams, that we know we can get better at."
This much can be said with certainty though: if Kentucky can easily beat Chattanooga and South Carolina over the next two weeks, the 'Cats will be nationally ranked and undefeated heading into a home matchup against the No. 11 Florida Gators. Take care of UF and Kentucky is looking at a top-15 spot.
Below is the rest of PFF's Top 25
Alabama
Georgia
Oklahoma
Oregon (+17!!!)
Cincinnati (+1)
Iowa (+5)
Clemson (-2)
Ohio State (-5)
Texas A&M (-2)
Notre Dame (-1)
Ole Miss (+2)
Florida (+1)
Coastal Carolina (+3)
Virginia tech (+2)
North Carolina (+2)
Penn State (+3)
Nevada (+1)
Michigan (NR)
Miami [FL] (-7)
Kentucky (NR)
BYU (NR)
UCF (+1)
Auburn (+1)
Maryland (+1)
Virginia (NR)