College football top to bottom: The 1-130 rankings after Week 2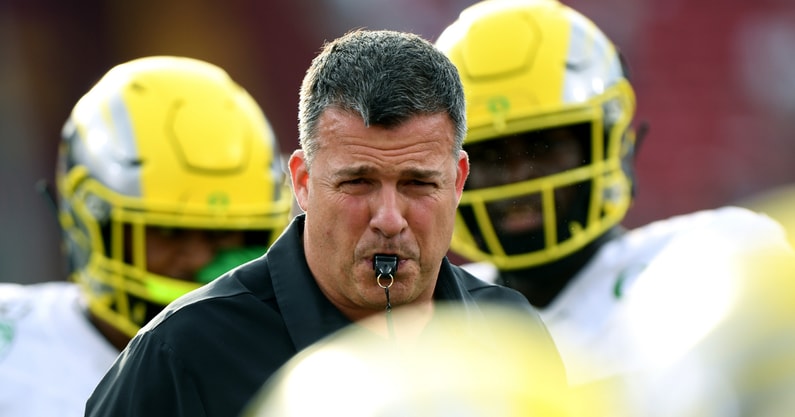 Another week, another shakeup in the top 10 of our 1-130 rankings.
There's only one new team in the top 10, but there was other movement in that group because of Oregon's win at Ohio State. In addition, two teams that had been ranked … ahem … in the 50s last week now are in the top 25. Embarrassing? Yes. But, hey, it's also an offshoot of doing 1-130 rankings this early in the season.
Anyway, here are this week's 1-130 rankings; the rankings will be updated every Tuesday during the season. There are comments on each of the top-25 teams; in addition, there are comments on other noteworthy teams this week.
The top 25
1. Alabama (2-0 / last week's ranking: 1st)
The buzz: The Tide outscored Mercer just 17-14 in the second half. Thing is, it was 31-0 at halftime and Alabama didn't look particularly interested in the second half. This week's game at Florida should be more entertaining.
2. Georgia (2-0 / 2nd)
The buzz: Stetson Bennett threw five TD passes in the first half as the Bulldogs crushed UAB. Not only that, the five TDs came on his first eight attempts; heck, there were four TD passes in his first five attempts.
3. Oregon (2-0 / 9th)
The buzz: Whoa. Despite missing arguably their two most talented defensive players (Kayvon Thibodeaux and Justin Flowe), the Ducks went to Columbus and took down Ohio State. Both Ducks lines were better than their Ohio State counterparts, and RB C.J. Verdell showed the rest of the country what Pac-12 opponents already knew: The little guy (he's listed at 5 feet 8) runs real big.
4. Oklahoma (2-0 / 4th)
The buzz: The Sooners eviscerated Western Carolina. Yawn.
5. Texas A&M (2-0 / 5th)
The buzz: The injury to starting QB Haynes King hurts. Well, it won't matter this week, as Jimbo Fisher himself could play quarterback and the Aggies still would maul New Mexico. But after that, it's Arkansas, Mississippi State and Alabama in a row, and the first two of those look much tougher after what those two did this past weekend.
6. Clemson (1-1 / 6th)
The buzz: So, how good is Clemson? We're not going to find out for a long while. We will say this: No one left on the regular-season schedule should beat them — or, truthfully, come within 14 points of them.
7. Iowa (2-0 / 14th)
The buzz: Who needs offense? The Hawkeyes have 476 total yards this season (the per-game average of 238.0 yards per game is 126th), yet have cruised to two victories because the defense has been tremendous. The Hawkeyes have three defensive TDs and have surrendered just 164 rushing yards against Indiana and Iowa State.
8. Penn State (2-0 / 8th)
The buzz: The Nittany Lions hammered a decent Ball State team (the defending MAC champs). This week, though, will be much tougher with Auburn coming in. At first glance, the Tigers' stats are unreal. But then you glance at who Auburn has played and … well, no one. Still, stopping RB Tank Bigsby is a tough task, and if he is effective, Auburn can (will?) win.
9. Ohio State (1-1 / 3rd)
The buzz: A few things. First, you roll up 612 yards of offense, you should score more than 28 points. Second, a defense with that much talent up front shouldn't get gashed for 269 rushing yards and have just one tackle for loss. Third, maybe the Buckeyes should do away with the single-high safety defense when you don't seem to have the necessary talent at safety to play it.
10. Cincinnati (2-0 / 10th)
The buzz: The first big test of the season is here for the Bearcats with Saturday's trip to Indiana; then there's a week off followed by a trip to Notre Dame. Then two weeks after that comes a visit from UCF. So the success — or failure — of the season will be determined in the next five weeks.
11. Florida (2-0 / 12th)
The buzz: The alphabet portion of the schedule (FAU, followed by USF) is out of the way. Now comes the number portion, as in No. 1 Alabama, which visits this week. Backup QB Anthony Richardson has been a big-play machine and that needs to continue. He was in for 11 plays against USF and handed off four times; on his other seven snaps, he ran four times for 115 yards and a TD and was 3-of-3 for 152 yards and two more scores.
12. Arizona State (2-0 / 15th)
The buzz: The prelims are out of the way. This week's trip to BYU all of a sudden is a big game. The Sun Devils need a solid game from RB Rachaad White, who already has rushed for four TDs.
13. Iowa State (1-1 / 7th)
The buzz: The Cyclones scored a late first-half TD and trailed archrival Iowa just 14-10 at halftime. But the moment looked too big for the Cyclones in the second half and they fell apart, to the point that veteran QB Brock Purdy was benched.
14. Notre Dame (2-0 / 13th)
The buzz: The narrow escape in the opener against Florida State looks less impressive after FSU lost to Jacksonville State, and the Irish didn't exactly look great in squeaking past Toledo, either. The offensive line is a big concern.
15. UCLA (2-0 / 18th)
The buzz: The Bruins didn't play, yet moved up three spots. Think of it as an early-season reshuffling. UCLA gets Fresno State this week, then faces Stanford and Arizona State in back-to-back weeks to open Pac-12 play.
16. Arkansas (2-0 / 53rd)
The buzz: The Hogs rushed for 333 yards and had 10 tackles for loss in physically dominating Texas in a 40-21 rout. Arkansas gets Georgia Southern this week. But take a gander at the four games after that: Texas A&M, at Georgia, at Ole Miss and Auburn.
17. Wisconsin (1-1 / 17th)
The buzz: You think the Badgers wanted to prove a point Saturday? They ran the ball on their first 15 plays from scrimmage and rushed for 275 first-half yards. And the defense held Eastern Michigan to three first downs and 92 total yards. Oh, those aren't first-half stats — those are game stats.
18. BYU (2-0 / 56th)
The buzz: OK, either we severely underrated BYU to open the season, or we're severely over-ranking them now after their home win over archrival Utah. We will know more about the Cougars after they play host to Arizona State this week.
19. Utah (1-1 / 19th)
The buzz: The Utes' nine-game winning streak over BYU came to an end. The reason? BYU was more physical than the Utes, who pride themselves on their physicality. And, frankly, BYU QB Jaren Hall played better than Utah QB Charlie Brewer.
20. UCF (2-0 / 20th)
The buzz: The Knights play their only Power 5 opponent of the season Friday when they travel to Louisville.
21. Indiana (1-1 / 21st)
The buzz: IU was beaten soundly in the opener by Iowa. The Hoosiers will be looking to restore some pride when they welcome in Cincinnati this week. IU needs QB Michael Penix Jr. to play a lot better than he did against the Hawkeyes.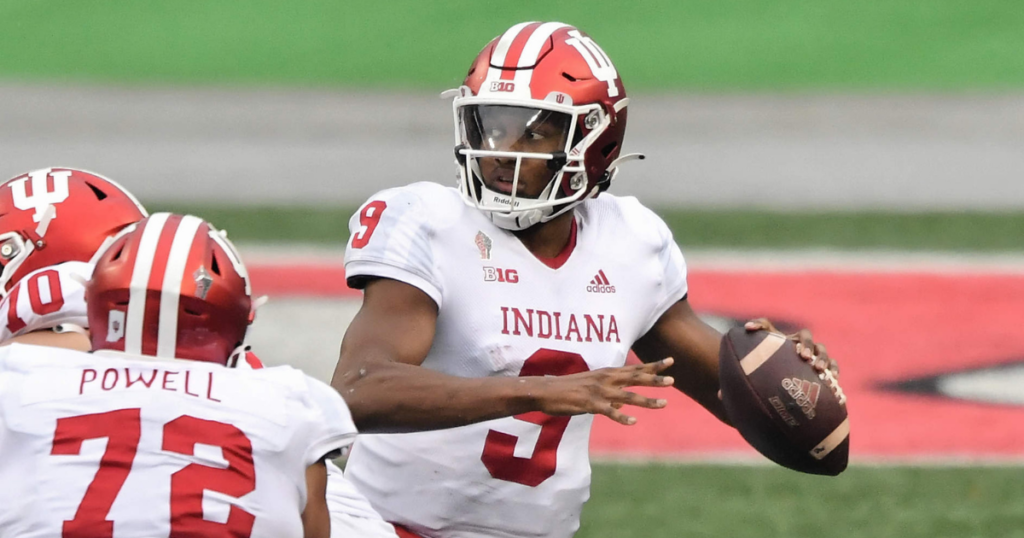 22. Ole Miss (2-0 / 22nd)
The buzz: The Rebels play host to Tulane this week, and because the Green Wave looked so good in an opening loss to Oklahoma, the game has a lot more intrigue than it did three weeks ago.
23. Miami (1-1 / 23rd)
The buzz: UM was barely able to hold off Appalachian State. Michigan State comes in this week, and the 'Canes need to slow Spartans RB Kenneth Walker III. If they can't, it will be close.
24. TCU (2-0 / 24th)
The buzz: The Horned Frogs are off this weekend to prepare for back-to-back biggies. They welcome in longtime rival SMU on September 25, then get to play host to Texas on October 2. Forgive TCU fans if they're a little excited the next two weeks.
25. North Carolina (1-1 / 25th)
The buzz: Before the season, this week's game against Virginia didn't look like that big a deal. Then again, before the season, the opening game against Virginia Tech didn't look like that big a deal, either. Because the Tar Heels lost to the Hokies, this week's game is huge.
Teams 26-50
26. LSU (1-1 / 26st)
27. Texas (1-1 / 16th)
The buzz: The Longhorns were whipped up front on both sides of the line. Plus, coach Steve Sarkisian is making a quarterback change, benching Hudson Card and going with Casey Thompson.
28. Louisiana (1-1 / 27th)
29. Boise State (1-1 / 28th)
30. Coastal Carolina (2-0 / 30th)
The buzz: The Chanticleers pounded Kansas last Friday in their only game against a Power 5 team this season — well, the only one in the regular season at least. Of note: It was their second consecutive non-Saturday game, and they have four more of those.
31. Oklahoma State (2-0 / 29th)
32. Boston College (2-0 / 31st)
33. Auburn (2-0 / 33rd)
34. Virginia Tech (2-0 / 34th)
35. Michigan (2-0 / 35th)
The buzz: The Wolverines have thrown just 32 passes in their two games. The only teams to have thrown fewer are triple-option teams Air Force, Army and Navy, as well as ULM, which has played just one game.
36. Liberty (2-0 / 36th)
37. Stanford (1-1 / 65th)
The buzz: It's amazing what a quarterback change can do, huh? The Cardinal looked like a different team with Tanner McKee at the controls in a Week 2 upset of USC.
38. USC (1-1 / 11th)
The buzz: It's one thing to lose a home game to Stanford. It's another to look, well, inept for about 50 minutes of a 60-minute contest. And Clay Helton paid for it Monday.
39. Appalachian State (1-1 / 37th)
40. Mississippi State (2-0 / 58th)
41. Wake Forest (2-0 / 40th)
42. Pitt (2-0 / 42nd)
43. Nevada (2-0 / 43rd)
The buzz: Star QB Carson Strong and the Wolf Pack get their chance at a second Power 5 win of the season when they play at Kansas State this Saturday. Nevada beat Cal in Week 1.
44. NC State (1-1 / 32nd)
The buzz: It was a bad Saturday for the Wolfpack, who struggled offensively in a loss at Mississippi State (we will refrain from talking about the play-calling). To compound things, stud LB Payton Wilson and S Cyrus Fagan were lost for the rest of the season.
45. Kansas State (2-0 / 55th)
The buzz: The opening win over Stanford looks better after the Cardinal whipped USC. But starting QB Skylar Thompson was hurt in the Week 2 win over Southern Illinois and is expected to miss a few weeks.
46. Kentucky (2-0 / 48th)
47. Missouri (1-1 / 38th)
48. Maryland (2-0 / 46th)
The buzz: The Terps play at Illinois on Friday, and a victory would give them their first 3-0 start since 2016.
49. West Virginia (1-1 / 47th)
The buzz: WVU plays former Big East rival Virginia Tech on Saturday in one of the more intriguing games this week. An aside: WVU QB Jarret Doege's brother is former Texas Tech QB Seth Doege, who is USC's tight end coach.
50. Ball State (1-1 / 41st)
Teams 51-75
51. Minnesota (1-1 / 49th)
52. Virginia (2-0 / 52nd)
53. San Jose State (1-1 / 50th)
54. UAB (1-1 / 45th)
55. California (0-2 / 51st)
56. Texas Tech (2-0 / 54th)
57. Fresno State (2-1 / 67th)
The buzz: The Bulldogs get a bump because of how well they played in a 31-24 loss to Oregon, a loss that looks even better than it did right after that game. This week, Fresno plays at UCLA.
58. Colorado (1-1 / 61st)
59. Washington (0-2 / 39th)
The buzz: Offensive coordinator John Donovan needs to make some adjustments — and quick. The Huskies' offense has been horrendous for seven of the eight quarters this season. Also of note: Opponents have thrown for just 149 yards in two games, but that's because it has been so easy — so, so easy — to run on the Huskies.
60. Louisville (1-1 / 57th)
61. Florida State (0-2 / 44th)
The buzz: FSU's defensive alignment on the last play of the game against FCS member Jacksonville State still boggles the mind. The Seminoles play at Wake Forest on Saturday, and they'll be looking to avoid their first 0-3 start since 1976. That was Bobby Bowden's first season at FSU.
62. Tulane (1-1 / 62nd)
63. Toledo (1-1 / 63rd)
64. Purdue (2-0 / 59th)
65. SMU (2-0 / 60th)
66. Houston (1-1 / 64th)
67. Marshall (2-0 / 66th)
68. Rutgers (2-0 / 68th)
The buzz: Starting 3-0 isn't that high a bar to overcome. But if the Scarlet Knights beat FCS member Delaware this Saturday, they will have their first 3-0 start since 2012.
69. Michigan State (2-0 / 70th)
70. Tennessee (1-1 / 69th)
71. Northwestern (1-1 / 71st)
72. Baylor (2-0 / 72nd)
73. Oregon State (1-1 / 73rd)
74. Nebraska (2-1 / 74th)
75. Kent State (1-1 / 75th)
Teams 76-100
76. UTSA (2-0 / 76th)
77. Memphis (2-0 / 77th)
The buzz: Tigers wide receiver Calvin Austin III (a guy we spotlighted before the season) had six receptions for 239 yards (that's, uh, 39.8 yards per catch) and three touchdowns in a wild 55-50 victory over Arkansas State. It was his seventh 100-yard outing in the past 11 games.
78. South Carolina (2-0 / 78th)
79. Buffalo (1-1 / 79th)
80. Louisiana Tech (1-1 / 80th)
81. Tulsa (0-2 / 81st)
82. East Carolina (0-2 / 82nd)
83. San Diego State (2-0 / 84th)
The buzz: The Aztecs thrashed Arizona 38-14; it was their sixth consecutive victory against a Pac-12 opponent and four have come on the road.
84. Illinois (1-2 / 83rd)
85. Utah State (2-0 / 85th)
86. Washington State (1-1 / 86th)
87. Wyoming (2-0 / 87th)
88. Army (2-0 / 88th)
89. FAU (1-1 / 90th)
90. Air Force (2-0 / 91st)
91. Arkansas State (1-1 / 108th)
The buzz: Imagine being Butch Jones knowing your team scored 50 points and gained 680 total yards — and lost. The Red Wolves fell 55-50 to Memphis, which incredibly also finished with exactly 680 total yards.
92. Central Michigan (1-1 / 92nd)
93. Syracuse (1-1 / 89th)
94. Northern Illinois (1-1 / 94th)
95. Georgia Tech (1-1 / 95th)
96. Western Michigan (1-1 / 96th)
97. Charlotte (2-0 / 97th)
98. Hawaii (1-2 / 99th)
99. Duke (1-1 / 101st)
100. Arizona (0-2 / 100th)
The bottom 30
101. Troy (1-1 / 106th)
102. Miami (Ohio) (0-2 / 102nd)
103. Georgia State (0-2 / 103rd)
104. Georgia Southern (1-1 / 105th)
105. Western Kentucky (1-1 / 112th)
The buzz: QB Bailey Zappe, who transferred from FCS member Houston Baptist in the offseason, already has thrown 10 passes. Thing is, he needs to maintain something close to that pace because the single-season school record for TD passes is 49, by Brandon Doughty in 2014.
106. Ohio (0-2 / 93rd)
107. USF (0-2 / 107th)
108. Navy (0-2 / 104th)
The buzz: The Midshipmen finished with 68 yards of total offense in Saturday's loss to Air Force. Not 68 yards rushing or 68 in the first half — 68 total. That used to be a good first drive (and all on the ground) for the Middies. Navy has scored 10 points this season. Offensive coordinator Ivin Jasper was fired Saturday night after 14 seasons in the job (and 22 at Navy), then rehired (but just as quarterback coach) on Monday.
109. Middle Tennessee (1-1 / 109th)
110. Kansas (1-1 / 110th)
111. Texas State (1-1 / 111th)
112. North Texas (1-1 / 113th)
113. South Alabama (2-0 / 114th)
The buzz: South Alabama became a FBS program in 2012 and it never has started 3-0. Saturday's opponent will be FCS member Alcorn State, so history could be made.
114. Eastern Michigan (1-1 / 117th)
115. FIU (1-1 / 115th)
116. Southern Miss (1-1 / 116th)
117. Vanderbilt (1-1 / 120th)
118. Rice (0-2 / 118th)
119. New Mexico (2-0 / 119th)
The buzz: The two wins are over FCS Houston Baptist and rival New Mexico State, which is 130th in these rankings. In other words, big deal the Lobos are 2-0. This week, the Lobos get Texas A&M, and a win in that one would be a big deal.
120. Colorado State (0-2 / 98th)
The buzz: The Rams have lost to a FCS team and to Vanderbilt, which opened the season with a 20-point loss to a FCS team. That is less than optimal.
121. Temple (1-1 / 122nd)
122. UTEP (2-1 / 121st)
123. UNLV (0-2 / 123rd)
124. Akron (0-2 / 124th)
125. UConn (0-3 / 125th)
126. ULM (0-2 / 126th)
The buzz: It's an interesting coaching matchup this week when ULM plays host to FCS member Jackson State. The coach at Jackson State is Deion Sanders, who played for ULM coach Terry Bowden's dad in college.
127. Old Dominion (0-2 / 127th)
128. Bowling Green (0-2 / 128th)
129. Massachusetts (0-2 / 129th)
130. New Mexico State (0-3 / 130th)