KSR's Kentucky vs. South Carolina Predictions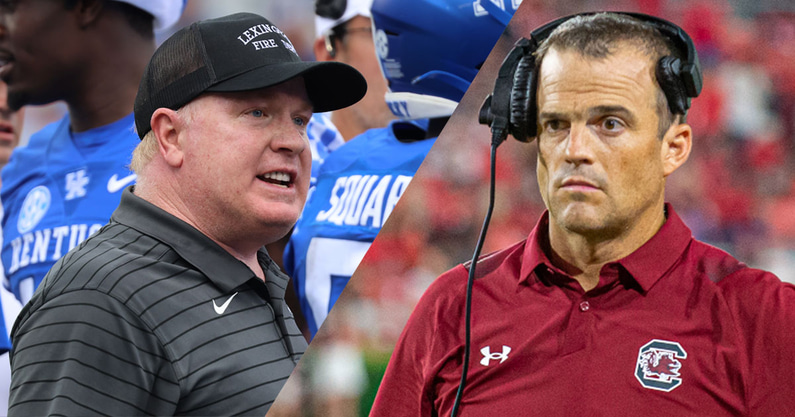 It wasn't pretty, but the Kentucky Wildcats came away victorious against Chattanooga to move to 3-0 on the season. The first quarter of the regular season featuring back-to-back-to-back home games is now complete. Now, it's time for UK's first road matchup in Columbia against the South Carolina Gamecocks.
Kentucky has opened as a five-point favorite, and national analysts like the Cats, but Williams-Brice Stadium is as hostile as they come. UK has quite the test on its hands, one the team desperately has to ace.
The KSR crew put together their thoughts and predictions ahead of Saturday's 7 p.m. ET matchup on ESPN2.
Tyler Thompson
I'll be honest; Kentucky's performance vs. Chattanooga took the wind out of my sails a little bit. A win is a win, but seeing the Cats struggle vs. an FCS opponent has me a tad nervous heading into what will be their biggest challenge yet. This is Kentucky's first true road game since the 2019 season. Shane Beamer is hungry for his first win vs. an SEC opponent. Gamecock fans are tired of losing to the Cats. Williams-Brice will be very loud. By the first timeout, we'll all want to throttle that damn rooster.
Thankfully, I think Kentucky's lackluster outing vs. Chattanooga serves as a wake-up call. Despite their inconsistency, I still believe in the Big Blue Wall. South Carolina's strength is its defensive line, but after being embarrassed by Chattanooga, Darian Kinnard, Dare Rosenthal, and the offensive line will step up to the challenge to help Chris Rodriguez restart his streak of 100-yard rushing games. It's going to be close — and South Carolina will definitely land some punches — but ultimately, the Cats pull it out to move to 4-0, setting up an epic showdown with Florida.
Prediction: Kentucky 27, South Carolina 24
---
Drew Franklin
Muhammad Ali once said, "A rooster crows only when it sees the light. Put him in the dark and he'll never crow."
The rooster won't crow tonight when Kentucky meets South Carolina in the dark in Williams-Brice Stadium. Simply put, Kentucky is the better team with the better playmakers and a Big Blue Wall eager to prove it is still one of the best offensive lines in the conference.
The Wildcats will be in control of this one. If they're able to protect the ball and win or even push in the turnover column, it will be a victory and a 4-0 record headed back home for the Florida game.
Go Cats. Go -5.
Prediction: Kentucky 30, South Carolina 20
---
Nick Roush
We will see a story we have seen before. Kentucky takes a haymaker to the chin early, then ropes a dope by bullying the opponent for 3.5 quarters. I'm prepared to see the same old song and dance in the Wildcats' first true road trip in two years.
The game will be won on the ground. Fortunately for Kentucky, the Big Blue Wall is pissed off with something to prove. The commitment to the run will not provide immediate success, but it will demoralize the Gamecocks' defense before the Red Sea parts for Will Levis to dial up multiple bombs at Williams-Brice Stadium.
Kentucky is the more talented team. The stupid crowing rooster can only help Shane Beamer's squad so much. This one gets ugly if UK gets rid of the turnovers.
Prediction: Kentucky 31, South Carolina 17
---
Zack Geoghegan
Welp… As the only member of the KSR crew who picked Kentucky to lose this game during the preseason, I don't love the position I am in right now. On the one hand, I think Kentucky is still the better overall team and should come out with the victory, but I figured that when I initially chose South Carolina to win. UK has looked solid through three games, the team just isn't quite as good right now as I expected when the season began.
My reasoning for picking the Gamecocks was based on this being Kentucky's first true road game of the season for a new offensive coordinator and still inexperienced starting quarterback. The fact that the 'Cats only narrowly avoided an upset to an FCS opponent last week at home and that South Carolina will have a capable quarterback under center doesn't exactly inspire confidence in me flipping my pick. I've gone back and forth multiple times but I'm going to hold strong on my South Carolina pick and hope that it comes back to bite me in the ass.
Prediction: Kentucky 21, South Carolina 24
---
Adam Luckett
A scare or hangover performance was coming for Kentucky before the gauntlet in October against Florida, LSU, and Georgia arrived. Luckily, it happened last week against Chattanooga.
Kentucky got out of Kroger Field with an ugly win, and it's back to the drawing board. The Wildcats will be motivated and locked in for their first road test. That should be a good thing.
Overall, Kentucky just has a better roster than South Carolina and matches up well with what the Gamecocks want to do. Kentucky's zone-heavy defense will be able to take away splash passes to Josh Vann deep, and that is what this South Carolina offense has to have to move the football. Meanwhile, Kentucky's passing game has a big advantage against the Carolina secondary while the offensive line should be motivated to establish the run after a disappointing performance last week.
As long as Kentucky avoids a special teams catastrophe or a ton of turnovers, it should be a good night at Williams-Brice Stadium. Kentucky's offense has a big night as Carolina struggles to keep up after a close game for most of the night. The sloppy football finally comes to an end in Week 4.
Prediction: Kentucky 34, South Carolina 16
---
Jack Pilgrim
Ah, South Carolina. Media darlings with false hope regarding the direction of the program, again. Rewind, repeat, year after year. It never fails.
This time around, it's Shane Beamer's cheeriness and positive energy that is stealing the hearts of the USC faithful and national analysts. The team culture has been established, those within the program are rallying behind it, whatever. The yearly hype train is chugging right down the tracks.
The fact of the matter is – this year, at least – UK is the more talented and experienced football team from top to bottom. South Carolina has some playmakers, but Kentucky has clear advantages at the majority of key positions. USC is thin at linebacker and in the secondary, and UK wins at the line of scrimmage with a superior offensive line. Mismatches are there for the taking.
The Wildcats can lose, but it would be as a result of self-inflicted errors, not the Gamecocks being more fundamentally sound or skilled. First true road game jitters keep it closer than it should be, but Kentucky wins by double digits at Williams-Brice Stadium.
Prediction: Kentucky 35, South Carolina 24