KSR's day one takeaways from the 2022 NBPA Top 100 Camp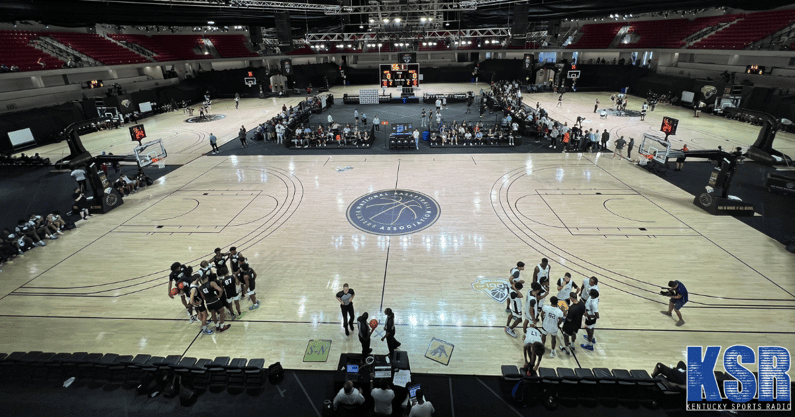 Day one action of the 2022 NBPA Top 100 Camp is officially in the books as we turn the page to day two on Thursday.
Wednesday gave us plenty to talk about, too. Kentucky sent 80 percent of its key staff members to Orlando, FL for the annual event, which is arguably the most prestigious of the national high school basketball camps. Both Jack Pilgrim and Zack Geoghegan made the trip down south for KSR to soak in all of the action — talking with several Kentucky targets while scouting some of the country's top talents.
Without further delay, let's dive right into KSR's takeaways from the opening day of hoops.
Kentucky coaches roll four deep
With so much desirable talent spread across multiple age levels in attendance (along with two current commits), the Kentucky coaching staff made sure their presence was known in the Sunshine State. Joined by head coach John Calipari during day one action was associate coach Orlando Antigua, associate to the head coach Bruiser Flint, and assistant coach Chin Coleman.
The quartet split up throughout the four-session schedule, typically sending two coaches to one court and the other two to another. The staff consistently had eyes on the pair of commits, Reed Sheppard and Robert Dillingham, along with plenty of top targets such as five-star '23 center Xavier Booker, five-star '23 forward KJ Evans, five-star '23 wing Justin Edwards, five-star '23 center Aaron Bradshaw, and soon-to-be five-star '24 center Flory Bidunga.
A few of those players — Sheppard, Bradshaw, and Edwards, specifically — saw at least three of the four Kentucky coaches watching from the sidelines during the day. The staff sure was personable, too. Former UK coaches such as Jai Lucas (Duke), Kenny Payne (Louisville HC), and Joel Justus (Arizona State) were seen chalking it up with the current Wildcat brass.
— Zack Geoghegan
Rob Dillingham is the craftiest player in 2023
You won't find a more entertaining player in the rising senior class than Rob Dillingham. The 6-foot-2 point guard is electric with the ball in his hands, dazzling onlookers with advanced dribble moves and creative scoring at all three levels. He's a bit erratic at times with questionable shot selection and unnecessary turnovers, but the reward is almost always greater than the risk when Dillingham is on the floor. The future Kentucky guard finished with 11 points on 5-11 shooting to go with three assists in game one, followed by nine points on 3-10 shooting, three assists, two rebounds and two steals in game two.
When Dillingham takes the floor, it's hard to take your eyes off of him. Between the quick first step, crossovers, spins, twists and hesitations, he's a must-watch talent with the ball in his hands. He'll be taking those talents with him to Lexington.
— Jack Pilgrim
Aaron Bradshaw continues to look the part
With rumors of a potential commitment to Kentucky swirling, Aaron Bradshaw gave the Wildcats coaching staff plenty of reassurance that he could be the center of the program's future. He was matched up against the player of the event through the opening day, Flory Bidunga, and overall got the better of the future five-star recruit.
Make no mistake though, Bidunga was incredible in his own right, but Bradshaw was not phased by the competition. He recorded eight points, nine rebounds, four assists, one block, and one steal in his first outing of the day, which came against Bidunga. Bradshaw then dropped 11 points, six rebounds, one block, and one steal in game two.
Bradshaw told the media on Wednesday that he's planning an official visit to UCLA "soon", but UK (and partially Louisville) remains in a terrific position to land his commitment. It's not as clear now if a decision will come this week, but the 'Cats continue to trend as the favorite.
— Zack Geoghegan
Flory Bidunga is a clear top-10 prospect in 2024
If you don't know Flory Bidunga's name by now, it's time to get familiar. Making his national camp debut in Orlando, the Kokomo, IN standout quickly separated himself as the most dominant center in the rising junior class – and maybe all of high school basketball. He's an unstoppable force in the paint, a physical finisher on offense and a shot-blocking phenom on defense. For a player who has only played basketball for two years, he's got wildly impressive touch and feel for the game down low, along with great instincts as a rim-runner and lob-catcher. Physically, he's already there at 6-foot-9, 230 pounds, a naturally strong frame with room to add weight.
Unranked going into the spring – most didn't even know his name – Bidunga has firmly cemented himself as a five-star-caliber talent in the rising junior class. He's got a complicated recruitment, but interest is and will continue to be coming in from the nation's best.
— Jack Pilgrim
A trio of in-state prospects
The state of Kentucky is well-represented in Orlando this week. Along with Reed Sheppard, a pair of in-state prospects, Kaleb Glenn (Louisville commit) and George Washington III (Ohio State commit), also took the floor to represent the Bluegrass. Like Sheppard, Glenn and Washington III were invited to this camp for a very good reason and they put it on full display on Wednesday as teammates. Glenn (literally) muscled his way into 10 points in his first outing while Washington was in attack mode throughout the day.
— Zack Geoghegan
AJ Johnson joins argument for top guard prospect in the class
Rob Dillingham and DJ Wagner have been long seen as 1A and 1B regarding top guard talents in the class of 2023. The former is more flash and flare, with the latter being more polished and safe overall. Both players will be successful at the next level. Another guard reaching near-guarantee status? California's AJ Johnson, who made the jump to No. 9 overall in the latest On3 player rankings, is the most fundamentally sound ball handler in the country. He uses his handles, quickness and length to get to his spots with ease, emerging as a strong three-level scorer. He's working to add weight – he stands 6-foot-6, 170 pounds – which stands as the only real knock on his game at this point.
Dillingham and Wagner may be at the top of the list among top guards in the class, but Johnson isn't too far behind. It's hard to envision a scenario where the five-star guard fails to perform at the next level.
— Jack Pilgrim