Mark Stoops on Kentucky's physical reputation, Georgia, program building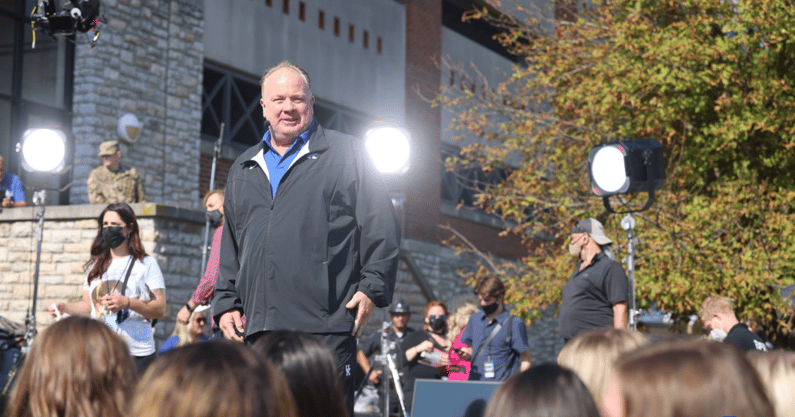 On Saturday, Kentucky faces No. 1 Georgia, a challenge made even more daunting by the fact that the Bulldogs have one of the best defenses in college football in recent memory. During his radio show on Monday night, Mark Stoops quipped that Georgia's defense is like the 1985 Chicago Bears. After a few more days of film study, Stoops is even more impressed by the Bulldogs.
"Kirby [Smart]'s got one heck of a football team," Stoops said on the SEC Teleconference. "It'll be an extremely tough environment to go on the road and play down there. Georgia is good in all three phases and can hurt you quickly in all three phases so we will need to continue to improve."
Let's Get Physical
A calling card of the Stoops era has been physicality. Even before the success of the past few seasons, Stoops' teams drew respect from their opponents for how hard they hit. In 2016, Alabama star defensive end Jonathan Allen said the Kentucky game was one of the most physical he'd even played in even though the Crimson Tide won 34-6. In his press conference on Monday, Georgia head coach Kirby Smart echoed those remarks.
"They have always been one of the most physical games, if not the most physical game we've played in," Smart said. "I don't think the rest of the world understands the physicality that their offensive line has played with. Their run game. Their defensive line has been enormous in terms of size. Just a different type than maybe when you play against Arkansas or even Auburn. They strike blockers. They are very similar to us defensively in the front mechanics they play and how they play blockers.
Today, Stoops was asked about Smart's comment and the mutual respect that's developed between the two over the years.
"Since I got here I've been trying to improve and be as physical as we can. I just feel it's just a line of scrimmage league. Me being a defensive guy of course, Kirby being a defensive guy, I think we want to be very good at the line of scrimmage but we pride ourselves on being physical. But, we will need to take it up another notch in playing them this year. They are playing at an extremely high level."
Need a flawless 60 minutes vs. Georgia
Kentucky has made impressive strides in the last two games, cleaning up the turnovers and reestablishing balance in the offense. While Stoops is pleased with the progress, he knows his team has to turn in a near-perfect performance to come close to upsetting the No. 1 Bulldogs.
"I think overall, we're getting better everywhere, just executing at a higher level. For a large portion of the game Saturday, we were playing good in all three phases. We need to keep that up. In order to have a chance to win this week we've got to continue to play that way for all 60 minutes. There are still moments where we're losing concentration and not playing to the best of our ability."
Stetson Bennett is "sneaky fast"
We've talked a lot about Georgia's defense, but their offense has been impressive despite uncertainty at the quarterback position. JT Daniels has been battling a lat injury and missed the last two games. He may play this weekend, but if not, backup Stetson Bennett has proved more than capable in his place. In five games, Bennett has 746 yards, eight touchdowns, and two interceptions. Stoops said regardless of who is under center, the Bulldogs' offense is as impressive as ever.
"I think both of them do a nice job of buying time in the pocket and can run when they need to but with Stetson, it seems like he's got some quickness," Stoops said. "He's sneaky fast with the way he scrambles or runs the ball when necessary.
"Really, when you play Georgia, to me, it's a lot the same every year. I mean that with great respect because they all seem to have just a fantastic group of running backs, a physical O-Line and gonna pound the rock right at you and play-action pass and dynamic tight ends and wideouts. So, very similar in that regard of being very balanced. As a defensive coach, always the teams that are hardest to defend are extremely physical when they need to be but also hurt you through the air when they want to."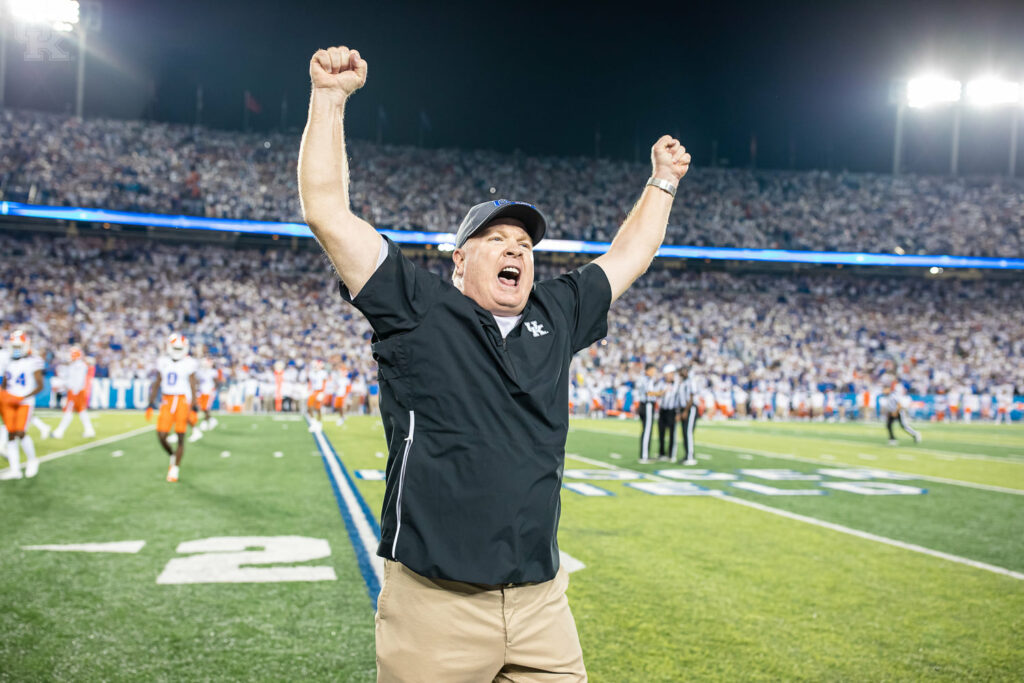 Historic 6-0 start a "short-lived celebration"
As you've heard ad nauseam since Saturday night, Kentucky is 6-0 for the first time since 1950. A man by the name of Bear Bryant was the coach of the Wildcats back then. When asked, Stoops admitted it's pretty cool to be in the same, rarefied air as one of the greatest coaches of all time, but insisted the celebration was short-lived.
"Somebody asked me that right after the game and I really hadn't put a lot of thought into that. When I heard that, it did mean a little something to me because it's been a lot of hard work for a lot of years; however, like always in games, you have to enjoy it in the moment.
"Those night games, it's a quick turnaround. Maybe enjoy it for a few hours then it's back to reality. I get to wake up the next morning and prepare for Georgia. So that's a really short-lived celebration." 
The unique challenge of program building at Kentucky
This morning, Ivan Maisel published a great feature on Mark Stoops and how he's created a top SEC program where there was none before. Given Kentucky's success, Stoops is obviously — and deservedly — being asked a lot of questions about program building this week. He fielded a few more on today's teleconference.
"For us, the situation we're in, every situation in the SEC and throughout the country is totally different. We were in for a total rebuild. It was going to take some time. How much time, nobody ever knows. Even going into this season, I knew our program was in good shape and we were headed for good things but I had no idea how that's going to correlate to victories. I feel very confident in our program and where we're going. I'm glad we're off to the start that we're off to but we're at the midway point and I'd like to finish extremely strong."
Nine years in, Stoops and his staff have the unique challenge of program building at Kentucky down to a tee.
"For us, for me, it's being extremely specific. I think the word culture is thrown around way too much but for us, I go back to — you probably heard me at SEC Media Day years ago. We talk about building a winning culture, selecting the right players, and constantly develop them at a high level, and for me, that's very specific in all areas. Outlining core values. Got to have a very clear vision. Got to have a great staff. Put systems and processes in place to help you accomplish that vision and the selection process.
"And the development piece, I could go on and on but that's huge to me. With the way we recruit compared to some of the others in the SEC, we have to be very good at developing the talent that we get."