"We don't like losing:" Forecasting a Path to 11 Kentucky Wins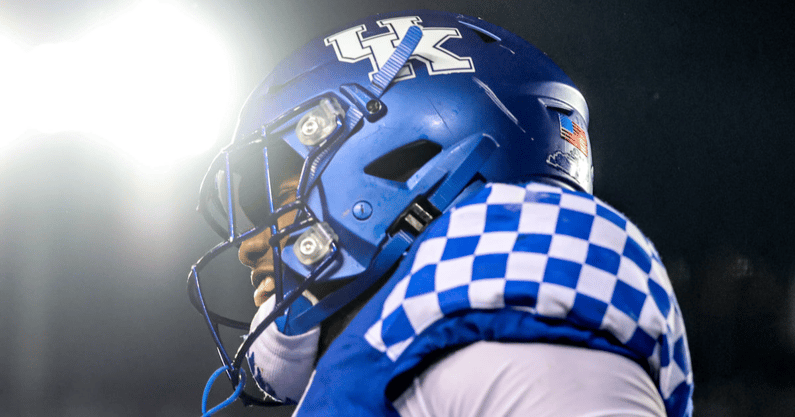 Losing isn't fun. As Kentucky fans, we know that better than most. Most seasons, there are certain games that we have no choice but to pencil in as losses before they're even played, and hope they stay competitive in the rest. However, 2021 is not most seasons.
On paper, Saturday's game against Georgia — UK's first loss in seven outings this year — was one of the most "penciled loss" games the 'Cats have played in some time. The Bulldogs have looked borderline unbeatable this season, and going to Athens and stealing a win from the No. 1 team in the nation seemed highly unlikely, even in the most optimistic of mind frames.
Yet still, we believed; maybe it was always a pipe dream, but this year's UK team has filled us with so much hope that we couldn't help but imagine the impossible. That little part of our brains that clings to the Stoopsisms of the past told us to keep the faith. If anyone could do it, why not us? If there was ever a time, why not now?
Of course, as they say in the land of Ted Lasso, "it's the hope that kills you." Kentucky learned quickly on Saturday just how much of a gap still remains between the Georgias of the world and, well, everyone else. But don't think for a second that that means UK's dream season is suddenly out the window. With five very winnable games left on the schedule, 11 wins is still absolutely in reach. Here's what they need to do to get there.
1. Stay Hungry
After the game last night, Josh Paschal addressed fans' worries about keeping momentum after a tough loss:
"We don't like losing. That's not something that we're used to now," Paschal said. "We're going to bounce back. The vibe in the locker room was that during this bye week we're going to work hard, we're going to heal our bodies up, but we're not comfortable with this loss. We're going to bounce back against Mississippi State and we're going to be a hungrier team than before."
In a few words, UK's defensive leader summed up the single most important thing that Kentucky must do to end this season in historic fashion: stay hungry. That means keeping effort levels at the highest every Saturday, and not taking anyone for granted.
This is especially important in the next two games, as UK faces their toughest remaining tests after the bye week in Mississippi State and Tennessee. After that, the picture gets easier, but as we saw in the Chattanooga game, anything can happen if the effort isn't all there. They have to want it day in and day out, and Paschal's quote tells me they know that as well as we do.
2. Rebound with Focus
As Josh said, maintaining that level of focus starts in Starkville. After a much-needed break next weekend, the 'Cats will travel to Mississippi State for their last true road test of the year (sorry, Louisville, but we own that city). The other Bulldogs might be just 1-2 in conference play so far, but they're a dangerous team, especially at home — they took down Texas A&M the week before the 'Bama upset, and they nearly beat LSU a month ago. Those cowbells are no joke.
Moreover, the "Georgia hangover" is a potent poison, and UK will need to shake it off ASAP if they want to keep the good times rolling. As Nick Roush wrote last night, both Clemson and Arkansas were sent reeling after losing to Georgia; the Tigers went from preseason No. 3 to unranked, and the Razorbacks went from undefeated to losers of three straight. Not to mention South Carolina, who lost their first SEC game by a thousand in Athens and then didn't get a conference win until literally yesterday, against Vanderbilt, by one point. That right there is what ya don't want.
Thankfully, the bye week comes at the perfect time for the 'Cats, as they should have plenty of time to shake off those seeds of doubt before the next road trip. Confidence is key, and this team has plenty of it. There's no reason to let Saturday's letdown change that.
3. Stay Healthy
Finally, the most impactful tangible factor in Kentucky's future success is avoiding injuries. SEC football is a trial of endurance more than anything, and losing a few key players could derail this magic season quicker than one of Ryan Lemond's uncomfortable sex jokes (I mean seriously, where do you go from there?).
There's no denying the 'Cats have been banged up in recent weeks. Octavious Oxendine and Marquan McCall were dearly missed on the front lines Saturday, as was Josh Ali in the receiving game. Hopefully, Izayah Cummings is able to shrug off his arm injury in time for Mississippi State, because UK can't afford any more losses from its few trusted pass-catchers.
Again, the bye week really couldn't come at a better time in this regard. The waylaid Wildcats need this time to rest up for the final stretch run. Because once that first whistle blows in Starkville, it's officially crunch time for the 2021 season.
Make no mistake, history is ripe for the taking for this Kentucky team. But reaching 11 wins — and potentially competing for playoff consideration — is about a lot more than just taking care of business against MSU, Tennessee, Vanderbilt, New Mexico State and Louisville. The 'Cats must stay focused from start to finish, and a lucky break here or there might be needed.
If they can do all of that, there isn't a couch in the state that'll be safe.