Michigan State vs Penn State game moved to Ford Field for Black Friday game in prime time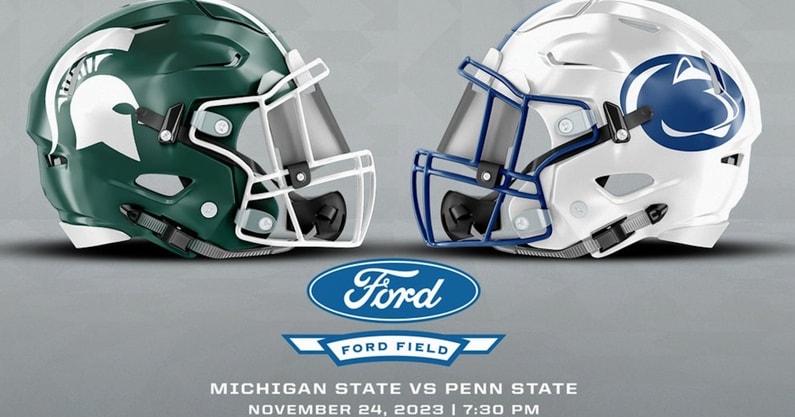 East Lansing, Mich. – Michigan State's football home game against Penn State on Friday, Nov. 24, will be played at Ford Field in Detroit, the university announced today.
The game will be played at 7:30 p.m. and broadcast by NBC.
It will be the Spartans' first game at Ford Field since defeating Florida Atlantic, 30-17, in September of 2010. That game was a home game for FAU, which sought to make a financial gain by capitalizing on the ticket-buying presence of Michigan State fans. 
This will mark the first time Michigan State has moved a home football game off campus. 
"The decision to move a home game out of Spartan Stadium was given careful consideration, as we understand the impact it will have on some fans," MSU Vice President and Director of Athletics Alan Haller stated in a university press release issued at noon on Tuesday. "We recognize home football brings benefits to the entire Mid-Michigan area. The fact that this game falls on a holiday weekend Friday increased our willingness make the move."
The game at Ford Field will be sold as a standalone contest, with details, including on-sale dates, to be announced in the near future. 
Season ticket holders and student season pass holders who have already paid for the 2023 ticket package will be refunded for tickets and parking to the previously scheduled game vs. Penn State at Spartan Stadium. 
"I believe our season ticket holders still have a strong collection of home games highlighted by Michigan and a premier non-conference game against Washington, with a total of six home games just as we had in 2021," Haller said.
There will be designated sections in the lower bowl for Michigan State students, with priority going to 2023 student season pass holders.
Spartan Fund donors and 2023 football season ticket holders will have the opportunity to purchase tickets in Spartan Fund donor priority order. 
"This is an exciting opportunity for our program to play in prime time on a holiday weekend," MSU head football coach Mel Tucker said in the press release. "Our players will be able to compete in an NFL environment while being showcased in the national spotlight. I'm looking forward to our fans creating a loud atmosphere and giving us a home-field advantage at Ford Field."
The Big Ten Conference approached Michigan State about the athletic department's willingness to consider moving the final game of the regular season to a national television window on Friday night, and the potential of moving the contest from Spartan Stadium to Ford Field. Michigan State presented the idea to Ford Field, who expressed a willingness to accommodate the move. 
Michigan State also consulted with the MHSAA as the football state championships will be moved from Friday and Saturday of that weekend to Saturday and Sunday (Nov. 25 & 26).
"Moving a game to Ford Field requires significant cooperation among different organizations," explained Haller. "The Detroit Lions have been exceptional to work with and were on board right away to facilitate this move. Over the years, we've had the opportunity to work with their staff on different events, and our existing relationships allowed us to move quickly through this process. 
"I'd also like to give a tremendous thank you to the MHSAA for their flexibility and willingness to adjust their championship schedule. They too have been an outstanding community partner for quite some time. Through cooperation and ingenuity this will be a memorable holiday weekend of football, benefitting the Detroit Lions and Ford Field, Michigan State University and Spartan Football, the MHSAA, and most of all the city of Detroit."
The Michigan State vs Penn State game on Black Friday in Detroit means that Ford Field will stage football for four straight days during Thanksgiving Weekend. The Detroit Lions will play host to the Green Bay Packers in the Lions' annual Thanksgiving Day game. 
The Michigan high school state championship games, sanctioned by the Michigan High School Athletic Association, will be played on Saturday and Sunday of Thanksgiving Weekend.
"This is a unique opportunity, for both our football program and our fan base, to play a Black Friday game at Ford Field," Haller said. "Southeast Michigan is home to 100,000 alums, nearly 50 percent of our student body and countless more Spartan fans."
Sources tell SpartanMag that this a one-off event and that Ford Field will not become a regular home for the Michigan State vs Penn State game, or Michigan State's regular season finale.
"Our men's basketball team has experienced tremendous support in Detroit, both at Ford Field and Little Caesars Arena, and we're excited to bring Spartan Football to our fans in the Motor City," Haller said. "The city is important to our mission not only as an athletic department, but our entire University. We anticipate that the experience will be so much more than a football game for our Spartan faithful."
"We are thrilled to be partnering with the Big Ten Conference to host a game at Ford Field," said Detroit Lions President and CEO Rod Wood. "Thanksgiving weekend in Detroit is synonymous with football and being able to add a marquee Big Ten game only elevates the weekend. We are proud to be hosting NFL football, Big Ten Football and the Michigan high school football championships in downtown Detroit and look forward to the energy and excitement of the holiday weekend. The Detroit Lions and Ford Field are committed to growing the game and the football community throughout the State of Michigan."
"The MHSAA has enjoyed a long relationship with two of our best partners, Michigan State University and Ford Field," said MHSAA Executive Director Mark Uyl. "Our athletes have incredible experiences both on the Michigan State campus and Ford Field with our championship events. Given the unique opportunities of this fall, the MHSAA was proud to play a small part in making the puzzle work with Ford Field, Michigan State Athletics and the Big Ten Conference, while still preserving all eight of our games on Thanksgiving weekend at Ford Field."
"The Big Ten Conference is thrilled that Michigan State will be hosting Penn State at Ford Field in prime time on NBC," stated Big Ten Commissioner Tony Petitti. "We are incredibly grateful for the collaboration between our member institutions, broadcast partners, Ford Field and the Detroit Lions to provide this unique opportunity and incredible exposure for our student-athletes on Black Friday."