Hero Kanu commits to Ohio State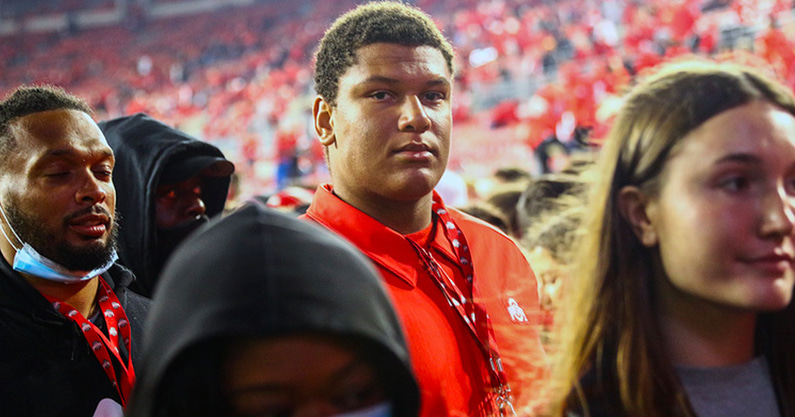 Ohio State football recruiting can be a wild ride full of twists and turns as recruits from all over the country maneuver their way to signing day. Lettermen Row is here to help navigate the tumultuous roads by getting to the heart of the matter with the young football players and Ohio State coaches and staff members themselves. Today we're joined by Hero Kanu, who has just announced his college decision.
SAN ANTONIO — Hero Kanu didn't get to make his decision on the big stage he was hoping for.
But that doesn't change anything else about his experience. The 6-foot-4, 290-pound defensive tackle from Santa Margarita Catholic (Rancho Santa Margarita, Calif.) has been all over the world but it's brought him to where he feels at home.
That is, and has been, Ohio State.
Kanu signed his Letter of Intent with the Buckeyes in December. The decision took a while to make publicly, but it was never a hard choice for the Bavarian Bullrusher — nickname pending approval.
"I basically knew the day I stepped on campus," Kanu told Lettermen Row about his commitment. "On the eighth and the ninth of June.
"It was the right place. There really was not like a lot of competition for that."
Ohio State was the choice for Hero Kanu because of Larry Johnson. He's always been the driving force in this recruitment. That began in June and has continued since.
"[Johnson and I] are both definitely family people. So that's one thing that we have in common," Kanu said in October. "And just the trust that we have with each other is big. We both get along really well. And I'm excited that we get to talk about personal stuff, too, so we were deepening that relationship this weekend."
That trust carried the day for Ohio State in recent weeks. As college coaches around the country have jumped ship, Hero Kanu believes he's got the right coach in charge of his future in Columbus.
How hard was it to keep his recruitment a secret? Has the week in quarantine in San Antonio been hard? How happy is he to have to this process behind finally?
Hero Kanu, the latest Ohio State signee in the Class of 2022, talks about those things and more in a commitment edition of Birminology from Lettermen Row.
Check out the video below and head to YouTube.com for more Buckeyes football, recruiting and basketball coverage from Lettermen Row and On3.com