Five-star receiver Carnell Tate commits to Ohio State over Tennessee, Notre Dame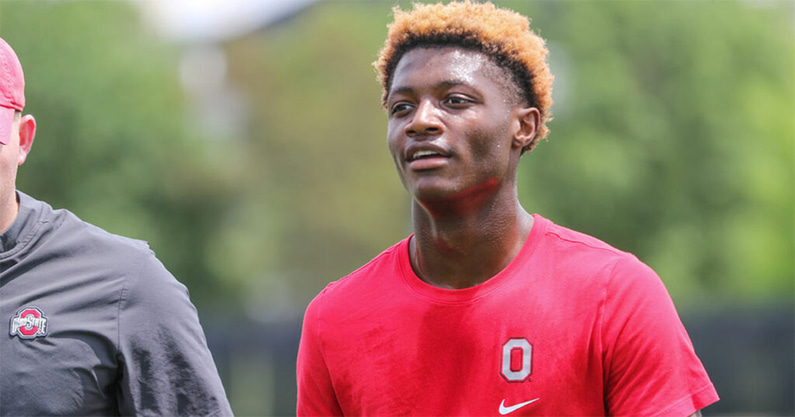 COLUMBUS — Ohio State has been recruiting Carnell Tate for more than a year.
Those efforts from Ryan Day, Brian Hartline and the Buckeyes staff finally paid off Wednesday. The five-star IMG Academy (Florida) wide receiver picked the Buckeyes over Tennessee and Notre Dame, finally putting an end to a long, winding recruitment that went far longer than expected.
Tate is the second receiver in the Buckeyes 2023 class, joining four-star Florida native Bryson Rodgers. The pair of talented pass catchers give Ohio State 11 commitments in their Big Ten-best class so far.
Carnell Tate is the highest-ranked commit in the Buckeyes 2023 recruiting class.
Tate has been leaning toward picking Ohio State for the last year, since he camped in Columbus with Hartline last summer. Tennessee gave Tate a good pitch to join the Volunteers, but his love for Ohio State never truly went away as the process progressed.
The new Ohio State commit hinted that a decision could be coming soon last week at the OT7 event in Las Vegas
"It's definitely going to come down to the relationship me and my parents have with the coaching staff," ," Tate told On3's Chad Simmons at that OT7 event. "And do they trust in that coach to take care of me and ultimately get me to the next level?
"… I'm very close. Me and my family have a sense of where we're going. Now I'm going to back to the drawing board to finalize everything when I get home. I've got to find a videographer [for his commitment video] so I'm really close. In about a week or two, the video should be done and out."
Tate found that videographer, and the video is now public. After a long, winding recruitment full of twist and turns, five-star receiver Carnell Tate is officially in the Ohio State 2023 class. And Brian Hartline has landed yet another five-star receiver.