Four-star wide receiver Noah Rogers commits to Ohio State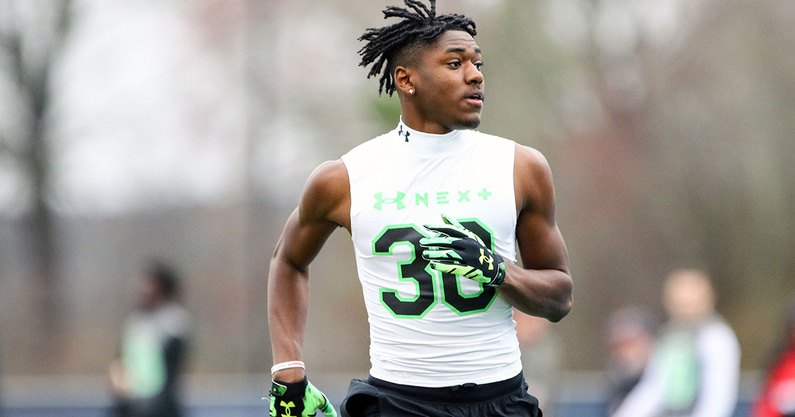 COLUMBUS — The incredible run of wide receiver recruiting isn't slowing down for Ohio State: Noah Rogers became the third pass-catcher to pick the Buckeyes in the last three days.
Rogers, a four-star prospect from Rolesville, North Carolina, chose the Buckeyes over North Carolina State and North Carolina, among many others.
Noah Rogers is now the fourth-highest ranked commit in the Ohio State recruiting class. He is the fourth receiver in the Buckeyes 2023 class, joining four-star Florida native Bryson Rodgers, Chicago five-star Carnell Tate (IMG Academy), and five-star Brandon Inniss, who committed Tuesday. The quartet of talented pass catchers give Ohio State 13 commitments in their Big Ten-best class so far.
The 6-foot-2, 195- pound Rogers has been considered a lean to the Buckeyes for weeks, even after numerous visits to North Carolina State and a family connection at North Carolina. The On3 Recruiting Prediction Machine gave the Buckeyes a 94.3-percent chance to land his commitment before he announced it on social media.
Noah Rogers was supposed to officially visit Ohio State last weekend, but travel issues forced him to change those plans. He instead made the short trip to North Carolina State with three-star 2023 quarterback Lex Thomas; a close friend and longtime Wolfpack commit. That didn't dissuade him from picking the Buckeyes, though. The decision for Noah Rogers came down to his relationship with Brian Hartline and the Buckeyes staff — and the developmental plan.
"I like what coach Hartline has going on," Rogers said in an interview last month. "I like the program. They play fast, it's the best of the best. I like how it reminds me of being down here (in Rolesville). There's a great group of wide receivers that could make me better. It reminds me of Rolesville.
"That's important. You've got to learn from somebody. It's good to learn from your peers. They're younger and you can relate to them. They're reaching for the same goals that you are. I think that's a big thing."
Noah Rogers can see the plan in place for he and three other top receivers to be great at Ohio State. That's why he's committed to the Buckeyes, giving Hartline and the offensive staff yet another weapon — and helping them continue an epic recruiting run over the last three days.