Oregon injury report ahead of Saturday's rivalry game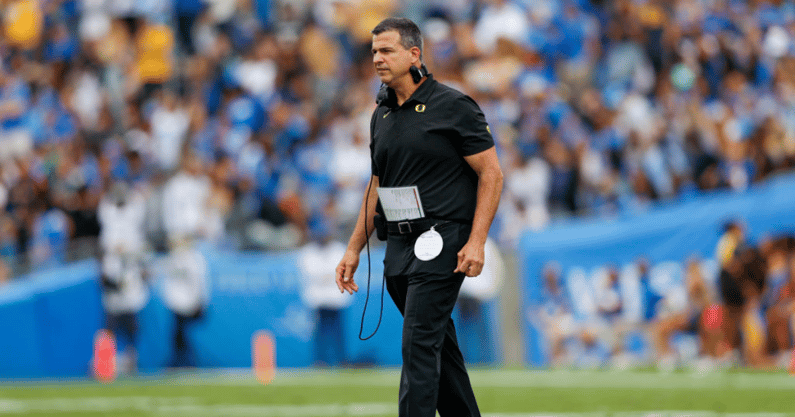 Mario Cristobal delivered injury updates on a few key Ducks during his Wednesday press conference.
Oregon is dinged up following its 38-7 loss at Utah last weekend, and it sounds as though the status of a few key players is still unknown.
Cristobal is hopeful that junior tight end DJ Johnson can make a healthy return and help the Ducks on the offensive side of the ball. He said Johnson is still day-to-day.
"He's certainly improving — it's gonna be close, but I feel good about it," Cristobal said of Johnson.
The one new bit of injury news that came to light Saturday is in regards to true freshman linebacker Keith Brown.
"He will not be a go," Cristobal said of Brown. "It would be a stretch; I mean, he's getting better. If we played on Monday, probably so. Right now, it's up in the air and it's not looking very likely."
Brown was an integral part of Oregon's linebacker rotation early in the season, but has dealt with lingering injuries and fell behind Jeffrey Bassa on the depth chart.
Brown did not play a single defensive snap at Utah.
With Brown sidelined, the return of freshman linebacker Jackson LaDuke is even more timely. The former 4-star signee got on the field for the first time this season against the Utes and played six defensive snaps.
It was a positive afternoon for LaDuke, who has been out with a knee injury all season.
"The good part is, from a progression standpoint, this will be two-and-a-half weeks of (LaDuke) running the system again," Cristobal said. "Just all the movements — the acceleration, deceleration, stop and go, the collisions. … He looks like he's right back where he was when he left off.
"He was playing some really good football for us, so we're really excited about having Jackson LaDuke back."
Earlier this week, Cristobal provided updates on Verone McKinley III, Steve Stephens IV, Ryan Walk, and Keyon Ware-Hudson. There was no new news on any of those players on Wednesday.