Report: Oregon linebacker Justin Flowe out for regular season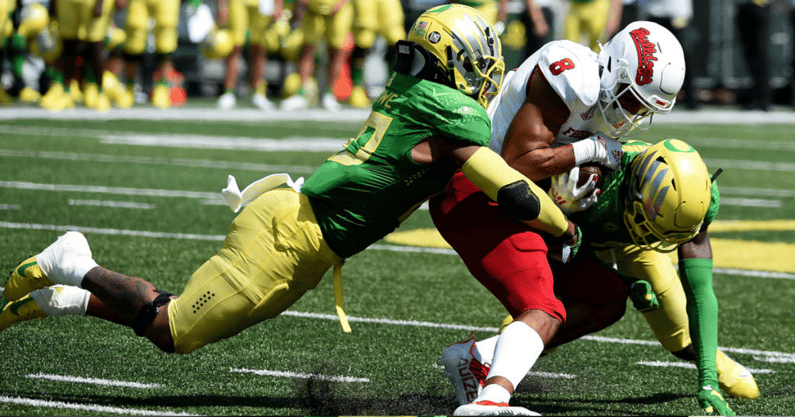 Oregon freshman linebacker and former 5-star signee Justin Flowe is expected to miss the remainder of the regular season, if not the rest of the year, according to a report from Bruce Feldman of Fox Sports.
Also, Feldman reports, linebackers Dru Mathis and Jackson LaDuke are out for the foreseeable future.
It's a terrible run of injury luck for the Ducks, who captured a program-defining win over Ohio State in Columbus over the weekend while playing without all three of the aforementioned linebackers, as well as star edge rusher Kayvon Thibodeaux.
On Monday, Oregon coach Mario Cristobal said Flowe had a "significant" foot injury, but did not provide a timeline for when he may return.
Mathis left Oregon's season-opener against Fresno State with an apparent knee injury and had surgery earlier this month. LaDuke, a former 4-star signee who played in two games as a true freshman in 2020, has not played in a game for the Ducks this season.
Oregon true freshman Keith Brown made his collegiate debut at Ohio State and played well while taking the majority of the snaps at weak-side linebacker. He left that game late with what looked like a hamstring injury, but Cristobal confirmed Monday that Brown had simply cramped up.
Brown is listed as Oregon's start at weak-side linebacker on its latest organizational chart. Listed behind him are true freshman Jabril McNeill, a former 4-star signee who recently converted from outside linebacker, and Jeffrey Bassa, also a true freshman and former 4-star who came to Oregon as a safety, but got some snaps at WLB at Ohio State.