Penn State post-practice notes; James Franklin talks contract: Newsstand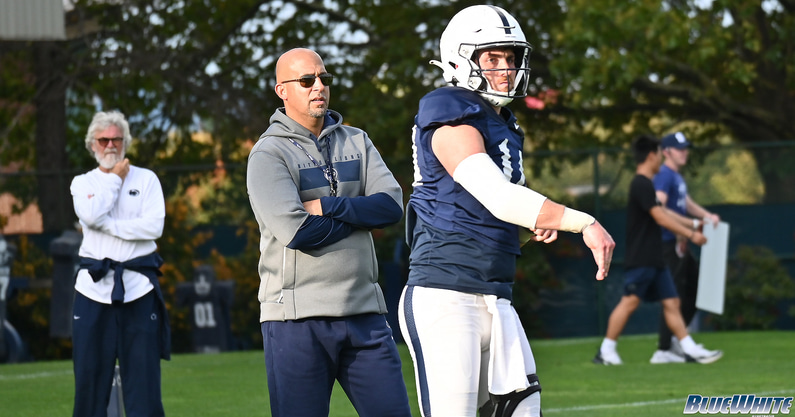 From our Blue-White Illustrated family to yours, Happy Thanksgiving, Penn State fans.
We appreciate you reading our site on this holiday Thursday. Here, as we do every weekday, is the rundown of the day's top news. Below, you'll find tweets and headlines about the Nittany Lions, college football, and more.
Let's dive into the newsstand for Nov. 25.
Penn State tweets of the day
We start with this: James Franklin talked about his new 10-year Penn State deal for the first time after practice on Wednesday. Here's what he had to say.
Tariq Castro-Fields is the latest Nittany Lion to be invited to the Senior Bowl. The corner was invited last year as well but returned for a final season.
Penn State safety Tyler Rudolph entered the transfer portal on Wednesday.
Multiple former Penn State Nittany Lions will play in NFL games today.
Allen Robinson (who might not play) and Jesse James suit up for the Chicago Bears against Jason Cabinda and Amani Oruwariye at 12:30 p.m.
Then, Micah Parsons and the Cowboys meet Carl Nassib, Nick Bowers, and the Las Vegas Raiders at 4:30 p.m.
Finally, Blake Gillikin and Juwan Johnson of the New Orleans Saints square off with Ryan Bates and the Buffalo Bills tonight.
Join On3 and Blue-White Illustrated today. $1 gets you an entire year of access to the latest Penn State sports and college football recruiting news plus so much more.
Headlines of the day
'There's a next plateau that we have to get to': Penn State's James Franklin looks to what's next after contract extension: Gallen, PennLive
5 things Penn State football fans should be thankful for this Thanksgiving: Pickel, BWI
James Franklin: 'This Is Home': Wogenrich, SI
Penn State preps for season-ending showdown: Notebook: Bauer, BWI
With Franklin contract done, now we finally can get back to just football: Giger, DKOnPittsburghSports
Three takeaways from James Franklin's post-practice press conference: Eckert, BWI
Franklin: New contract is a road map: Gross, LNP
Penn State coach James Franklin speaks for first time on new 10-year contract: Everything he said: Pickel, BWI
Penn State football practice notebook | James Franklin addresses media for 1st time since signing extension: Morganstein, Daily Collegian
Tyler Rudolph enters transfer portal; what's the portal pain factor?: Pickel, BWI
Quote of the day
"Well, it's kind of the same thing that I've said before. This is home. I've coached all over the country in every major conference. In the NFL, as well. I had an opportunity to come back home which is very unusual. But, I'll be honest with you. For me, it's about people. I'm committed to these kids and the staff and the people that I've gotten to know in the community, I'm very fortunate and blessed.
"I'm one of the few guys in this profession that, my children have a chance to go to the same school from the time they're in elementary school all the way through high school and possibly college. It's very unusual in our profession, and I'm more than just a football coach, I want to be a good dad too."
–PSU coach James Franklin talking about his new contract extension with reporters on Wednesday night.