Penn State vs. Rutgers depth chart: Defense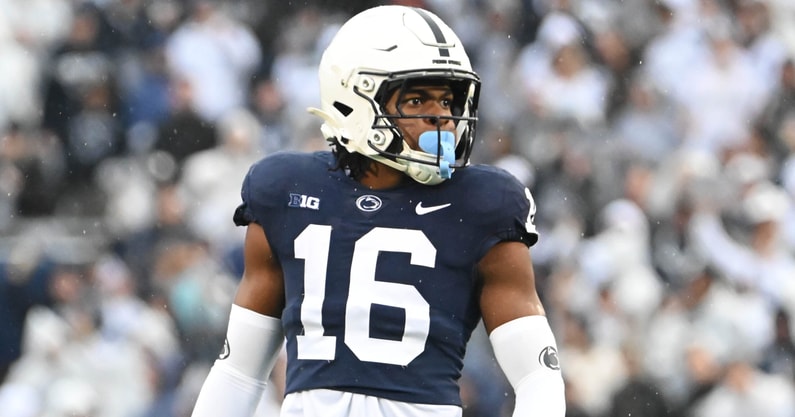 While Penn State's offensive line works its way through injuries, it's full steam ahead for the defensive line. They Nittany Lions may also get reinforcements back this week at the second level. Get the full Penn State depth chart from Blue White Illustated.
Penn State vs. Rutgers depth chart: Offense
Penn State defensive line
Defensive end
46 Nick Tarburton (R-Sr)
44 Chop Robinson (So.)
56 Amin Vanover (So.)
Defensive tackle
51 Hakeem Beamon (R-Jr)
99 Coziah Izzard (R-So)
28 Zane Durant (Fr.)
55 Fatorma Mulbah (R-So)
Defensive tackle
97 PJ Mustipher (Sr+)
91 D'Von Ellies (R-Jr)
52 Jordan van den Berg (R-Fr)
Defensive end
20 Adisa Isaac (R-Jr)
33 Dani Dennis-Sutton (Fr.)
94 Jake Wilson (R-So)
The Lowdown: 
Zane Durant's reps have stayed the same, but his impact has incresed. The freshman defensive tackle notched a sack and three pressures in the last two weeks and is now a staple of Penn State's third-down pass-rushing package.
Speaking of impact, Penn State's pass rush has tallied seven sacks last week and five the week before. According to PFF, the defense is one pressure shy of 50 in two weeks. The group is poised to put on another dominant performance that will lead to plenty of snaps for most players down the depth chart. The only inhibitor is the number of players that travel this weekend.
Lions linebackers
WILL linebacker
11 Abdul Carter (Fr.)
23 Curtis Jacobs (So.)
45 Charlie Katshir (R-Sr.)
42 Jamari Buddin (R-Fr.) 
Middle linebacker
43 Tyler Elsdon (So.)
41 Kobe King (So.)
SAM linebacker
23 Curtis Jacobs (So.)
0 Jonathan Sutherland (R-Sr.+)
34 Dominic DeLuca (R-Fr.)
The Lowdown:
There's a good chance that starting linebacker Curtis Jacobs will return this week, so the Nittany Lions will be at full strength in the middle of the defense. After Abdul Carter's breakout performance last week, the Penn State front seven could put on an even more dominating performance to end the season.
Penn State secondary
Safety
16 Ji'Ayir Brown (Sr.+)
7 Jaylen Reed (So.)
21 KJ Winston (Fr.)
Safety
2 Keaton Ellis (Jr.)
7 Jaylen Reed (So.)
6 Zakee Wheatley (R-Fr.)
The Lowdown: 
While he's played opposite of Ji'Ayir Brown for most of the season, it seems that Penn State defensive coordinator Manny Diaz is trusting Jaylen Reed more in single coverage in recent weeks. That flexibility gives Penn State two strong run defenders at safety with the flexibility to play in the box from either position. Veteran Keaton Ellis provides a similar presence, meaning the Nittany Lions can disguise coverage more effectively.

Cornerback
9 Joey Porter Jr. (R-Jr.)
8 Marquis Wilson (Jr.)
24 Jeffrey Davis Jr. (R-Fr.)
13 Cristian Driver (Fr.)
Cornerback
3 Johnny Dixon (Jr.) OR 4 Kalen King (So.)
5 Cam Miller (Fr.)
Nickel
25 Daequan Hardy (R-Jr.)
3 Johnny Dixon (Jr.)
The Lowdown:
The secondary has been disguising coverage later in the season through several zone concepts. Players like Zakee Wheatley and Daequan Hardy have dropped into roles traditionally reserved for linebackers in Cover 2. In particular, Hardy has responded well to not playing every snap in single coverage, where he was picked on early in the season. The slot corner has only given up one catch for six yards since week five against Northwestern, according to PFF.