Everything Rodney Terry, Texas players had to say after the Longhorns' first-round win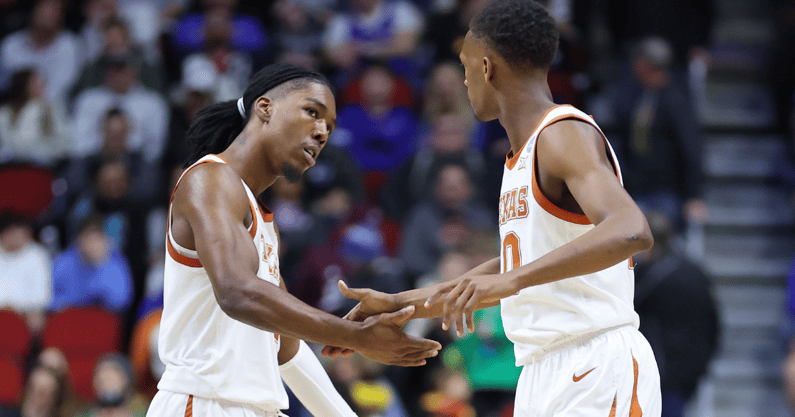 The Texas Longhorns topped the Colgate Raiders 81-61 on Thursday night to move into the round of 32 in the NCAA Tournament.
[Get Inside Texas Plus until 8/31 for just $29.99!]
Courtesy of ASAP Sports, here's everything Longhorns interim head coach Rodney Terry and several players had to say after the game.
RODNEY TERRY: Thank you so much. It's a great team win today for our guys. I think we came out and played hard for 40 minutes, played the way we played for the better part of the Big XII regular season.
We put this really this game on our defense. Really want to congratulate Colgate on an incredible season. Well coached. Matt has done a great job with the program there. A lot of respect for that team.
Q. Marcus, you guys talked all week about taking Colgate seriously and not overlooking them through the second round or whatever. How much of that focus do you attribute to the start you guys got off to shooting the ball in the first half?
MARCUS CARR: Very much so. Like you said, we weren't taking them lightly at all. We understand the team that they were. Every team in the tournament is a great team, teams that have had good years and are playing at a high level, and that's why they're here.
So we have the ultimate respect for them. We wanted to make sure we got off to a good start and not let them have a whole bunch of confidence early. They're a good shooting team, so we didn't want to give them any early good looks so they got confidence and knocking down shots all game.
I just feel every single guy that walked on the court today had a game plan, the coaches had us prepared, and we executed.
Q. Jabari, what the hell got into you tonight?
SIR'JABARI RICE: All the credit goes to my teammates. They found me. I was able to knock down shots tonight. I think it was the flow, we was just ready to play tonight. Obviously I've been shooting the ball pretty well the last three games, but I just trusted my teammates, trusted my work, and it went well tonight.
Q. When is the last time you felt this hot, confident from long range?
SIR'JABARI RICE: I don't necessarily feel hot because I missed three. But, I mean, I'm just trying to keep it going, honestly.
Q. Colgate cut it to 9 with six minutes left and you guys ended up winning by 20 points. What was the conversation heading into that stretch?
SIR'JABARI RICE: The huddle was very together. I mean, we talked about it before the game. We were going to face adversity and we were going to — they were going to go on their runs, because it's a game of runs.
But in our huddle we were very tight. Nobody separated. Nobody yelled at each other, and if it was just a little bit of yelling, we all re-centered ourselves and refocused and we just took a deep breath, and I think that really helped us.
DYLAN DISU: Pretty much what Jabari said. Just staying together and just coming out with energy after that timeout was really what helped us a lot.
I think we played harder on defense after that run and I think led to us getting easy baskets.
MARCUS CARR: Well, to be clear, I started that run with my turnover, so these guys, they all did a great job. They had my back. I rightfully had to come out the game for a second and they picked it back up on defense and got some easy baskets and stretched it out on defense.
They had my back and that's what this team has been about all year. I have no doubt about the bond that we have. We are connected and we are a family, so they had my back times when I was messing up, that's just how we been all year.
[Sign up NOW for the Inside Texas newsletter for Texas Longhorns daily updates and breaking news in your inbox!]
Q. Rodney, what was the emphasis from a game standpoint? You held them to 3 for 15.
RODNEY TERRY: Well, Jeff, you're spot on. It's the best shooting team in the country right there. We knew coming into this game they could beat us with threes, but they were going to have a hard time beating us with twos.
So we wanted them to make tough twos. We worked the post. We were willing to live with that as opposed to those guys shooting threes and making threes. We got back in transition. Did a great job taking away threes in transition. They only made three of those in the game.
These guys really worked the game plan. We knew it was a good shooting game, so we had to get back and take away and they did that in a big way.
Q. Jabari, last year everybody loved you. You were the big dog. Opposite foot this time around, what was it like being a Colgate home game? Everybody was cheering for the underdogs.
SIR'JABARI RICE: It's been like that for us all year. I feel like we're the underdog when we go into any situation, and we like it that way. I have always been a competitor, so I love when people are against us and just hyped for their team. It kind of fuels us and I think we play good in big games, so we just limit the distractions, took them away, and we just played basketball.
Q. Rodney was the game plan for Jabari to hit seven threes?
RODNEY TERRY: That's all within the game plan for any player that's capable of stepping up and making shots. Marcus could go for seven. Tyrese could go for seven. We got guys in our lineup that can make seven threes, and he did that tonight and he had one of the biggest games I think in Texas history of Texas.
In terms of shooting the basketball from three, I think AJ Abrams may have had eight in a game against Minnesota. But big-time players step up in big-time moments.
Q. Did that also seem to settle the team down? Marcus started hitting threes and seemed like you guys were off and running.
RODNEY TERRY: I don't know if we had nerves. This team is battle tested and play the toughest conference in the country. We worked the game all season long and we had the utmost respect for our opponent, but we realize what we are capable of doing for 40 minutes, and we worked the game for 40 minutes. Proud of the way these guys did that.
Q. Dylan, you have been playing well lately individually. How good do you feel out there? What do you attribute to your recent success?
DYLAN DISU: I mean, I feel really confident right now in my game, but I think that confidence comes from just the encouragement that I've gotten from both Coach Terry, the coaching staff, and my teammates.
They're telling me to continue doing what I'm doing and have been for a couple weeks now. And they believe in me, so that helps build my confidence to continue to go out there and make plays.
Q. Rodney, without making any assumptions about what's happening tonight, there is a chance that the next game could be big for even reasons outside of NCAA Tournament. What would be your plan to deal with some of the distractions, some of the hype that could come with a matchup like that?
RODNEY TERRY: You know what, Mike? We just got blinders on right now trying to control what we can control and trying to live in the present right now.
We don't know what tomorrow holds for us. We're going to celebrate this win for one night and then we're going to do what we have been doing all season long, prepare for another good opponent and be excited to competing against at a high-level for 40 minutes.
Q. Dylan, I don't know what you call it, the one-hand floater; what have you done to craft that and make that part of your game? When you got in foul trouble how big was it for CB to give you guys the minutes they did?
DYLAN DISU: As far as the floater, it's just something that I think I'm naturally good at. I don't know. I have a solid touch. I shot it a couple of times in the Iowa State game, and ever since then I kept shooting because the lanes are a pretty open spot.
As for CB, it's big-time when he comes in and makes plays, because a lot of the times the plays that CB makes are big-energy plays, like the alley-oop, a block, and he does that all the time, so that gives us energy and keeps us going.
Q. Dylan, you outrebounded them by 10 today. What was crucial to getting on the glass?
DYLAN DISU: I think just playing hard. Coach has emphasized all week that we're going to have to dominate on the boards, and that goes back to last week when we played Oklahoma State and all throughout the Big XII tournament.
He's been asking us bigs especially to dominate the glass, so that's what we try to do every game now.
Q. Marcus, you guys hit 13 threes, obviously, but did you feel like you fell in love with the three a little too much in the second half? Did that interrupt the flow of the game for y'all, lead to turnovers?
MARCUS CARR: I wouldn't say too much fell in love with them. We made 13, but we only took 23, so I feel like we shot it well. There might have been a couple of possessions where maybe we still could have got to the paint, but most of our looks were good inside/out looks. Whenever we can get it into the paint and kick it out to the shooters, we are definitely happy with those shots.
I wouldn't say we fell in love with it, but I think we had a good balance of where we shot the ball today and guys were stepping up and making shots so it was going well for us.
Q. Jabari, going back to the Gonzaga game seems like every time you guys have been in a big game the moment hasn't been too big for you guys. What's the logic to have that poise from the start of the year up through now? Those big moments?
SIR'JABARI RICE: I think it's one big thing that Coach Terry stresses to us is preparation. I think we prepare really well, better than a lot of teams in the country. I think we're really locked into the details and locked into the things that we have to do to win the game.
I don't think anybody on the team is any type of selfish, anybody worried about getting off, anybody worried about just themselves. I think everybody focuses on the team and how much we can win and I think that helps everybody else. It's just preparation.