Texas' run defense is a problem Oklahoma State will test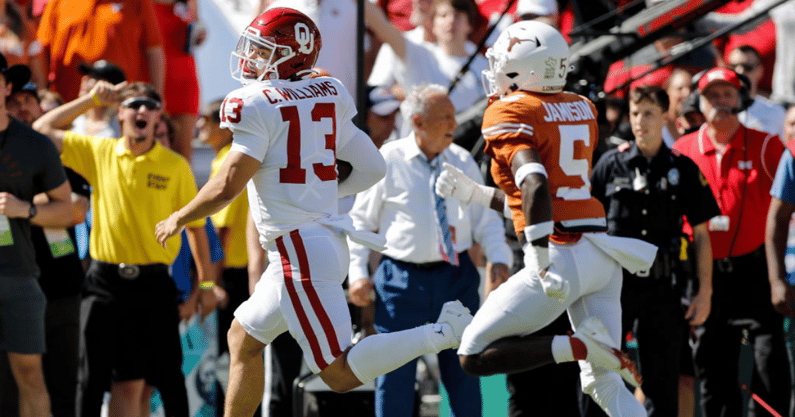 Halfway through the season, Texas' opponents believe they can run the football on the Longhorn defense in order to win games.
After seeing Arkansas run for 333 yards in a win over the Longhorns in September, TCU attempted to do it on October 2 in Fort Worth. When Texas' attempt to seal the game and go up 19 points was stifled, the Horned Frogs crafted a 13-play, 99-yard scoring drive that took 5:09 off the clock in the fourth quarter. Eight of the 13 plays were rushes, and those rushes Texas struggled to contain set up several passes that moved TCU further down the field.
[Subscribe to Inside Texas right now and get 50% off an annual or monthly membership!]
Unfortunately for the Horned Frogs, Texas countered with their own clock-killing drive to end the game in victory formation for a 32-27 win. The Longhorns were not as lucky Saturday against Oklahoma.
At a certain point in the game, Sooners head coach Lincoln Riley realized his team could move the ball utilizing a strategy analogous to that of the Horned Frogs. With a 28-7 deficit, the only question was whether the Sooners would have enough time to make their plan (steady runs with deep prayers sprinkled in) work.
It did with three seconds to spare. Adjusting for two Texas sacks that cost OU 16 yards, the Sooners had 355 yards on 39 carries. That equates to a whopping 9.1 yards per carry. Kennedy Brooks was the main source of that production, rushing 25 times for 217 yards and two scores, including the final go-ahead touchdown with three ticks of the clock remaining to make it 55-48. The OU efforts resulted in a 35:23 time of possession mark for the crimson and cream.
Texas obviously has a rush defense problem. Raw numbers never tell the entire story, but at a program like the one in Austin any ranking that has the Longhorns in the hundreds tells a sad tale. Through six games, Texas is No. 110 out of 130 teams in run defense, allowing 198 yards per game.
How does Steve Sarkisian and the rest of the Longhorn staff plan to fix it? With an emphasis on fundamentals and techniques.
"When the game starts to get hard and there's momentum swings and things like that, our ability to trust our fundamentals and our techniques and to execute the call, and it's not about trying to make a play," Sarkisian said Monday. "I felt like we had a couple guys trying to make the play, which inevitably we got out of our gaps. That's happened two weeks in a row, and that's how runs get out."
The challenge will be made more difficult by the lack of a starter on the defensive line. Senior Jacoby Jones, who was knocked out of the Red River Shootout early, is slated to have surgery for an injured foot with no clear timetable for his return.
So what does the defensive line have to do to improve down one of its more consistent players?
"Standing your ground," defensive tackle Keondre Coburn said Monday. "You've got to be a dog. We preach that, be a dog every play. If you have the B-gap, stay in the B-gap. A-gap? Control your lineman. Not running sideways instead of straight up the field. It's little stuff like that we have to fix. It's there, we just have to execute and just get better with it."
Those are the technical ways Texas' surprisingly average defensive line can help the entire defense. What can the whole unit emphasize to make things better, especially against a visiting Oklahoma State offense Texas players believe will run wide often?
"We have to take it more personal, we really do," defensive tackle Moro Ojomo said Monday. "At the end of the day, every single man on that defense has to take a personal decision that we're going to stop the run and they're not going to run on us. We've got to go out there and stop the freaking run."
This week, Texas' opponent in Oklahoma State has a lead back in Utah State transfer Jaylen Warren who has rushed 95 times for 466 yards and four touchdowns over the last three games.
Run defense has cost Texas twice before, and almost on a third occasion. It will be tested again Saturday by an Oklahoma State team not afraid to run, run, and run some more.
Tackling needs improvement, too. The Longhorns missed several tackles on Sooner touchdown runs, and have been subpar in that metric this year under defensive coordinator Pete Kwiatkowski. It isn't just a D-line problem, either. Sarkisian mentioned all three levels have had issues bringing ball-carriers to the ground.
His solution to the tackling issue is the same as his solution to the run defense problem. He sees want-to when it comes to tackling, but there's something missing.
"When we miss, generally we're not using the proper fundamentals and techniques," Sarkisian said. "So we've got to continue to hone in on that. I think we've improved in that area, but we've got to be able to do it at critical moments."
Those fundamentals and techniques will be of high importance when the Cowboys, who average 46 rushing attempts per game, head to Austin for a Saturday tilt.