The Texas O-line emphasis? 'Technique and fundamentals'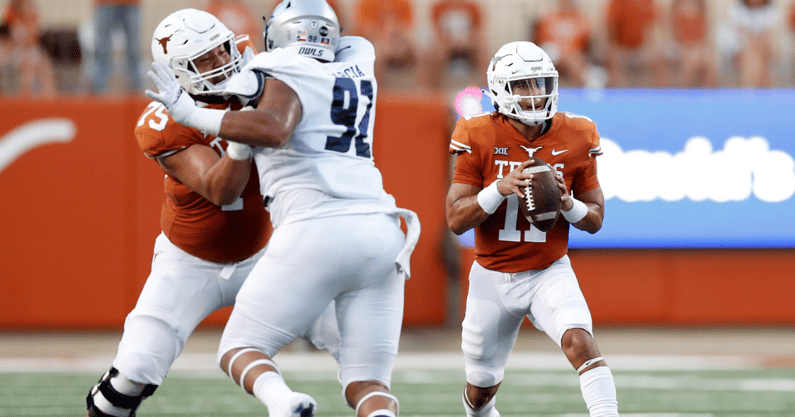 The Texas offensive line paved the way for Longhorn rushers to tally 427 yards and six touchdowns on the ground versus Rice. How did they do it, and how do they plan to continue to have success?
"Technique and fundamentals," Junior Angilau said Monday. "Big thing. Just technique and fundamentals, that will carry us through the whole season."
After a solid performance to open the season versus Louisiana, the Longhorn line was humbled against Arkansas. The Razorbacks accumulated 11 tackles for loss and three sacks as part of a defensive effort that kept Texas under 300 total yards.
"I'm a better play caller when everybody's executing, everybody's confident, and everybody knows how to run every play on the call sheet," Texas head coach Steve Sarkisian mentioned Monday. "That's usually when I'm at my best, but the reality of it is that doesn't happen that often."
However, against Rice, it happened pretty often.
The Longhorns took out their built-up frustration on the Owl defense via the ground game. Bijan Robinson rushed for 127 yards and three touchdowns. Roschon Johnson topped the century mark with 112 yards and a 72-yard touchdown run. Keilan Robinson got in on the scoring action, as did true freshman Jonathon Brooks.
"When we run the ball well and effective, it's hard for the other team to stop and it's hard for the other team to get adjusted to," Bijan Robinson said Monday.
Texas' line hopes its effort translates going forward as Big 12 play begins Saturday versus Texas Tech. Sarkisian mentioned Monday he believed Texas' work against Rice was good for "re-establishing ourselves running the football."
427 yards on the ground and six touchdowns are good marks for any football team. Those types of performances aren't as easily repeatable against Big 12 Conference foes as they are against a comparatively hapless Rice team.
But to try and approach those numbers, and to create time for quarterback Casey Thompson in the passing game, Angilau said the line needs to continue to improve upon what they can control.
"Like I said before, just our technique and fundamentals and being disciplined with our eyes," Angilau said. "Just more discipline with our eyes and we'll be able to pick up what we need to get picked up because we're all veteran O-linemen. We feel out what kind of pressures are coming and things like that."
Angilau said he gets excited for any run play. Much of that comes from his time in Salt Lake City, Utah's East High School option offense. When Texas' backs broke three 60+ yard runs on Saturday, Angilau and his crew were key in helping pave the way. That still presented a challenge to him and other O-linemen.
"The hardest part is me trying to run up and catch them and hug them," Angilau said. "I've got to hurry before PAT comes on."
If that's the biggest challenge for Angilau and the rest of the line, it's a good problem to have. The way Angilau believes they'll lose opportunities like that?
"What makes us not dominant is when we lose our technique and fundamentals," he said.