Ranking the Top-10 available quarterbacks in the transfer portal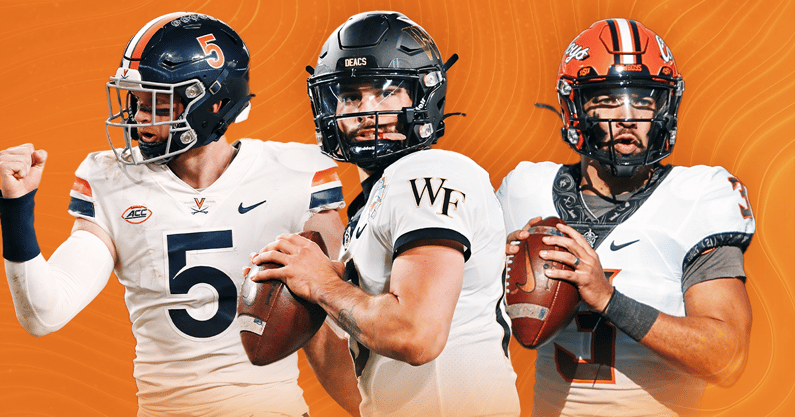 The NCAA Transfer Portal has been a busy place since the conclusion of the football season but there's still plenty of action to come — especially at the quarterback position.
Any number of big-time talents are still available and the competition for their services will likely be fierce. And a new name popping up can alter the equation, too.
Here's a look at the 10 best uncommitted quarterbacks still available in the transfer portal according to the On3 Transfer Portal Player Rankings.
No. 1: Brennan Armstrong, Virginia
A multi-year starter for the Cavaliers, Armstrong struggled in 2022 to recapture the form he exhibited in 2021. That year, Armstrong threw for 4449 yards and 31 touchdowns to just 10 interceptions while completing 65.2% of his passes.
With the departure of offensive coordinator Robert Anae and quarterbacks coach Jason Beck after the 2022 season, Armstrong struggled. Still, he's played in 38 games in his college career and shown immense upside. Wisconsin remains a potential landing spot after getting a visit — along with Oklahoma State — and is reportedly prioritizing landing Armstrong.
No. 2: Sam Hartman, Wake Forest
Hartman fits a similar profile to Armstrong: Extremely productive multi-year starter at an ACC school not known for football prowess. Hartman helped the Demon Deacons buck the trend and passed for nearly 13,000 yards during his career in Winston-Salem.
Across the last two seasons, he's played in 26 games, throwing for 7929 yards and 77 total touchdowns. While he missed a game this year, the Demon Deacons are 19-7 when he's been the quarterback in 2021 and 2022 and Hartman will be extremely desirable. Notre Dame is the current favorite to land Hartman for next season as a transfer.
No. 3: Spencer Sanders, Oklahoma State
Where Sanders — a four-year starter at Oklahoma State — ends up is one of the more fascinating portal moves to play out. Sanders is a Texas native and has been highly productive during his career, throwing for more than 2000 yards each of his four seasons.
He's a ready-made starter in the portal, perfect for a team in need of a starter to fill a hole for a season. Where that is remains to be seen.
No. 4: Grayson McCall, Coastal Carolina
He most recently took a big spill on a touchdown run in their bowl game, causing him to miss most of the game, but McCall is going to be a coveted transfer. And while he's proclaimed his love for Coastal Carolina, he made the decision to enter the transfer portal after his head coach, Jamey Chadwell, took the job at Liberty.
McCall has been the Chanticleers starter for three seasons and been nothing short of excellent for them. He's completed 70.4% of passes across 33 games and thrown 77 touchdowns to only eight interceptions. He almost took a visit to Auburn, but Florida has emerged as a contender — and he could always reunited with Chadwell at Liberty.
No. 5: Brady Allen, Purdue
How does a quarterback with three career passing attempts end up here? Being a former four-star recruit and No. 7 quarterback in the Class of 2022 helps, as does being 6-foot-5, 205. Allen is in the portal with the departure of most of the Purdue staff the recruited him, and it coincides with the commitment of former Texas quarterback Hudson Card to the Boilermakers.
Allen is an Indiana native, which played a role in his original choice of enrolling at Purdue. With offers from the likes of Ohio State, Wisconsin and Cincinnati out of high school, Allen will have plenty of suitors in the portal given his multiple years of eligibility remaining.
No. 6: Hank Bachmeier, Boise State
Bachmeier announced his intention to go in the transfer portal very early in the season when Boise State was struggling and didn't play past the fourth game to preserve his year of eligibility. He was a four-star recruit in the Class of 2019 and still has promising upside.
In 2021, Bachmeier completed 62.8% of his passes for 3079 yards and 20 touchdowns with just eight interceptions. He struggled early in 2022 as Boise State's season started to go sideways — he stepped away and prepped to transfer. The California native has yet to pick a destination.
No. 7: Austin Aune, North Texas
With a transfer and another year of playing, Aune could pull off a special feat: Playing college football at age 30 — he'll hit that mark on Sept. 6, 2023. The North Texas quarterback is older relative to his peers because of a stint as a minor league baseball player.
After starting off at Arkansas in the spring of 2018 before going to a junior college, Aune landed at North Texas. After a few lean years, he thrived in 2022. He threw for 3547 yards and 33 touchdowns, but did have 15 interceptions. The Texas native was committed to TCU way back in 2011, but where he lands now is unknown.
No. 8: Davis Brin, Tulsa
Brin brings two years of starting experience — though he only played in nine games in 2022 — and plenty of production. He threw for more than 5000 yards the past two seasons and 35 touchdowns. Brin made improvements on protecting the ball in 2022 after throwing 16 picks in 2021. He threw just six in 2022.
Brin is a Texas native, but his potential transfer landing spots aren't fully clear.
No. 9: Chance Nolan, Oregon State
Nolan will be on to his fourth college after going from Middle Tennessee State to junior college to Oregon State and now the transfer portal. After being usurped by Ben Gulbranson during the season and following the transfer of DJ Uiagalelei to Corvallis, the writing was on the wall.
Nolan is a California native but has shown he's willing to head out east and is a highly thought-of player.
No. 10: Luke Altmyer, Ole Miss
Altmyer is one of the more intriguing talents at quarterback in the portal. The Starkville native chose Ole Miss as a four-star prospect out of high school. He's seen minimal action in two years for the Rebels but with multiple year of eligibility and a top-notch pedigree as a recruit.
He, like several others on this list, could choose from a number of suitors for a final landing spot but has visited Illinois.