2023 Pac-12 football head coach rankings: Who deserves the top spot between Lincoln Riley or Kyle Whittingham?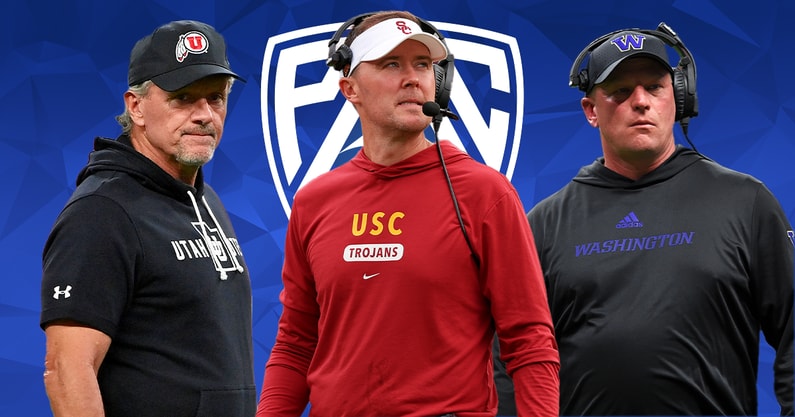 It's that time of the year again. Offseason coaching rankings!
Over the next six weeks, I'll release rankings for each Power 5 conference and the Top 10 Group of 5 coaches before a final Top 25 coaches in all of football.
I kickstarted the series with the 2023 SEC football head coach rankings, and last week we released the 2023 Big Ten head coach rankings. 
Remember, this is a fun exercise and even if your favorite coach is ranked near the bottom of his conference's list: A) He's still considered a damn good football coach to have said job and B) That doesn't mean I hate your team!
With that, this list is totally subjective. It's my rankings. Some might weigh the overall body of work for a head coach. I take that into account, but college football has become the ultimate what-have-you-done-for-me-lately-business with the carousel constantly spinning. 
The job of a head coach has changed in recent years, too. So for my rankings, I take into account recent performance, recruiting chops, hiring quality assistants, sending players to the NFL, working the transfer portal, etc. 
The Pac-12 has a strong set of coaches, including a trio of second-year coaches who all won big in their first season at new schools. The league has three Year 1 coaches again in 2023, headlined by Deion Sanders. 
1. Lincoln Riley, USC
Lincoln Riley is in a race with Ryan Day and Brian Kelly as the best coach never to win a national title, and much his like aforementioned colleagues, USC's second-year man hopes to scratch his name off that list as soon as next season. 
Riley is an offensive savant and CFB's ultimate QB whisperer, developing a trio of Heisman Trophy finalists and making the playoff three times in six seasons as a head coach. Still just 39 years old, he's 66-13 including 11-3 in Year 1 with the Trojans — a seven-win improvement from 2022. 
He's 0-3 in the CFP though, and defense continues to be his program's bugaboo. USC allowed 47 points to Utah in the Pac-12 Championship and then coughed up a two-touchdown lead to Tulane in the Cotton Bowl. Until he addresses that side of the ball — philosophically and personnel-wise — USC will be hard-pressed to break through as a true national title contender.
2. Kyle Whittingham, Utah
Kyle Whittingham actually beat Lincoln Riley twice last season, winning the Pac-12 title in consecutive seasons. I wouldn't object to those who'd rank Whittingham No. 1 in the conference, but for me, these rankings reflect more than a small head-to-head sample size. 
The Utes are one of the most consistent programs in America, with eight Top 25 finishes under their longtime head coach. Whittingham has won at least nine games 11 times in 18 seasons. With the return of quarterback Cam Rising, Whittingham is looking to become the first Pac-12 coach to win the conference three straight years.
At 63, the question isn't whether Utah will be good or not in the future, but if Whittingham is long for the job. 
Kalen DeBoer worked his way up from a NAIA head coach, to a Power 5 coordinator, to a Group of 5 head coach, to a guy leading one of the more dramatic Year 1 turnarounds at Washington — where the Huskies went from 4-8 to 11-2 and a Top 10 finish in 2022. 
A brilliant offensive head coach, DeBoer resurrected Michael Penix's career, and with the veteran quarterback set to return in 2023, the Huskies are among the favorites in the Pac-12. 
DeBoer is 90-11 as a head coach, including three NAIA National Championships. He's been a better recruiter than some expected, too, and with USC and UCLA leaving the conference, he currently has the Huskies positioned to be one of the big boys in the league. 
Some may scoff at Jonathan Smith's ranking, but do you know how hard it is to win 10 games at Oregon State? It's happened three times in the program's 127-year history — and Smith accomplished the feat in his fifth season at his alma mater. 
He's slowly built up the Beavers from the basement of the Pac-12 (2-10 in Year 1) to a feisty contender. Despite Smith's background as a QB coach, Oregon State was spearheaded by the league's best defense in 2023.  The Beavers suffered close losses to USC and Washington (a combined six points), but they rallied to stun rival Oregon in the Civil War and then smashed Florida in the Las Vegas Bowl. 
Smith recruited former 5-star Clemson quarterback DJ Uiagalelei out of the portal, which ideally should boost an OSU offense that struggled to push the ball vertically in 2022. 
While it's lofty to expect Oregon State to replicate its double-digit win season in 2023, with a manageable schedule (no USC and Utah and Washington coming to Corvallis) and better offensive production, the Beavers could win eight or nine games again this fall. 
5. Dan Lanning, Oregon
Dan Lanning could find himself much higher on this list as soon as next season, as the former Georgia defensive coordinator has the Ducks set to compete for Pac-12 titles on an annual basis after a single season in Eugene. 
Oregon went 10-3 in Year 1 under Lanning. A couple of close losses (37-34 to Washington and 38-34 to Oregon State) spoiled the Ducks' chances to play for the conference title, as Lanning is still clearly learning his role as a head coach with some iffy in-game management (see: all the 4th-down calls in the two late-seasons losses).
Still, the program's trajectory only looks up, with Lanning building a strong staff and recruiting better than any team in the conference. In two cycles under Lanning, Oregon has signed a pair of Top 11 classes (both best in the Pac-12) — plus become one of the premier transfer portal destinations for former blue-chip recruits. 
6. Chip Kelly, UCLA
Chip Kelly's overall resume possibly merits a higher ranking on some lists, but this is a what-have-you-done-for-me-lately business, and the former Oregon head coach, who was 46-7 with the Ducks with three straight Top 5 finishes, has yet to deliver a 10-win season in six years at UCLA. 
Perhaps that changes in 2023, though. 
Kelly has never been overly interested in recruiting, but he has become a power-player in the transfer portal — signing two of the most impressive hauls in the last two cycles. He also flipped 5-star quarterback Dante Moore away from conference foe Oregon, easily his most marquee signee with the Bruins. 
Kelly is 17-8 the last two years, and like his crosstown rival Lincoln Riley, his offensive acumen will only take his program so far until he fixes UCLA's defense (72nd nationally in yards per play, 90th in scoring). 
7. Deion Sanders, Colorado
Where to slot Deion Sanders? Is seven too high? Too low? We'll see how the next 12 months play out. 
Sanders still hasn't coached a game at Colorado, but he's already delivered on his promise to overhaul the roster and shine a spotlight on a program that no one was talking about. Some 47 new faces will be on the roster in 2023 — and more additions are expected in the second transfer window in May. He flipped 5-star corner Cormani McClain from Miami and added transfers from 11 different Power 5 programs. The Buffs are off to a hot start in the 2024 cycle as well with the nation's current No. 16 class. 
Sanders was 27-6 at Jackson State, going 23-3 the last two seasons. He hired a quality staff at CU, including poaching former Kent State head coach Sean Lewis as his OC and Alabama secondary coach Charles Kelly to lead the defense. 
Sanders faces a daunting rebuild with a Buffs program that went 1-11 last season, losing its last four games by an average of six touchdowns. The program has made a bowl game just once in 15 years and they play 11 Power 5 teams in the fall (non-con games vs. TCU and Nebraska), so even sniffing the postseason would be considered a tremendous success for Sanders in Year 1. 
Last fall was Jake Dickert's first true season as Washington State's head coach, as the former Cougars' DC lost the interim tag and got the program bowling in Year 1. 
Dickert navigated Washington State through the Nick Rolovich saga quite well, and despite facing a harsh schedule (nine conference games and a road trip to Wisconsin), the Cougars went 7-5 with a win in Madison.
Quarterback Cam Ward is back this fall and the hope is he'll showcase more development after his first season playing FBS football. Still, Dickert faces an uphill battle to even replicate a 7-5 season, as the Cougars lost both their coordinators this offseason and were among the Pac-12 programs who suffered significant losses in the transfer portal.
9. Justin Wilcox, Cal
After six seasons in Berkeley, Justin Wilcox has the Bears trending in the wrong direction due to continued offensive ineptitude and a brutal 2020 COVID season that halted any momentum within the program. 
Due to state laws, Cal was among the programs hit hardest by the pandemic, as Wilcox and his staff were unable to hold traditional practices or a typical strength and conditioning program. After consecutive winning seasons in 2018-19, Cal is 10-18 the last three years (1-3 in 2020) and has failed to make a bowl game.
The Bears have usually played solid-to-good defense under Wilcox, (although that unit took a step back in 2022, too), but they have averaged over 23 points per game once during Wilcox's entire tenure. Wilcox overhauled his staff this offseason with the hope that former hot-shot coordinator Jake Spavital can inject some juice into the offense. Wilcox is well-respected and well-liked and was even a rumored candidate at the recent openings at Oregon and Washington, but he needs a bounce-back season for continued job security.
10. Jedd Fisch, Arizona 
Two years ago, Jedd Fisch was seen as a questionable hire for Arizona, but since taking over a listless program that had essentially given up under Kevin Sumlin, Fisch has spearheaded a turnaround in Tucson many didn't think was possible.
The Wildcats went 5-7 in 2022, narrowly missing a bowl game but beating Arizona State for the first time in six years. They upset No. 12 UCLA and had one of the best offenses in the Pac-12 with quarterback Jayden de Laura and a trio of star wideouts. The good news is de Laura is back this fall and Fisch added five Power 5 defensive transfers (including former 5-star linebacker Justin Flowe) to help shore up a unit that ranked 11th in the Pac-12 last season. 
Fisch's next goal is to lead Arizona back to bowl eligibility for the first time since 2017, but that could be challenging as the rest of the 'Cats' roster was hemorrhaged by the transfer portal so far. They lost their top edge rusher to LSU, while three key pieces transferred to USC — headlined by star wideout Dorian Singer.
11. Troy Taylor, Stanford
Troy Taylor has been a successful coach as the FCS level, going 30-8 in three seasons at Sacramento State. The former Cal quarterback led the Hornets to a 12-1 record and a loss in the FCS quarterfinals in 2022, parlaying the success into the Stanford opening. 
Taylor inherits a brutal situation, though, as former Cardinal coach David Shaw was unable to navigate the school's rigorous academic requirements and archaic transfer policies in recent years to keep up with the modern times in college football. 
After eight straight winning seasons under Shaw (five with at least 10 wins), the Cardinal is 14-28 the last four seasons — with back-to-back 3-9 campaigns.  The roster is in dire shape, as 20 players have already left the program this offseason, including the team's top pass rusher and several starting offensive linemen. Stanford's returning production ranks No. 129th nationally — last among all Power 5 schools. 
While most first-year coaches pounded the portal for immediate bodies, Taylor was only able to sign three transfers so Stanford could play the 2023 season with around 60 scholarship players. 
Rules are rules, which is why Kenny Dillingham sits last in the 2023 rankings with zero head coaching experience, but here's a hunch the 32-year-old offensive wunderkind will find himself much higher on the list next season. 
The Phoenix native is a hand-glove fit at Arizona State, returning to his alma mater where he started his coaching career. A former high school coach, Dillingham has connections all over the state and he retained beloved interim Shaun Aguano, which will further help ASU's recruiting efforts. He also nabbed Washington State DC Brian Ward for the same role at ASU. 
Dillingham did wonders reclamating Bo Nix's career at Oregon last season, and the goal is to do the same with former Notre Dame QB Drew Pyne. 
Arizona State's roster looks nothing like it did in 2022, as Dillingham was among the most aggressive players in the initial transfer portal window. Thus far, 24 players have left the team, but the Sun Devils signed 20 prep prospects (including 4-star quarterback Jaden Rashada) and added 25 transfers. While an uphill battle, six wins isn't out of the question for ASU in Dillingham's first season.