Greg McElroy adds Oregon vs. Utah in Week 9 to ultimate 2023 college football schedule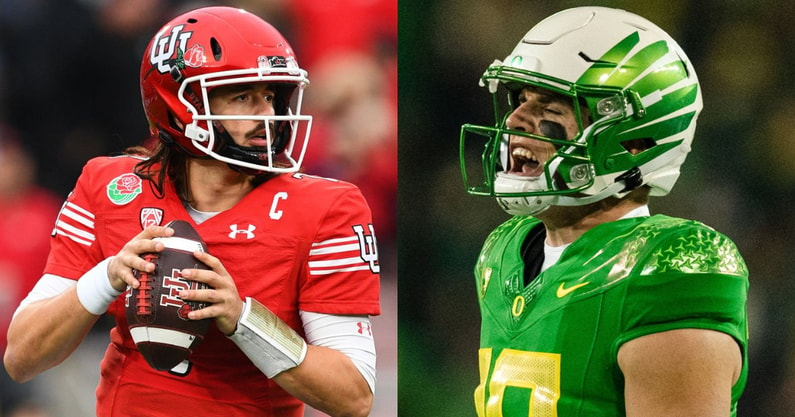 Greg McElroy put a lot of thought into making his 'Ultimate Schedule' for the upcoming college football season last week. However, his choice for the best matchup in week nine was fairly obvious to him.
McElroy deemed Oregon at Utah as his top matchup for that week of the season during 'Always College Football'. He recognized how good the Ducks could be in their second year under Dan Lanning but highlighted all the ways that their contest against the Utes in Rice-Eccles Stadium at the end of October could trip them up.
"Oregon at Utah. Now we looked at Utah a little earlier. Florida at Utah in week one was one that might have been in consideration (but) not quite as good as LSU vs. Florida State," explained McElroy. "But, either way, Oregon, (is a team) who we feel really good about. We talked a little bit, loosely, about Utah. Quarterback is back, just got a nice additon in the transfer portal in Mycah Pittman..All three levels defensively? They're always good. Why would they not be this year?"
"Utah (is) probably the toughest road trip, arguably, of the year for Oregon. We know it's tough to go to Salt Lake," McElroy said. "That should be one heck of a matchup there in week nine."
McElroy also considered Georgia's matchup with Florida in Jacksonville and Luke Fickell's shot at Ohio State with Wisconsin.
Even so, the Pac-12 matchup between Oregon and Utah out west was simply too good to ignore. A big part of that will be the matchup between two of the conference's best quarterbacks in Bo Nix and Cameron Rising. Combine that with the fact that both programs finished in the top-five of the league in points per game and points allowed per game and you're looking at two of the west's best, most-balanced team.
Many will be going with USC when it comes to the Pac-12's best team next season. However, as far as a challenger to the Trojans, McElroy will be keeping tabs on this contest on October 28th to see if either will be able to get ahead of the other for the conference crown.
ESPN FPI ranks Pac 12, predicts final record for every team in 2023
The ESPN Football Power Index (FPI) has ranked all the teams ahead of the 2023 college football season, providing final record predictions as well.
The Pac-12 features some fascinating storylines for this upcoming season, and the FPI only exasperated that point. With a bevy of changes coming and an uncertain future for the conference, 2023 could be the final season of the Pac-12 as we know it, so it should be as hectic as it is memorable.
The ESPN FPI took everything pertaining to these teams on the field and provided some projections for the year. Here's what the algorithm came up with for 2023.
ESPN FPI Pac 12 rankings, final record predictions for 2023 CFB season:
USC Trojans — FPI: 19.9 (No. 7 Overall) | Record: 10.3-2.4
Oregon Ducks — FPI: 15.0 (No. 13 Overall) | Record: 9.1-3.3
Utah Utes — FPI: 14.9 (No. 15 Overall) | Record: 8.7-3.7
Washington Huskies — FPI: 11.8 (No. 21 Overall) | Record: 7.8-4.4
Oregon State Beavers — FPI: 10.5 (No. 24 Overall) | Record: 8.7-3.5
UCLA Bruins — FPI: 6.4 (No. 41 Overall) | Record: 7.6-4.4
California Golden Bears — FPI: 3.3 (No. 51 Overall) | Record: 5.6-6.4
Arizona Wildcats — FPI: 1.1 (No. 59 Overall) | Record: 5.5-6.5
Washington State Cougars — FPI: -0.2 (No. 62 Overall) | Record: 5.5-6.5
Arizona State Sun Devils — FPI: -0.4 (No. 64 Overall) | Record: 4.8-7.2
Stanford Cardinal — FPI: -2.6 (No. 71 Overall) | Record: 4.2-7.8
Colorado Buffaloes — FPI: -7.1 (No. 95 Overall) | Record: 2.6-9.4