Phil Steele releases 2022 preseason All-American defensive teams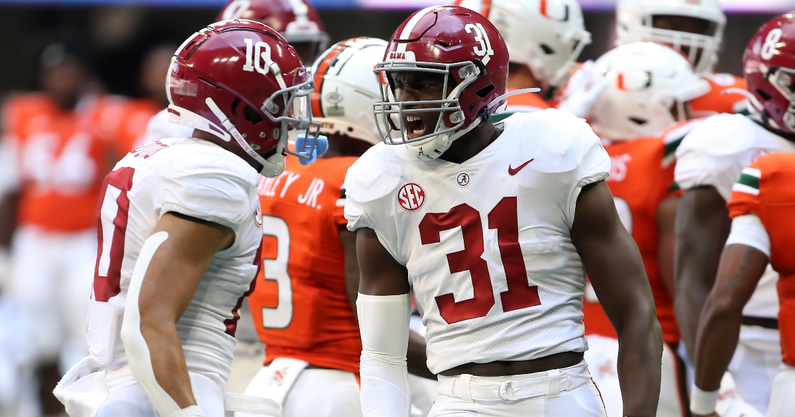 College football is only a few short months away and that can mean only one thing, preseason publications around the country are unveiling some of their preseason awards and accolades. College football guru Phil Steele never sleeps and on Wednesday, he unveiled his 2022 Preseason All-American Teams.
Let's take a look at Steele's preseason defensive All-American teams below that he broke down into four sections: first, second, third, and fourth team.
2022 Preseason Phil Steele Defensive All-American Team
First Team
Of course, the Alabama Crimson Tide leads the way with three selections on Steele's first-team preseason All-American list. Will Anderson, Jr. is an unblockable force and he'll prove that yet again in the 2022-2023 college football season, before becoming a top selection in next year's 2023 NFL Draft. Clemson checks in right behind the Crimson Tide with two players earning the honor of landing on the preseason first-team All-American list. Murphy and Bresee have long been among the nation's best at their positions for the past few years, and they'll prove that again this year, too. The Iowa Hawkeyes also check in with two selections on the preseason list. Hawkeyes linebacker Jack Campbell racked up an eye-popping 143 tackles last season, ranking him among the nation's very best at his position.
Second Team
The Georgia Bulldogs lead the way with two selections on Steele's second-team preseason All-American list. One of those players happens to be Kelee Ringo — the man that snatched the game-sealing interception in the 2022 College Football National Championship victory over Alabama. Isaiah Foskey of Notre Dame checks in on the list and he enjoyed a superb breakout season last year — racking up 12.5 tackles for loss and 11 sacks. He should once again be among the nation's best this season and it's no surprise to see him land preseason accolades from Steele. Clemson and Alabama both had players land on the second team list, too, which shows just how highly regarded their defenses are leading up to the 2022-2023 college football season.
Third Team
Zach Harrison checks in on Steele's third team for the Ohio State Buckeyes. Last season, he racked up eight tackles for loss, four sacks, four pass breakups, and two forced fumbles for the Buckeyes. He returns to bolster the Ohio State defensive unit. Tuli Tuipulotu shined last year for the USC Trojans–racking up 7.5 tackles for loss and 5.5 sacks.
Fourth Team
The LSU Tigers' dominant pass rusher, B.J. Ojulari, makes an appearance on the fourth team for Steele. He should be a name that college football fans across the country are familiar with. His older brother, Azeez Ojulari, shined with the Georgia Bulldogs and now suits up for the New York Giants. It won't be much longer before the younger brother is a top selection in the 2023 NFL Draft. Auburn's Owen Pappoe has demonstrated in the past that when healthy, he's among the nation's very best at his position. He racked up 93 tackles in 2020.