Top 10 safeties in the On3 College Football Impact 300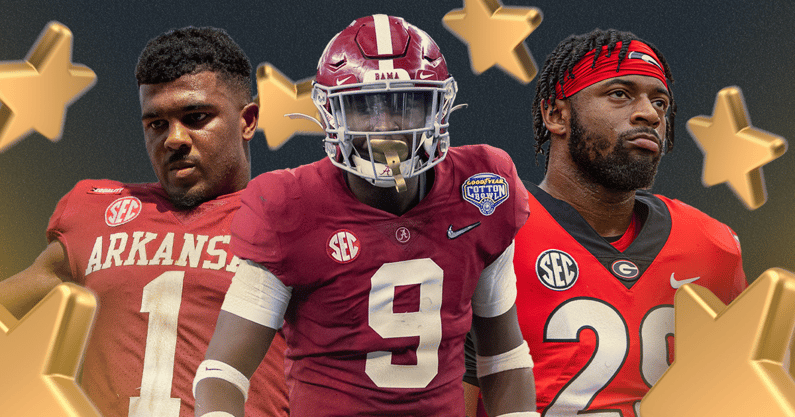 The On3 Impact 300 ranks the best players in college football entering the 2022 season, with a full release coming in the next few weeks. Prior to the release of the inaugural list – which also factors into the calculation of the On3 NIL Valuation – On3 has revealed the Top 10 returning safeties.
Alabama star Jordan Battle headlines the list after earning second-team All-American honors from the AFCA last season. He picked off three passes and was a tackling machine for the Crimson Tide.
These are the 10 most impactful safeties with less than three months until the 2022 season kicks off.
On3 Impact 300's Top 10 Safeties
1. Jordan Battle, Alabama
As noted above, Battle was a second-team All-American. He also earned first-team All-SEC honors after tallying 86 tackles, a tackle for a loss, three interceptions and six passes defended as a junior in 2021. He carries a current NIL valuation of $616,000.
Smith seemed to have a knack for making plays at key times, including an interception returned for a touchdown against Clemson and a third-quarter interception in the national title game against Alabama. He finished with 35 tackles, three interceptions and four pass breakups in 2021. Current NIL valuation: $461,000.
One of the SEC's best playmakers in 2020, Catalon started off the 2021 season equally hot before a shoulder injury ended his season midway through. In the last season and a half he has racked up 145 tackles, five interceptions, two forced fumbles, a fumble recovery and eight passes defended.
4. Tykee Smith, Georgia
A former second-team FWAA All-American at West Virginia, Smith transferred to Georgia but was limited by injuries in 2021. He'll be back in 2022 and the Bulldogs need him to help replace some departing production. In two years at West Virginia he recorded 114 tackles, 10.5 tackles for a loss, a sack, four interceptions, a forced fumble and 13 passes defended.
Joseph transferred to Notre Dame from Northwestern, where he racked up 136 tackles, nine interceptions and 13 passes defended in three seasons. He ranks No. 18 overall on the On3 Transfer Portal rankings. His current NIL valuation is $226,000.
6. RJ Mickens, Clemson
Mickens began to assert himself in the Clemson defensive backfield last season. He finished the year with 37 tackles, two interceptions and two pass breakups. At the moment his NIL valuation is estimated at $234,000. 
7. James Williams, Miami
A true freshman last season, Williams earned All-ACC honorable mention after making seven starts. He finished the season with 31 tackles, two interceptions and four passes defended. A former On3 Consensus five-star prospect, Williams has a $207,000 NIL valuation currently.
8. Teja Young, FAU
Young has played four seasons at Florida Atlantic and has tallied 112 tackles, five interceptions, a pair of forced fumbles and 12 passes defended. He's coming off his most productive season yet, with three interceptions and 59 tackles in 2021.
A tackling machine for the Tigers as a redshirt junior, Johnson started every game last season for Memphis. He rang up 104 tackles, 4.5 tackles for a loss, a sack, an interception, a fumble recovery and 12 passes defended. In the last three seasons he has totaled 243 tackles.
10. Alton Julian, Oregon State
Julian had a timely interception in Oregon State's win over USC. He finished his redshirt sophomore season in 2021 with 34 tackles, 1.5 tackles for a loss and an interception. Julian arrived at Oregon State in 2020 by way of the College of San Mateo.
Check out On3's Top 10 quarterbacks , Top 10 running backs, Top 10 wide receivers, Top 10 tight ends, Top 10 offensive tackles, Top 10 interior offensive linemen , Top 10 edge rushers, Top 10 defensive tackles, Top 10 linebackers, and Top 10 cornerbacks for 2022.