Top 25 wide receiver rankings entering Week 4 of college football
J.D.'s CFP Rankings After Week 3
The high-flying offenses are beginning to get fully into sync as the college football season continues on, which has given several stars the chance to really shine. Our wide receiver rankings show there's seemingly a new breakout performer each week.
From Ole Miss' Tre Harris' four touchdown season opener to Washington's Rome Odunze's three straight 100-yard games, there's been a blend of big play pop and consistency across games.
On3 takes a minute before Week 4 begins to provide college football's wide receiver rankings. Take a look below.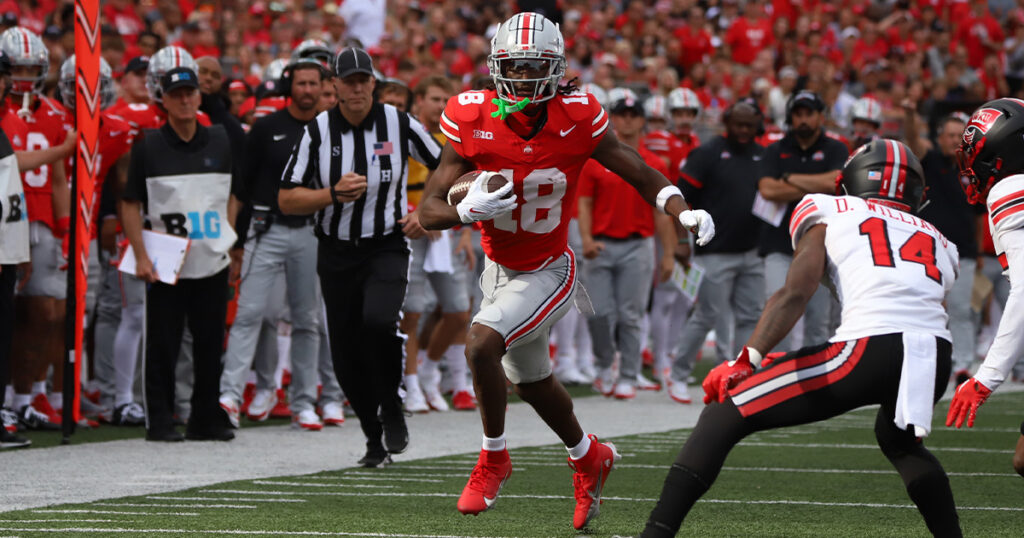 After that quiet season opener, Harrison has exploded for more than 100 yards receiving in back-to-back weeks. He recorded five catches for 126 yards and a touchdown against Western Kentucky.
Better, he even recorded a carry out of the backfield as the Buckeyes experimented with getting him the ball more in unconventional ways. It'll be interesting to see how far outside the box that thinking goes.
2. Rome Odunze, Washington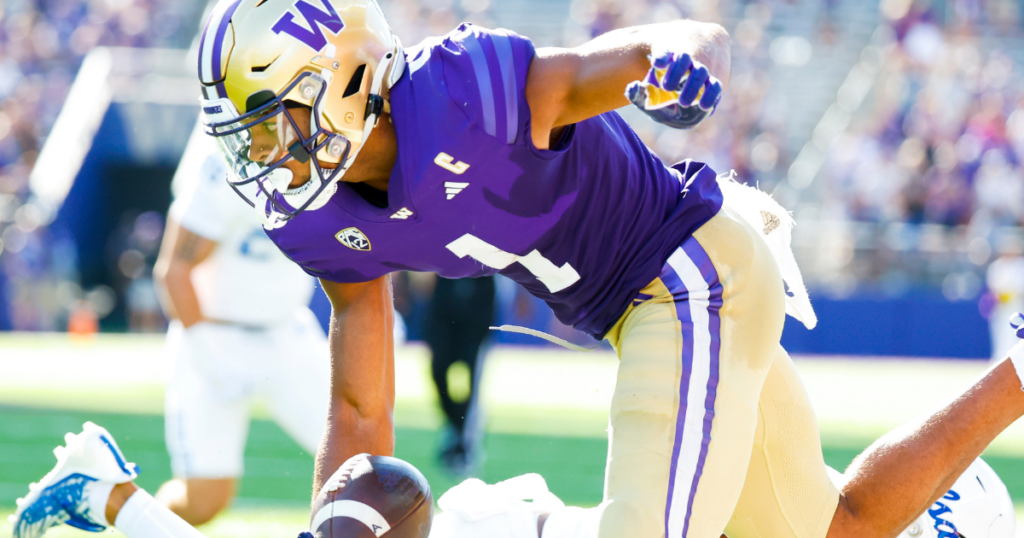 Odunze started the season with back-to-back 100-yard games, then topped it with a monster output in his third game. The Washington wideout snagged eight passes for 180 yards, averaging an eye-popping 22.5 yards per catch in a win over Michigan State.
As the one in the one-two punch for Washington, Odunze is already at 419 receiving yards on the season. With quarterback Michael Penix Jr. chasing the Heisman Trophy, too, don't expect the Huskies passing attack to dial it back at all.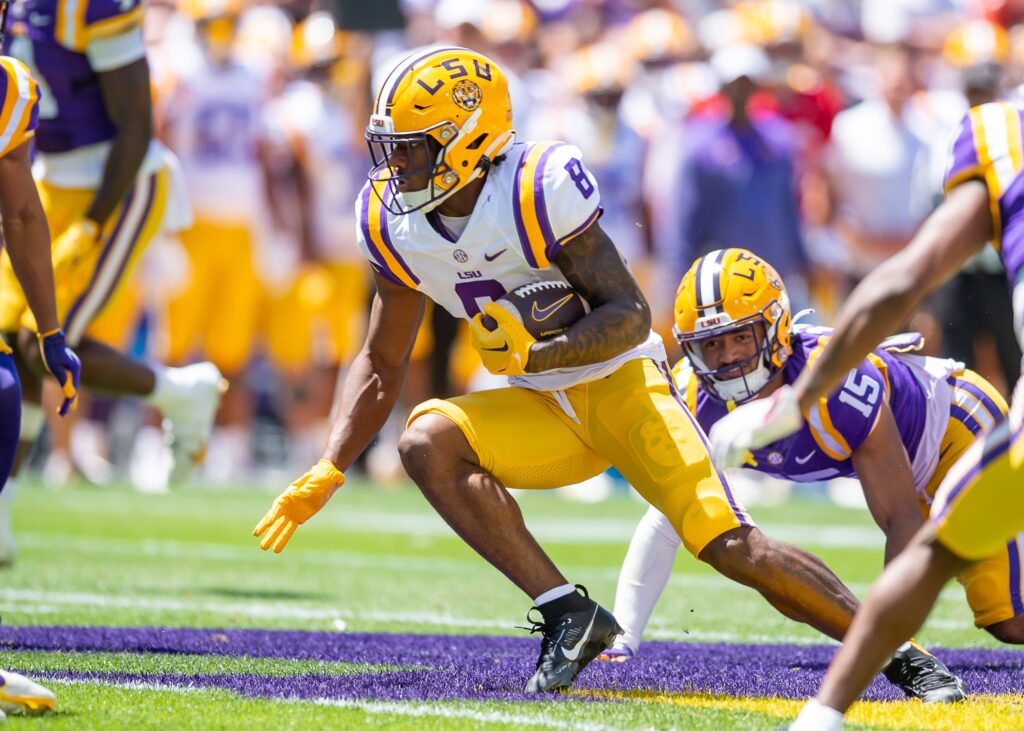 It was a solid first two weeks of the season for Nabers, but hardly much to write home about. That changed in Week 3, when Nabers went off even while nursing a banged-up shoulder.
Nabers had nearly 200 yards by halftime and finished with 13 catches for 239 yards and two touchdowns in a lopsided win over Mississippi State in one of the most impressive showings in this week's wide receiver rankings. And the best part is he didn't re-aggravate the shoulder, either.
Steady and consistent has been the name of the game for Worthy, who has now caught at least four passes in every game this season. Worthy was held to a season-low four catches for 56 yards, but he did record a 44-yard touchdown in the team's win this week.
The Texas passing game has some rhythm, though, with quarterback Quinn Ewers settling in nicely. That means Worthy will have the potential to turn in a pop-off game at any point.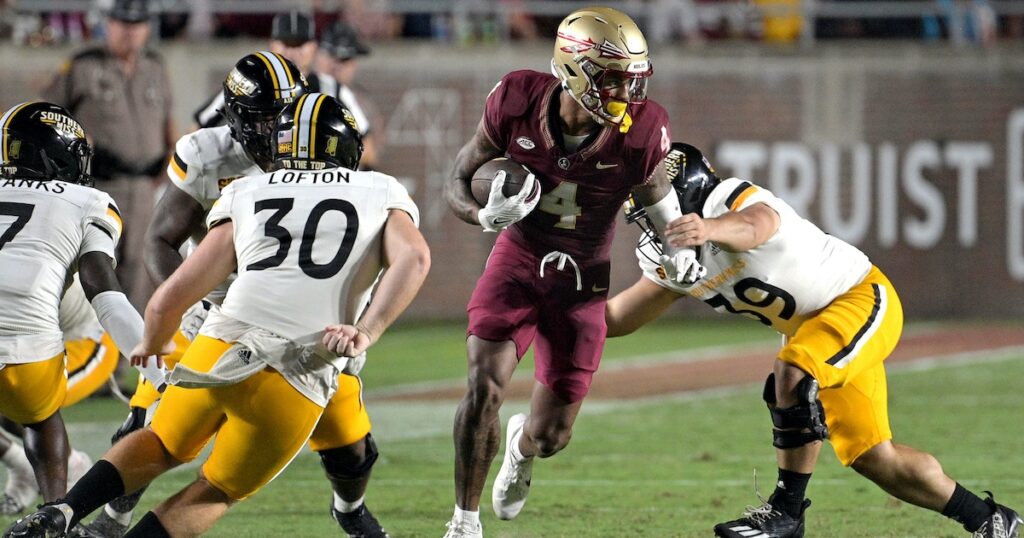 Surprisingly enough, Coleman was held almost completely in check by Boston College. He was targeted three times and did not log a catch in the narrow win.
Still, Coleman's talent is undeniable. He's got 12 catches for 170 yards and four touchdowns on the season and there's little doubt that quarterback Jordan Travis will be turning to him at every available opportunity in the passing game.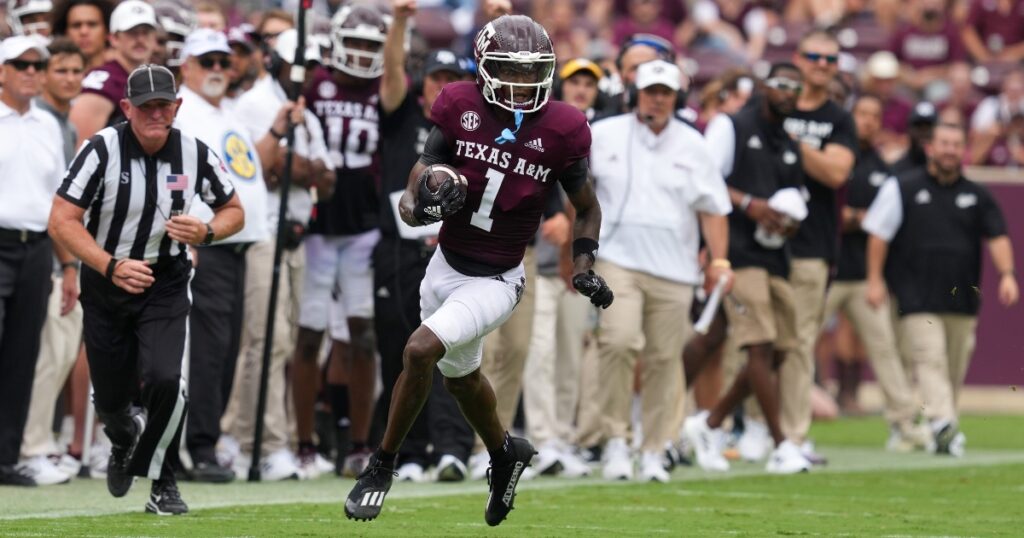 Stewart didn't play this week due to an undisclosed injury, but the Texas A&M wideout has already shown how good he can be in limited opportunities this season. So far he has recorded 19 catches for 257 yards and two touchdowns.
When the Aggies might get him back remains unclear, though. And the way other receivers are putting up numbers, it might be tough for Stewart to maintain his place on the list if he isn't able to return soon.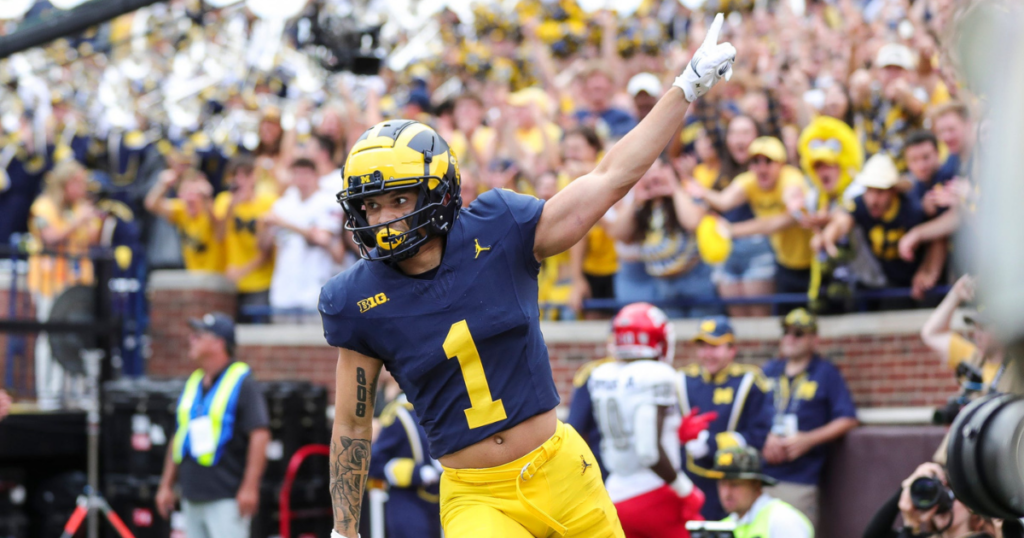 Wilson had his quietest game of the season and still managed to find the end zone, doing so for the sixth time already in just three games. Wilson had two catches for 42 yards and a score this week, bringing his season total to 209 yards and six touchdowns.
That touchdown figure, in particular, is plenty good enough to keep him in the top 10 of the wide receiver rankings. If Michigan opens up its passing game more now with coach Jim Harbaugh returning from suspension, Wilson would stand to benefit.
8. Tre Harris, Ole Miss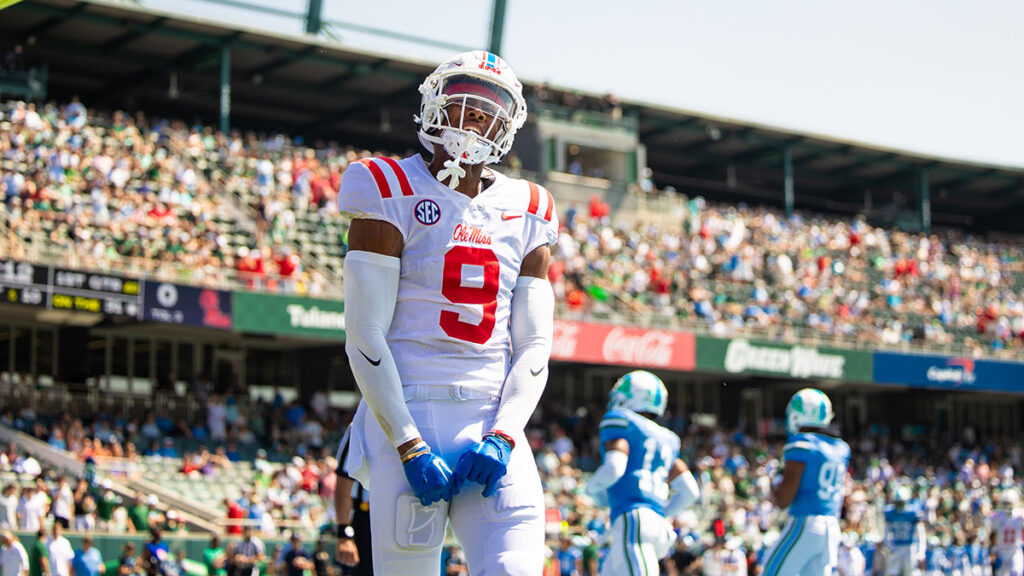 Like Stewart, Harris was a scratch due to injury this week. That he has posted such big numbers is wildly impressive considering the fact that it has come in less than a game and a half.
Harris has notched eight catches for 188 yards and five touchdowns so far this season. But he must find a way past an injury that has sidelined him for the last six quarters.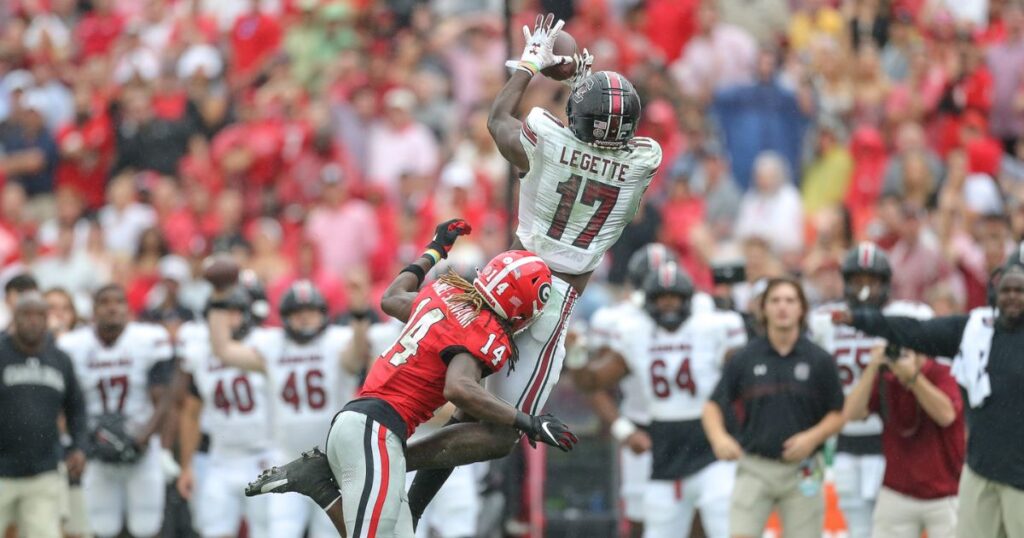 Legette had a strong showing in a loss to Georgia, posting some highlight-reel catches during the game. He was one of the real bright spots for South Carolina in a tough loss. Legette finished with seven catches for 71 yards.
On the season he has already racked up 22 catches for 367 yards and a touchdown. And with Juice Wells banged up, South Carolina will need to continue relying on Legette.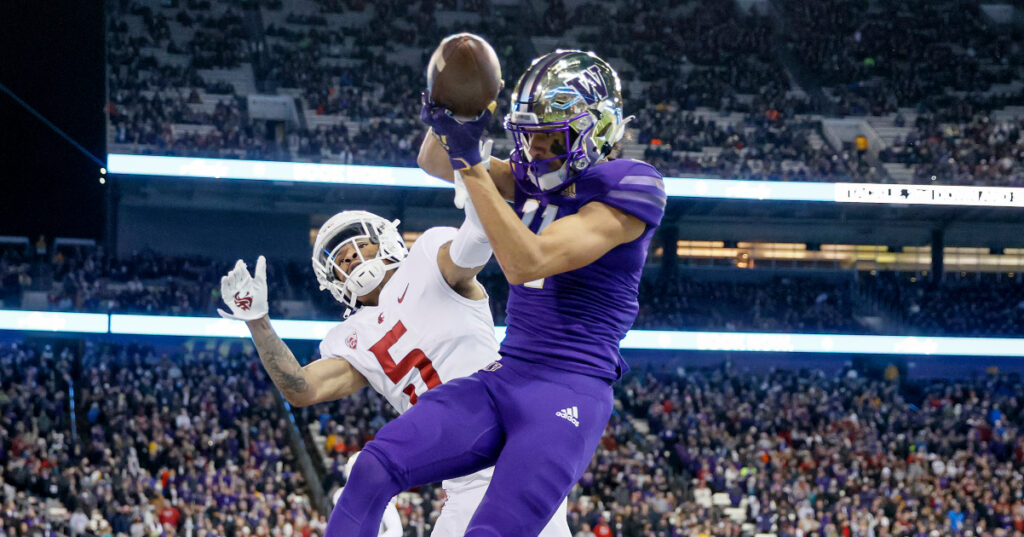 McMillan had his quietest game of the season and still finished just four yards shy of the 100-yard mark in the game. He hauled in four catches for 96 yards, failing to score for the first time this season.
In three games, McMillan has accounted for 20 catches for 311 yards and three touchdowns, well worthy of inclusion in the top 10 of the wide receiver rankings. Of course, he's having to battle his teammate for catches.
11. Emeka Egbuka, Ohio State
12. Tory Horton, Colorado State
13. Luther Burden III, Missouri
14. J.Michael Sturdivant, UCLA
15. Jacob Cowing, Arizona
16. Johnny Wilson, Florida State
17. Erik Brooks, Fresno State
18. Jamari Thrash, Louisville
19. Tayvion Robinson, Kentucky
20. Xavier Weaver, Colorado
21. Troy Franklin, Oregon
22. AD Mitchell, Texas
23. Xavier Restrepo, Miami
24. Kobe Hudson, UCF
25. Jimmy Horn Jr., Colorado
The wide receiver rankings outside of the top 10 are also loaded, with Egbuka a threat to go off for a monster game at any point, along with several others on the list. Burden was impressive in a win over Kansas State this weekend, while both Colorado wideouts helped their team survive in overtime. Tune in again for next week's rankings to see how they've shifted.