Athletes Advocate Consortium follows trend, signs entire Arkansas basketball team to NIL partnership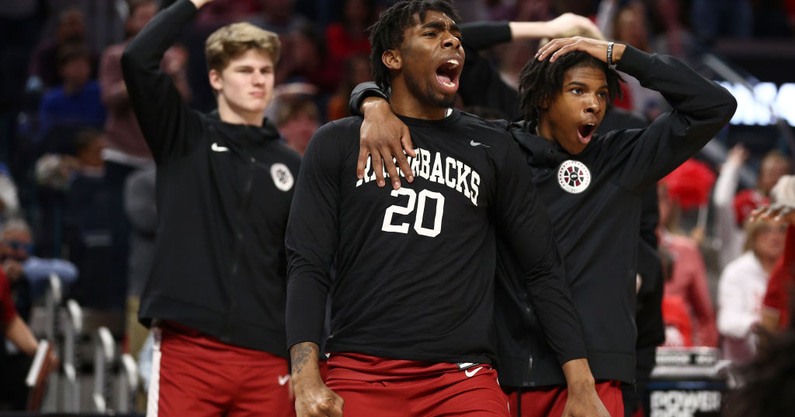 Only months after bringing the program to the Elite Eight, Arkansas basketball has netted another win, this time coming in the NIL space. The Athletes Advocate Consortium (AAC) announced Monday night that the entire Razorbacks' roster has signed a deal with the Children's Safety Center.
Founded by Bryan and Mandy Hunt, the AAC is a NIL collective focused on partnering athletes with area charities. In the first year of operation, the AAC partnered with former Arkansas basketball star JD Notae. The deal helped secured more than $50,000 in funding for Samaritan Community Center.
Collectives, which are independent of a university, can serve a variety of purposes. Most often, they pool funds from boosters and businesses, help facilitate NIL deals for athletes and also create their own ways for athletes to monetize their brands. 
With the AAC, the focus is strictly on forming deals with local charities.
Monday night's announcement comes after Arkansas signed the second-ranked recruiting class in the 2022 cycle this offseason, marking the highest-ranked class in program history. With three five-star signees, the Razorbacks signed the SEC's top class, too.
"I just think it's great for our players to be able to contribute back to the community," Arkansas head coach Eric Musselman said in a press conference shortly after the news. "I think there's a lot of life lessons these guys can carry on, not just this year from what they're learning from AAC but all the way into the rest of their lives. Really cool, really impactful for a lot of different people."
"It's an opportunity for every guy on our roster to contribute to our area and to give back with their time and their heart. I think it's awesome. It's a unique way of handling Name, Image and Likeness."
Founded in 1997, the Children's Safety Center is based in Washington County and aims to help children overcome abuse. The AAC also put individual deals in place for Arizona State transfer Jalen Graham and McDonald's All-American Jordan Walsh. Graham will partner with the Samaritan Community Center, while Walsh will partner with the Jones Center.
No terms of the contracts were disclosed in the release.
Arkansas basketball partnership sign of growing trend across NIL landscape
The AAC's move to sign the Arkansas basketball team positions the Razorbacks to be successful in the SEC. But it is also a sign of the growing trend of group deals across college sports. Paying athletes in these type of group deals ensures payment for each athlete in the locker room.
"As we were evaluating the applicants for this year's program, we determined this has the potential to be an exceptional year for Arkansas basketball," Bryan Hunt said in the AAC's press release. "Our goal is to utilize the excitement and the following these star athletes have to help drive awareness of area non-profits."
Texas Tech's collective, The Matador Club, recently signed 100 members of the Red Raiders football team. Each player will receive $25,000 annually. Players signed by the collective, which has non-profit 501(c)3 status, will take part in community service activities and help raise awareness for local charities in Lubbock and possibly throughout West Texas.
The one-year deal follows a similar structure to Utah-based Built Brands, which surprised every BYU walk-on with an endorsement deal covering their scholarships last summer. Players will be able to renew the contract, too. Student-athletes will be required to do charity work.
One of the first documented group deals started with Horns with Heart. The nonprofit charity organization announced last year that it will provide every scholarship offensive lineman at Texas with $50,000 annually as part of a new NIL program.
The program, named The Pancake Factory, will be the first of its kind: It will support a football position group for players to participate in charitable endeavors. Payments will begin Aug. 1, with a total of $800,000 annually earmarked for the offensive line sponsorship.
Group deals guarantee access to NIL money. Most come in the form of collectives securing deals for their athletes. In other cases, companies such as Outback and Degree select athletes from across the nation.
Most importantly for the athlete, they're simple to execute. And in Year 2 of the new college athletics landscape, group deals will continue to populate the NIL economy.