Top 10 On3 NIL Valuations in the NIL 100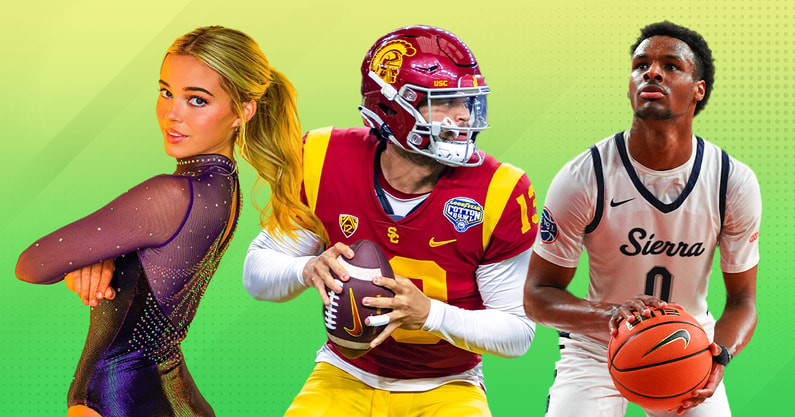 With college football season officially over, there's a new look to the top 10 On3 NIL Valuations in the NIL 100.
Bryce Young and C.J. Stroud were two of the mainstays in the top 10 for the past year. The Alabama quarterback and Ohio State quarterback were two of the biggest faces in college football, leading the way in NIL. Young starred in Dr Pepper TV commercials this fall, while Stroud drove around a Mercedes SUV worth $200,000.
With their departures, there's been some new names added to the top 10. Marvin Harrison Jr. and Drake Maye are poised to be the next two stars of college football, while Caleb Williams will have a chance to win his second consecutive Heisman Trophy.
And there's no knocking off Bronny James, the oldest son of NBA superstar LeBron James. The high school senior has more than 12 million social media followers and deals with Beats by Dre and Nike.
Here are the top 10 On3 NIL Valuations:
1. Bronny James
On3 NIL Valuation: $7.5 million
Social media followers: 12.5 million
Bronny James has yet to even announce where he'll be playing college basketball, but the oldest son of NBA superstar LeBron James has already emerged as an NIL star. The four-star combo guard in the 2023 recruiting class has signed notable agreements with Beats by Dre, Nike and PSD Underwear. In a commercial for Beats by Dre, he starred alongside his father, who signed with the brand in 2008 as the company's first athlete brand ambassador. He recently also signed with Klutch Sports, founded by LeBron James' longtime friend and sports agent Rich Paul, for NIL representation. While he's yet to make his commitment, he told On3's Joe Tipton that Ohio State, Oregon and USC are all options, but he's still wide open.
2. Arch Manning
On3 NIL Valuation: $3.7 million
Social media followers: 237,000
The grandson of Archie, son of Cooper and nephew of Peyton and Eli announced his commitment to Texas this past summer. The No. 1 ranked recruit and Five-Star Plus+ quarterback has since enrolled early with the Longhorns, ready to begin spring classes. Arch Manning may not have the largest social media following, yet his name recognition for a high school prospect is unprecedented. He also has the opportunity to partner with his superstar uncles in NIL ventures. With more than 237K followers, his following will only rise throughout his career at Texas. He has publicly announce his first NIL agreement, but the quarterback will not have any problems finding opportunities.
3. Mikey Williams
On3 NIL Valuation: $3.6 million
Social media followers: 6 million
Mikey Williams became the first American high school basketball player to sign a sneaker deal with a global footwear company. His multi-year deal with Puma at the age of 17 puts him on the same product team as other basketball stars like Breanna Stewart, Skylar Diggins-Smith, LaMelo Ball, Kyle Kuzma and Deandre Ayton. Represented by Excel Sports, Williams has inked other NIL partnerships with Cash App and LaceClips. On the court, he is a four-star combo guard in the 2023 class, according to the On3 Consensus. Fans line up outside and around the gym to see him play in a game. Off the court, he takes countless selfies and photographs before and after games. Williams has signed with Memphis, where he will be playing for Penny Hardaway.
4. Caleb Williams
On3 NIL Valuation: $3.2 million
Social media followers: 270,000
Caleb Williams just wrapped up his first season in Los Angles. Since making the move to the West Coast last February, he has pieced together one of the strongest NIL resumes of any player in the country. He's added notable brands, such as Athletic Brewing Company, Fanatics, AT&T, Beats by Dre and AC+ION Water. With the platform that winning the Heisman gives him, there will be plenty of opportunities the next 12 months. He's one of the most recognizable college athletes in the nation. For all of the NIL success, Williams has accomplished more on the field. A win in the Pac-12 title game would have put USC in the College Football Playoff game. He finished his sophomore season ranked No. 1 in the country with 42 passing touchdowns and just five interceptions. The quarterback threw for 4,537 yards, while rushing for another 10 touchdowns.
5. Livvy Dunne
On3 NIL Valuation: $3.2 million
Social media followers: 10.1 million
Livvy Dunne has become a household name since the inception of NIL. With more than 10 million social media followers, she's the most followed college athlete. The junior at LSU has worked closely with sports agency WME Sports, crafting NIL deals with major brands like Forever 21, American Eagle Outfitters and Vuori. The deals do not stop there, though. She's made well into the seven figures in earnings. Dunne holds the highest valuation of any female athlete. Dunne also holds notable agreements in place with Grubhub, Linktree and study app Bartleby.
6. Shedeur Sanders
On3 NIL Valuation: $1.6 million
Social media followers: 1.3 million
Shedeur Sanders continues to build his brand in unique ways. The former Jackson State quarterback has since transferred to Colorado, following his father, Deion Sanders. He'll have two years of eligibility to play with the Buffaloes. He's found plenty of NIL success over the last 18 months, though. Sanders has launched his own barbecue sauce, the "#2 BBQ Sauce." He became the BRADY brand's first long-term ambassador. And he's appeared in promotions across multiple Mercedes-Benz social media platforms. On the football field for Jackson State this past season, the quarterback threw for 3,732 yards with 40 touchdowns and just six interceptions. With a Pac-12 fanbase now with its focus on Sanders, there's little doubt his following is just starting to grow.
7. Marvin Harrison Jr.
On3 NIL Valuation: $1.6 million
Social media followers: 308,000
Marvin Harrison Jr. introduced himself to the college football world this season. He even admitted ahead of the College Football Playoff he should have won the The Biletnikoff Award. The sophomore has 77 catches for 1,263 yards this season with 14 touchdowns. But it is the way the sophomore has made the catches that has truly set him apart. The son of NFL great Marvin Harrison jolted himself in the air to make an acrobatic touchdown catch against Michigan State. And Harrison somehow contorted his body near the sideline against Indiana to get a foot inbounds. He had another jaw-dropping, 42-yards touchdown catch against Michigan. The receiver's social media following has exploded, too. He's added more than 100,000 social media followers since early October — now sitting at 308,000 total. Add in the on-field success and Harrison is college football's next star.
8. Hansel Enmanuel
On3 NIL Valuation: $1.5 million
Social media followers: 4.3 million
Northwestern State guard and Dominican Republic native Hansel Enmanuel received approval for an O-1 visa in October, which gives him the ability to pursue NIL deals in the U.S. through his newfound work authorization. He had already started to capitalize on NIL before the O-1 visa was granted, though. He previously signed with Gatorade but had to fly to Mexico City for the photo shoot to ensure he wasn't in violation of his previous visa status to work in Mexico. His deal with the sports drink company is only a start to what could be a major NIL career.
9. Sunisa Lee
On3 NIL Valuation: $1.5 million
Social media followers: 3.5 million
One of the faces of the NIL era, the sophomore at Auburn has 3.5 million social media followers. But if not for name, image and likeness laws and a change to the NCAA's policy, there's a strong possibility Suni Lee never would have competed at Auburn. The NCAA's move in the summer of 2021 allowed her to turn her Olympic success into NIL dollars. Lee filled up SEC gyms last year, signing endorsement deals with with Amazon, Gatorade, Target and Invisalign. Most recently, she inked a deal with CLIF Bar. The gymnast announced in November she plans to focus on her Olympic dreams following this season. With the 2024 Summer Olympics in Paris approaching, Lee plans to leave school and start preparing for the run-up.
10. Drake Maye
On3 NIL Valuation: $1.3 million
Social media followers: 59,000
North Carolina quarterback Drake Maye's name was everywhere ahead of the Transfer Portal windows opening. With multiple ACC coaches alleging unnamed coaching staffs and collectives of tampering, some expected Maye to be the name to watch in the portal. He ultimately decided to stay put in Chapel Hill, not leaving for what would have been a lucrative NIL package. The freshman finished his first season with 4,321 passing yards with 38 touchdowns and only seven interceptions. He'll challenge Caleb Williams for the Heisman next season. And with nearly 60,000 social media followers, there will be plenty of brands clamoring to strike an agreement with Maye. So far, he's signed with Bose and Campus Mogul.
About the On3 NIL Valuation
The On3 NIL Valuation is the industry's leading index that sets the standard market NIL value for high school and college athletes. A proprietary algorithm, the On3 NIL Valuation calculates an athlete's NIL value using dynamic data points targeting three primary categories: performance, influence and exposure.
About On3 NIL Valuation, Brand Value, Roster Value
While the algorithm includes deal data, it does not act as a tracker of the value of NIL deals athletes have completed to date, nor does it set an athlete's NIL valuation for their entire career. The On3 NIL Valuation calculates the optimized NIL opportunity for athletes relative to the overall NIL market and projects out to as long as 12 months into the future.
The On3 NIL Valuation accounts for an athlete's roster value and brand value. Roster value is the value an athlete has by being a member of his or her team at his or her school, which factors into the role of NIL collectives. Brand value factors in an athlete's personal brand and the value it could bring to regional and national brands outside of the scope of NIL collectives.
The On3 NIL Valuation is publicly available. Performance, Influence, and Exposure ratings along with the athlete's personal Brand Value Index and Roster Value Index are available only to the athlete in the "Athlete Verified" private dashboard on the On3 Athlete Network.