VIDEO: Alabama OL Commit talks early enrollment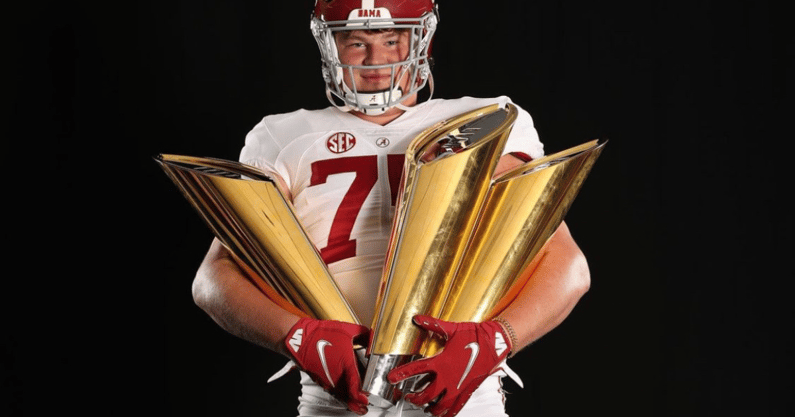 Wilkin Formby, Top 100 offensive tackle from Northridge High School in Tuscaloosa, will enroll at Alabama this week. Formby, who stands 6-foot-8, 310-pounds, discussed his excitement about participating in bowl practices with the Crimson Tide, thoughts about the recruiting process, expectations for the future and much more!
Not a member? Join BamaInsider.com today!
Have you subscribed to BamaInsider.com? You can sign up now for $10.00, which gets you premium access until Aug. 31, 2023! Or, you can also get one month of access for just $4.99 (50 percent off). Get access to premium articles covering the University of Alabama athletics, recruiting content and also join thousands of Crimson Tide fans on the Talk of Champions message board! CLICK HERE!
Wilkin Formby Player Evaluation
"Tackle prospect who can bend, move and strike at a high level with an elite frame. Prototype build for an offensive tackle. Verified 6-foot-7.5, 302 pounds with close to a 7-foot wing-span at Under Armour's Atlanta camp prior to his senior season. Plays with strong balance and body control for his size. Shows excellent spatial awareness in pass pro and initiates contact consistently with his length. Has surprisingly good bend and hips for his size, allowing him to gain leverage with ease and bolstering his ability to anchor once engaged. Will only continue to improve once he is in a collegiate strength and conditioning program that will help him develop more explosiveness and functional power."– On3 Sports Scouting and Rankings Director Charles Power
Don't Miss: Alabama Football Recruiting Chat Recap
Alabama has No. 1 class according to On3 Sports
Formby has an NIL Valuation of 125K via On3 Sports. Learn more about the On3 Sports NIL Valuation which takes into account: performance, influence and exposure (CLICK HERE).
Alabama currently has the top ranked class in the country according to the On3 Sports Consensus Football Team Recruiting Rankings. Formby joins a loaded in-state group of recruits in the Tide's class which also features Yhonzae Pierre, Top 100 outside linebacker from Eufaula High School, Tony Mitchell, Top 100 safety from Thompson High School, Jahlil Hurley, Top 100 cornerback from Florence High School, Hunter Osborne, four-star defensive end from Hewitt-Trussville and Ryqueze McElderry, four-star offensive lineman from Anniston High School.
CLICK HERE for a closer look at the Tide's commitment list.
More Alabama Football Recruiting Coverage
Inside look at how Alabama landed five-star EDGE Keon Keeley
Keon Keeley talks commitment to Alabama