On300 defensive lineman Will Norman locks in Gators official visit date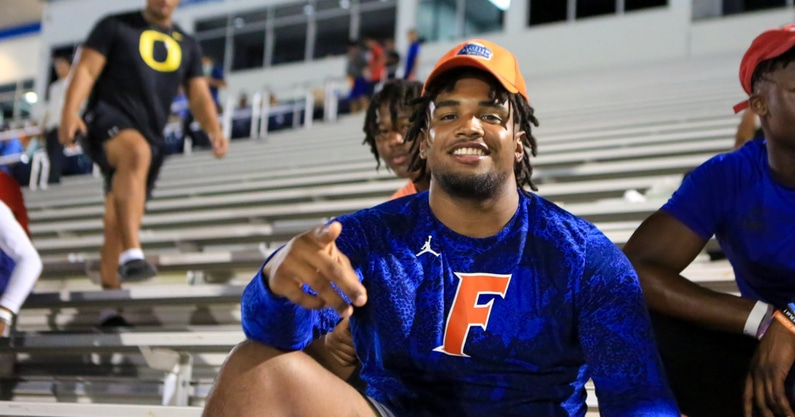 IMG Academy star Will Norman knows when he will be returning to Gainesville. His next time on campus will be for his official visit as well.
Norman, an On300 defensive lineman, is the latest prospect to lock in a multi-day trip to Florida for June 10-12.
On April 22, I submitted a prediction in favor of Billy Napier's program for the 6-foot-4, 276-pound defensive lineman. According to On3's Recruiting Prediction Machine, that is program trending in his recruitment as well. The Gators' odds currently sit at 63 percent.
A native of Camden, New Jersey, Norman has a top five of Florida, LSU, Michigan, Penn State and Texas A&M.
"It's continuing to be an eye-opening experience and definitely just continuing to be somebody I'm going to continue to turn my focus to more and more. As the journey goes on, I can see myself here," Norman previously told GO.
"It's definitely a school I used to look up to growing up. As the tables turn, it continues to be eye opening."
If Norman was to relocate to Alachua County, he envisions himself making a statement early and often for the Gators.
"Just watching the team, I feel like I could definitely see myself as being an early impact (player)," Norman said.
"I can definitely see myself getting in and just being somebody early in the system. That just means a lot to me, especially at at the highest level being in the SEC. I can definitely see myself making an early impact if I did choose the Gators."
Billy Napier's program is going all in for Will Norman
Roughly a month ago, On3's Chad Simmons was hearing that Florida, Texas A&M and LSU were sitting in the best spot for Norman. On top of that, I heard UF was pushing harder compared to the Aggies and Tigers.
That is key because Norman has went on record multiple times about how he is feeling like a major priority for UF. He has set foot in Gainesville multiple times in 2022, including most recently for the Orange and Blue Game.
According to the On3 Consensus, a complete and equally weighted industry-generated average that utilizes all four major recruiting media companies, Norman is the No. 17 defensive lineman and No. 123 player overall.
Stay tuned to Gators Online.