Scarlet Sunrise: Buckeyes climb national recruiting rankings after five-star commitment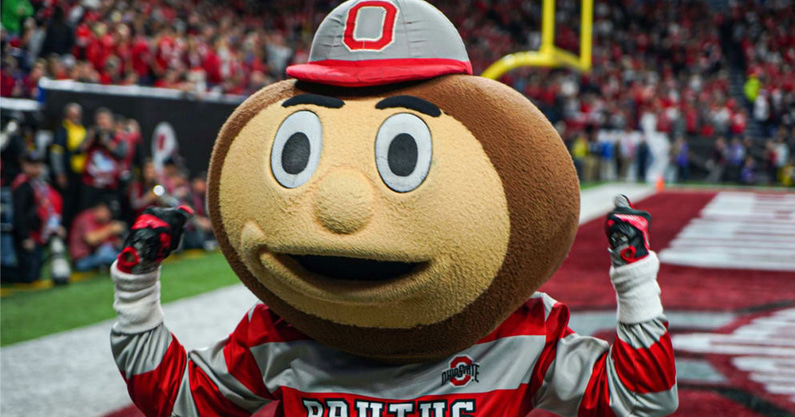 Good morning, Ohio State fans, and welcome to the Scarlet Sunrise. Football will always be our focus, but every day we'll cover news, notes and analysis from across Buckeyes sports. Join us each morning to get caught up on everything you missed in the world of Ohio State football, recruiting, basketball and more in Scarlet Sunrise.
Buckeyes climb up national recruiting rankings
Ohio State earned a commitment from five-star wide receiver Carnell Tate on Monday, and it vaulted the Buckeyes up the national recruiting landscape.
The commitment of Carnell Tate boosted the Ohio State 2023 recruiting class into the No. 2 spot in the country, three spots better than where they were heading into the day. The Buckeyes jumped Georgia and USC for that spot, tying the Bulldogs with 11 commits. They still trail Notre Dame, but they have four fewer commitments than the Fighting Irish.
The Buckeyes have yet again jumped out to a huge lead over Penn State and Michigan in the Big Ten, as well.
Five-star receiver Carnell Tate commits to Ohio State
Ohio State has been recruiting Carnell Tate for more than a year.
Those efforts from Ryan Day, Brian Hartline and the Buckeyes staff finally paid off Wednesday. The five-star IMG Academy (Florida) wide receiver picked the Buckeyes over Tennessee and Notre Dame, finally putting an end to a long, winding recruitment that went far longer than expected.
Tate is the second receiver in the Buckeyes 2023 class, joining four-star Florida native Bryson Rodgers. The pair of talented pass catchers give Ohio State 11 commitments in their Big Ten-best class so far.
Carnell Tate is the highest-ranked commit in the Buckeyes 2023 recruiting class.
Tate has been leaning toward picking Ohio State for the last year, since he camped in Columbus with Hartline last summer. Tennessee gave Tate a good pitch to join the Volunteers, but his love for Ohio State never truly went away as the process progressed.
READ: Five-star receiver Carnell Tate commits to Ohio State over Tennessee, Notre Dame
READ: Analyzing impact as five-star receiver Carnell Tate commits to Buckeyes
Five-star receiver Brandon Inniss recaps Ohio State official visit
Ohio State hosted five-star receiver Brandon Inniss for an official visit over the weekend, and he spoke to On3's Chad Simmons about that visit.
Part of that can be found below:
Heading into last weekend's official visit with Ohio State, Miami Gardens (Fla.) American Heritage five-star wide receiver Brandon Inniss said the visit would be as important for his family as it was for him.

Inniss' mother had been to Columbus, Ohio, before but his father and sister had not. His family left with a good vibe.

… For Inniss, something that came up a few times in discussions with the coaching staff was the opportunity to play early.

… Wide receivers coach Brian Hartline is considered one of the best assistant coaches in the country and is building one of the best wideout groups in the 2023 cycle, having just landed Carnell Tate.

Chad Simmons, On3
READ: 5-star WR Brandon Inniss recaps Ohio State official visit
Are you subscribed yet?
Are you ready to get all your latest Ohio State news in one place? Become a member of Lettermen Row today. With your Lettermen Row/On3+ membership, you'll not only have access to the everything that's happening with the Buckeyes, but you'll also be able to peruse other fan sites within the network to hear just how rivals are feeling about Ohio State, as well. Make sure to follow along on Twitter, Instagram and on Youtube for all the latest Buckeyes news you need to know.
Already signed up? Don't forget to join us in the Lettermen Lounge to talk about the latest Ohio State sports news.