Four-star Buckeyes cornerback target Jermaine Mathews trims list, sets decision date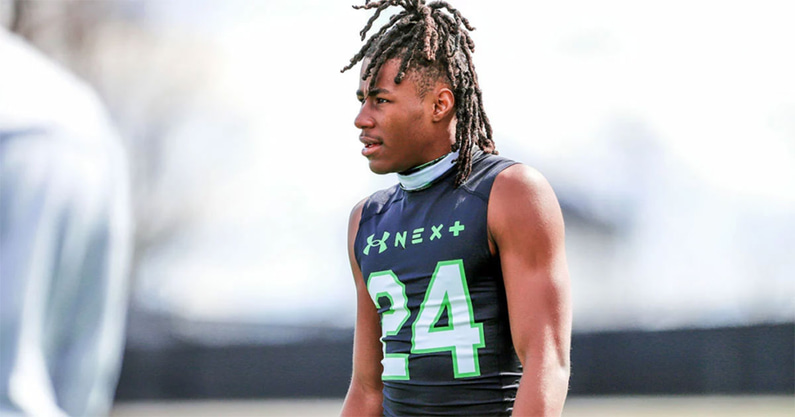 COLUMBUS — Jermaine Mathews is ready to make a decision on his future — sooner rather than later.
Mathews has a decision date set. He'll decide between the Buckeyes, Penn State, LSU, Jackson State, Oklahoma and Cincinnati.
The Buckeyes are the On3 Recruiting Prediction Machine favorite to land the cornerback from Winton Woods (Cincinnati) High School. They have a 93.8-percent chance to land Mathews according to that predictive method.
Following an impressive camp performance at the beginning of the month, the country's No. 32 cornerback received an offer from the Buckeyes staff and quickly scheduled an official visit to Ohio State. He was on campus for his visit last weekend, giving the Buckeyes a chance to wow the fast-rising defensive back just weeks after extending an offer to him.
Following his camp performance, Lettermen Row had this to say about him:
The Buckeyes offered the Winton Woods (Cincinnati) standout after a dominant performance in the afternoon session. Mathews ran a sub 4.40 in the 40-yard dash and was competitive in drills, regularly skipping to the front of the line for more work on the afternoon. He had a huge cheering section of Buckeyes defensive backs on every rep — and those are guys that very likely will be teammates in the near future.
He has an opportunity to take full advantage of that Ohio State offer. The Buckeyes currently have commitments from five Ohio prospects. In-state players make up nearly half of the Buckeyes class.
Jermaine Mathews could be the next in-state player to choose the Buckeyes. He will announce his college decision on July 1, and Ohio State is in the thick of that upcoming commitment decision.