On3 Updates 2022 Recruiting Rankings on Oregon Commits and Targets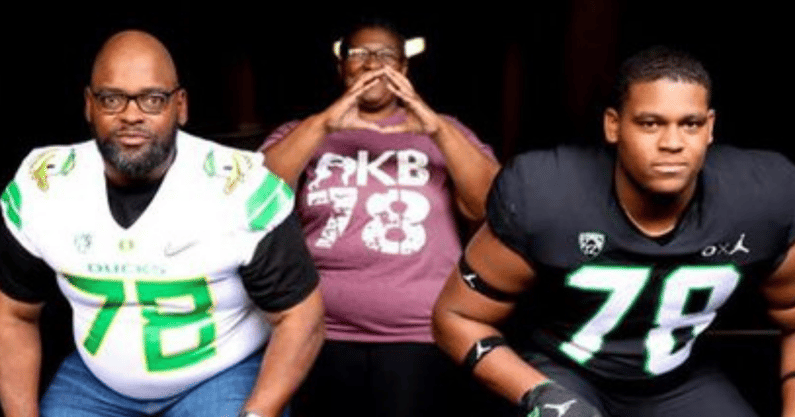 On Monday mid-morning the team at On3 updated the 2022 recruiting rankings. The primary reason for the update was due to a lot of senior film becoming available on many of the nation's top prospects.
A couple links before I get into the updates.
The Ducks find themselves at the No. 11 spot in the On3 Consensus rankings. This is much lower than some of the other rankings but On3 will work a little differently than other sites when it comes to that. Here is an explanation of how and why they are different than 247Sports, Rivals and others.
Here's a quick summary of the Oregon class.
11. Oregon (91.304)
1 five-stars | 15 four-stars | 3 three-stars | 20 total recruits
Top Commit: Humble (Texas) Summer Creek offensive tackle Kelvin Banks, No. 13
Summary: Banks is the standout and makes up a great core with Anaheim (Calif.) Servite wide receiver Tetairoa McMillan and San Diego Lincoln teammates Jalil Tucker and Jahlil Florence. There has been rumors about Banks potentially staying in state to play for Texas or Texas A&M. His loss wouldn't be the be-all, end-all, but it would see the Ducks class drop in the rankings.
Oregon offensive line commit Kelvin Banks finds himself a newly minted five-star with On3 after the update. Here's why he got that highly coveted fifth star.
Oregon offensive tackle commit Kelvin Banks adds his fifth star. He checks in at No. 19 overall and as the No. 2 offensive tackle. The Humble (Texas) Summer Creek product has shown some progression as a senior and impressed against top competition in both in-person and video evaluations. Banks is playing with a greater degree of physicality this fall.
Also there were 40 new names in the new On300. Including a number of Oregon targets and commits. (Remember these are new additions only)
278. OL Cameron Williams (Commit)
282. LB Devon Jackson (Commit)
Lastly one of Oregon's remaining defensive back targets got a big bump in the latest update. Check out what Gerry Hamilton had to say about De La Salle (Calif.) DB Zeke Berry and his jump to No. 59 overall.
Berry makes a big jump from No. 157 to 59 with terrific senior tape. The 6-foot, 185-pounder is an all-around safety that is as adept as a downhill striker, as he is with range in coverage. More than a downhill striker, Berry excels in tackling in the open field. His ability to open up and run makes covering from hash mark to boundary simple. When it comes time to make plays on the ball, the four-star flashes ideal timing, and finishing ball skills.  Oregon, Michigan, UCLA, Arizona and others are battling it out for the instant impact safety.