Oregon freshman Seven McGee now working primarily as receiver for Ducks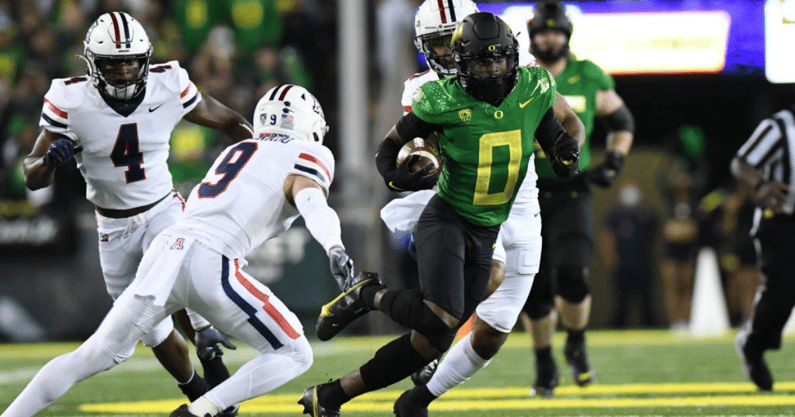 In true freshman running back Seven McGee, the Ducks have a dynamic, ultra-quick player who seems to have a bright future.
With his true freshman season coming to a close, he is also proving to be extremely versatile.
McGee has flashed immense talent out of the backfield in the limited reps he has been given there this fall. Now, after Oregon's receiver depth took a massive hit last week, he figures to see time as a full-time slot receiver.
Mario Cristobal said Wednesday that McGee is working primarily as a receiver and punter returner during practice and will factor in as a pass-catcher for the Ducks for the remainder of the season.
"He's spending the majority of the day with the wide receivers," Cristobal said. "For two reasons: one, he's done really well at it. The second one is, obviously, we've had some guys go down there.
"But he's excelled and he's done really, really well."
In 10 games this season, McGee has 47 yards and one touchdown on 11 carries and five catches for 59 yards.
He is listed as the backup slot receiver behind Kris Hutson on Oregon's latest depth chart.
According to Pro Football Focus, McGee has played 44 offensive snaps for the Ducks; 34 as a running back, and 10 as a receiver. He played a handful of snaps at slot receiver in Oregon's loss at Utah on Saturday but did not have a carry.
"At running back, he and (Byron Cardwell) were right there neck-and-neck," Cristobal said of McGee. "So we feel good about him doing either. But predominantly, he's been playing wide receiver."
McGee is also now operating as the Ducks' primary punt returner. He is listed as the starter there alongside Hutson, who has an "or" caveat next to his name on the two-deep.
"He's very skilled, he's very talented," Cristobal said when asked what McGee does well as a returner. "(Utah) didn't punt much last week — I think it was one punt. But he's impressive. He's a guy we trust with decision-making."