Oregon OC Kenny Dillingham Deserving "Head Coach Consideration"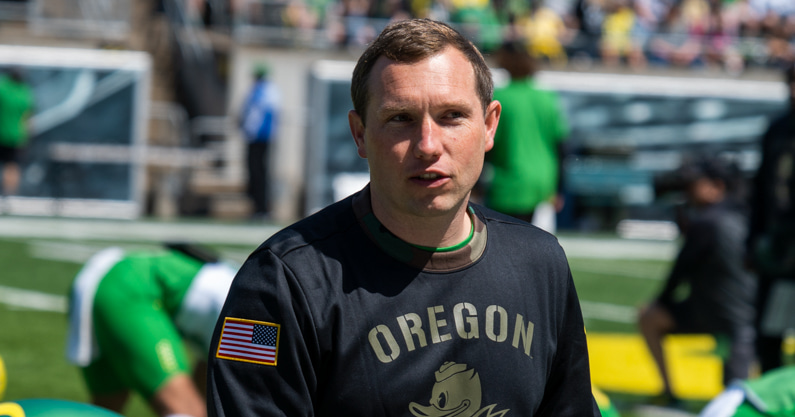 Heading into the college football season brings a lot of promise and potential. Not just on the football field, but also in the coaching circles.
Coaching moves in the offseason are a certainty like death and taxes. Coaches all over the country will continue working to try and 'climb the ladder' to the next position up. From GA to assistant to coordinator to head coach. It's a natural progression of the profession.
On3's Matt Zenitz surveyed some coaches around the country as names to watch for head coach consideration after this season.
Here were some of the parameters for the survey.
We decided to do this a little different than the standard "head coach candidate" list. Instead of looking at the expected candidates for the upcoming cycle, we thought it worthwhile to survey coaches to see who they view as ready and deserving of head coach consideration.
A note: We limited the list to coaches who will be under 55 this next cycle, and we did not include guys who already have been FBS head coaches.
One of those names that came up is offensive coordinator Kenny Dillingham. The young offensive coordinator has shot up the coaching ladder similar to his boss, Dan Lanning. While young, Dillingham has gone from coaching quarterbacks in high school in 2007, to Oregon's play-caller in 2022.
Dillingham spent last season at FSU under Mike Norvell doing the same. And the season before that he worked with (now) Oregon quarterback Bo Nix at Auburn. His first job at OC was at Memphis also with Mike Norvell prior to Auburn.
At only 32 years old, he is considered one of the top 'up and coming' coaches in the profession.
Kenny Dillingham joined Dan Lanning's inaugural Oregon coaching staff on December 16, 2021, after multiple years as a successful offensive coordinator and quarterbacks coach at Memphis, Auburn and Florida State.
 
"Kenny is one of the most innovative minds in football and will bring a dynamic and explosive offense to Eugene," Lanning said at the time of the hiring. "He has been a part of some of the most explosive offenses in college football during his coaching career, and we are eager to see that track record continue to grow at Oregon. He is a tireless worker with a proven history of developing quarterbacks. He also has strong ties to the West Coast, which will be important as we continue to build our roster through recruiting. He is passionate about the development of student-athletes, both on and off the field, and is one of the best leaders that I have worked with."
 
Dillingham came to Eugene after helping Florida State weather several quarterback injuries to be among the most explosive offenses in the nation in 2021. Prior to joining the Seminoles' staff, Dillingham directed some of the nation's most potent offenses at Auburn and Memphis while working with first-year starting quarterbacks at both stops.
 
Dillingham's teams have played in six bowl games and he has coached several all-conference players as an offensive coordinator. Prior to joining the college ranks, he directed the top offense in the state of Arizona as the offensive coordinator for Chaparral High School. Dillingham remained in the state for his first college job, which was working with offensive coordinator Mike Norvell at Arizona State.