ScoopDuck Predictions: Surprise Storylines vs Stanford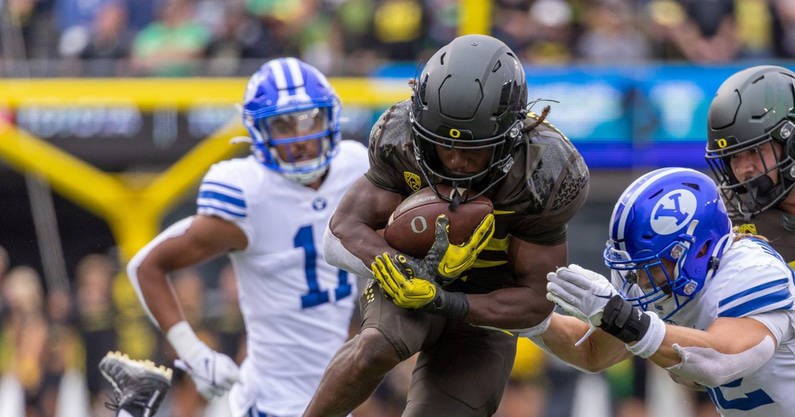 We're a little light on predictions for this one for various reason. But we still have three for you.
What will be a storyline nobody expects versus Stanford this week? Will it be something on defense? Something on offense?
Here are our three predictions below from Travis, Joel and myself. We should be back to full strength (Joel & Corpatty) on Thursday.
Travis Rooke-ley: Pressure
I think this is finally the game we see our DL get home and start to register some sacks. Even without DJ Johnson for the first half, I expect to see Dorlus, Swinson and our LBs living in the backfield against the immobile Tanner McKee.
Joel Gunderson: Oregon's defense blows up
I can't verify, but I have to imagine that the pride and ego of both Dan Lanning and Tosh Lupoi are a tiny bit bruised right now. To be clear, Oregon's defense has been good — but they haven't been "Lanning good," and that has to eat at the head man.
I pointed out earlier this week Oregon is giving up just 22 ppg since Georgia (18 ppg if you remove two garbage time TDs allowed). We'll take that all day. But Washington State scored 41 points (again, 14 of them were the pick six + final play TD), and Oregon's pass defense will cost them a game if they play this way.
But against Stanford, with revenge on their minds, Oregon's defense will put forth their best effort of the season. Stanford might score a late TD to make it look worse, but after their second-half improvement last week, I think the Ducks' defense has gained some confidence and will come out with their hair on fire.
Jhop: Ducks Rush for Over 350 Yards
We know Oregon can run the ball. And in years past, Stanford has been stingy at the line of scrimmage. I think this year Oregon will make it a point to run all over Stanford. They will run, run and run some more until Stanford can stop it.
While Oregon rushing isn't a huge surprise, I think the amount they run will be. Of course they'll have to throw the ball too and keep them honest. But I think we see Oregon decide to stick to the run until Stanford proves they can stop it.