Three questions for Oregon's group of tight ends ahead of fall camp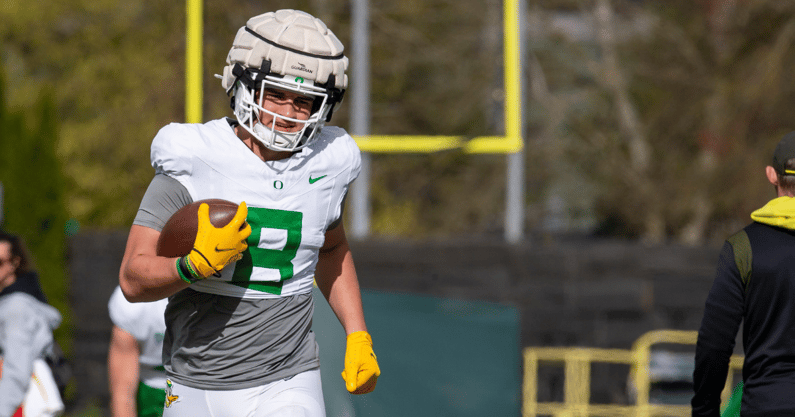 Oregon's summer offseason is in full swing. While we count down the days until kickoff in Atlanta on Sept. 3, ScoopDuck has you covered with position-by-position breakdowns ahead of fall camp. Next up are the wide receivers.
Previous entities
Oregon's current group of tight ends features as much depth and as much top-end talent as the program had at the position in recent memory.
In terms of sheer recruiting numbers, the Ducks currently have four tight ends who were 4-star recruits before they arrived in Eugene: Terrance Ferguson, Patrick Herbert, Moliki Matavao, and Spencer Webb. Their fifth tight end, Cam McCormick, was a top-500 recruit in the class of 2016 before numerous injuries halted the progress of his career.
There aren't many programs in the country that possess that kind of talent within their tight end room.
But even still, there are a few uncertainties surrounding the position as fall camp approaches. Here are three questions that will need to be answered there during fall camp.
Just how good can Terrance Ferguson and Moliki Matavao be?
Two of the highest-rated tight end recruits in program history came to Eugene within the same signing class.
Terrance Ferguson and Moliki Matavao were the No. 5 and No. 6 tight end recruits in the class of 2021, respectively, and carried huge expectations during their first season together at Oregon. They did not disappoint and established themselves as the Ducks' primary tight ends within Joe Moorhead's offense.
Now, they will be expected to take the next step and become even better under Dan Lanning and his staff.
Ferguson led all Oregon tight ends with 369 snaps, and Matavao was second with 295. In Kenny Dillingham's up-tempo offense, it's possible that Oregon might have both of them on the field at the same time more frequently than it did last year. Matavao noted in April that if the Ducks are in 13 personnel, the tight end can be anywhere on the field, and the coaching staff even tried Matavao at "Z" receiver in certain scenarios in the spring.
Ferguson and Matavao have become close friends since arriving in Eugene and are constantly working to make each other better. If both continue to improve at a steady rate, the sky could be the limit for Oregon's sophomore tight end tandem.
"Me and (Matavao) are really close," Ferguson said in April. "That's like my best friend off the field. We get a lot of extra work in and get a lot of meetings where we learn a little bit more about playing "H" and "A" together.
"I think when we're on the field together, we both kind of know what we're doing and know what each other is doing."
Can Spencer Webb bounce back?
As a redshirt freshman in 2019, Spencer Webb looked like he was destined to eventually become one of the top tight ends in the Pac-12.
A former 4-star recruit in the class of 2018, Webb was dynamic for the Ducks in his first full college season and finished the campaign with 209 yards and three touchdowns on 18 catches. He was a solid backup behind Jacob Breeland and appeared set to take hold of the starting job in 2020.
But he played just one game that year due to injury. Last season, he was buried behind Ferguson and Matavao and played fewer snaps than both of them.
Webb will undoubtedly be motivated to catapult back up the depth chart under Oregon's new coaching staff. He had a very bright spring that would seem to indicate he's due for a bounceback.
His blend of size and athleticism could be a major asset in Oregon's new-look offense.
"I grew up an Oregon fan, and seeing this offense now reminds me of when I was a kid," Webb said of Dillingham's offense. "Watching Marcus Mariota and those guys run down the field and make plays. … That's what's got me most excited."
Can Patrick Herbert and Cam McCormick make an impact?
The Ducks' tight end room features two of the brightest prospects from the state of Oregon in recent memory.
Cam McCormick and Patrick Herbert were both in-state signees who had plenty of buzz when they committed to Oregon. Herbert was a 4-star recruit who grew up just a few miles away from Autzen Stadium and committed to the Ducks at a time when his brother, Justin, was the face of the program.
McCormick, meanwhile, was 247's No. 4-ranked player in the state of Oregon in 2016 — one ahead of Justin Herbert.
Both players seemed bound for long, successful careers in Eugene. But both have been derailed by injuries; McCormick has played just 16 games in five years, and Herbert has played just one game in three seasons.
Because of the success of Ferguson, Matavao, Webb, and DJ Johnson, McCormick and Herbert have become afterthoughts when it comes to Oregon's tight end situation. But both are still with the program, still on scholarship, and still have high hopes of becoming productive Pac-12 players.
The Ducks won't necessarily need to rely on either Herbert or McCormick or 2022. But both are immensely talented and could make significant contributions if they are able to stay on the field for a full season.